Article
Women's Cup: Player Features
February 21, 2023Stories from members of Canada's Women's Team.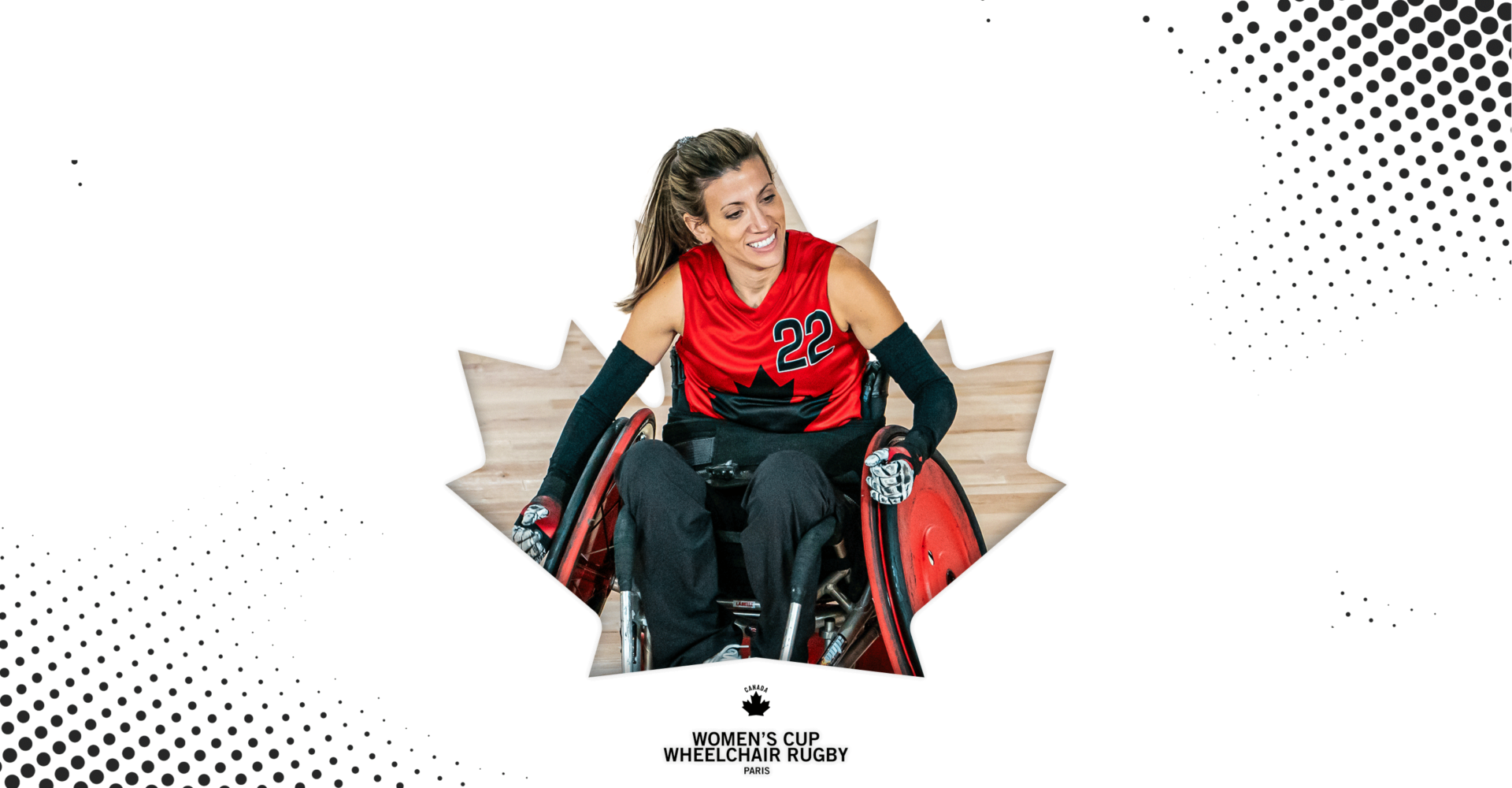 MÉLANIE LABELLE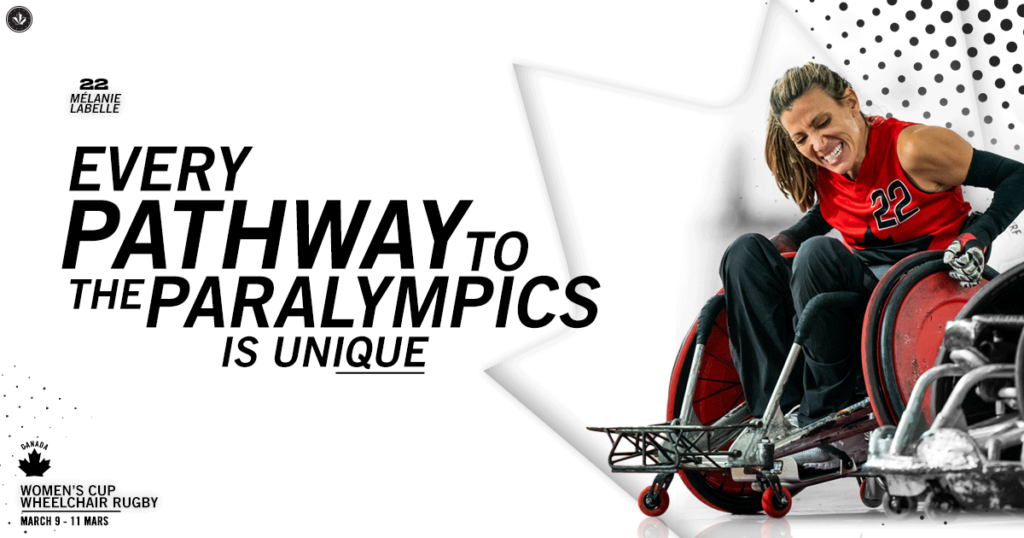 Every pathway to the Paralympics is unique.
In March 2016, Mélanie Labelle sustained a Spinal Cord Injury rehearsing an aerial in preparation for the Canadian Swing Championships. After 2 years in intensive rehabilitation, morphing into a Quadriplegic body and lifestyle, Mel was already high on the prospect list for the Wheelchair Rugby National team. Selected to represent her country for the 2019 Parapan American Games in Lima, Peru – where the team brought home the silver medal – the newcomer athlete also came back with the reality of changing classifications.
This meant for her, that she had to reach new strength, speed, and agility standards, taking on a new role in the sport, to be considered for the National Team. After 3 more years of intensive training, Mel had the chance to compete on the international stage last summer, as the only female athlete on the 12 player Tri-Nations squad. Crushing those new standards, her eyes are set on Paris 2024.
"You may aspire to see yourself on the podium with a medal around your neck but for me, this path is already golden."
Mel and Canada's Women's Team look to make history this March. Follow Mel on her journey at Women's Cup.
BRIANNA HENNESSY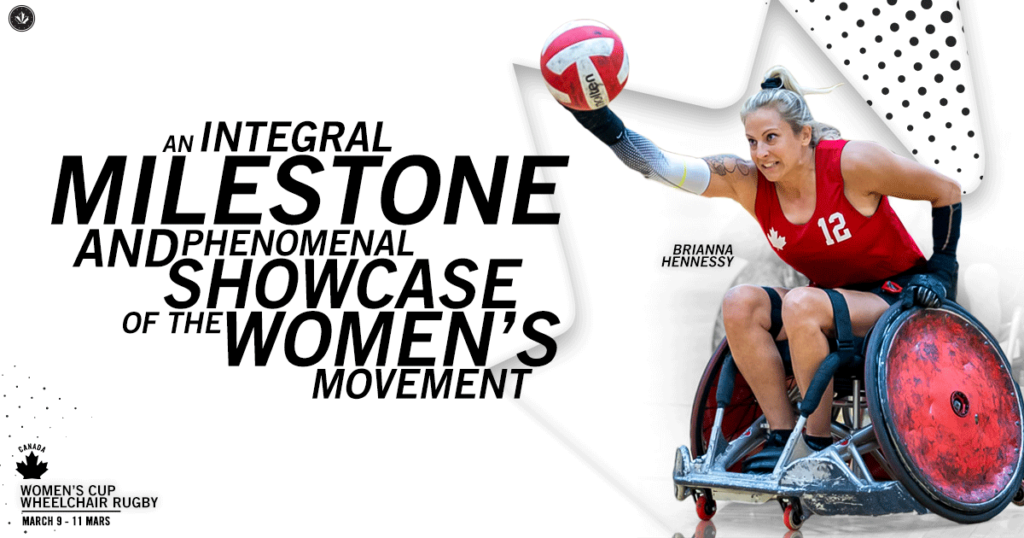 As an accomplished Paralympian in Paracanoe and Parakayak, Brianna Hennessy is a seasoned multisport athlete. Prior to her injury in 2014, Brianna competed across multiple sports at the provincial and national level in able-body rugby, ice hockey, ball hockey and a provincial champion in Boxing.
In Parasport, Brianna has only added to her accolades, when she became a paracanoe silver, and parakayak bronze medalist at both 2022 World Championships, and World Cup. Selected to represent her country at the 2022 Pan-Am Championships, she also brought home a gold in Paracanoe, and silver in Parakayak.
Destined for the Paris2024 Paralympics, Brianna is expanding her international resume, by representing Canada at Women's Cup in her favourite Parasport. In wheelchair rugby, Brianna is the only female international import for the 3rd season in a row, to play in the USA Wheelchair Rugby league, as a member of Tampa Bay Warriors. In a pre-dominantly male sport, Brianna is very grateful for the opportunity to participate on the world stage, in an event dedicated to showcasing females' love and passion for this incredible sport.
It's an integral milestone and phenomenal showcase for the Women's Movement. Our hope is to inspire many girls and women with disabilities, to get out, get active and join our wheelchair rugby family.
The dream is for women's teams, to have an equal opportunity to compete, and represent their respective countries, at the Paralympics games too.
The Ottawa native is a leader in women's sport, and an advocate for sport-accessibility, who has inspired many others to participate in parasport.
Brianna Hennessy and Canada's Women's Team look to empower female warriors from around the world this March.
ERIKA SCHMUTZ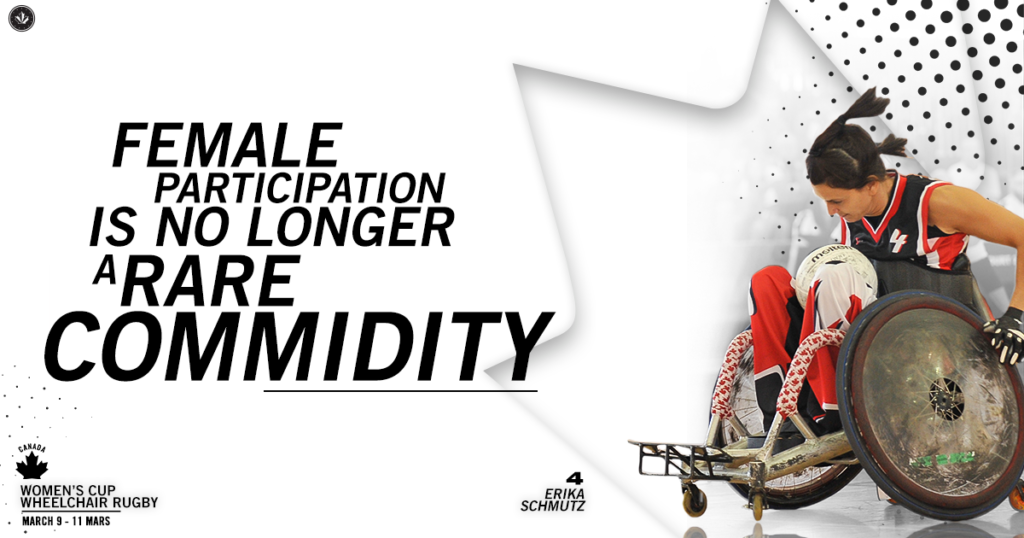 2008 Paralympic bronze medalist Erika Schmutz returns to international competition dawning the maple leaf the first time since retiring from the National Team program in 2013. As the first woman to score a Paralympic Try, she has paved way for future generations of female wheelchair rugby athletes to compete at the highest level.
After her accident in 2000, Erika tried many sports: adaptive sailing, sit skiing, sledge hockey, wheelchair curling, para-swimming, competed internationally in wheelchair fencing "but it was Rugby that stole my heart."
The Windsor, Ontario native is experienced in representing her country, having held multiple Canadian Para swimming records, competed at World Championships in 2010, in addition to debuting at her first major games, scoring 3 tries at the 2008 Beijing Paralympics. Erika also served as Team Canada's alternate at the London 2012 Paralympic Games.
Rugby and the sense of community it provides gave me a chance to see what is possible.
With the growth of the sport, female participation is no longer a rare commodity, women are taking ownership of the sport fuelling the next generation. From player to administrator, Erika now serves the sport as a Board of Director at Wheelchair Rugby Canada guiding the future of wheelchair rugby.
Catch Erika Schmutz wearing her former jersey and number, last seen in 2013.
To learn more about the 2023 Women's Cup, click here.