Get Involved
Become a Coach/Referee
Find out how to become a wheelchair rugby coach or referee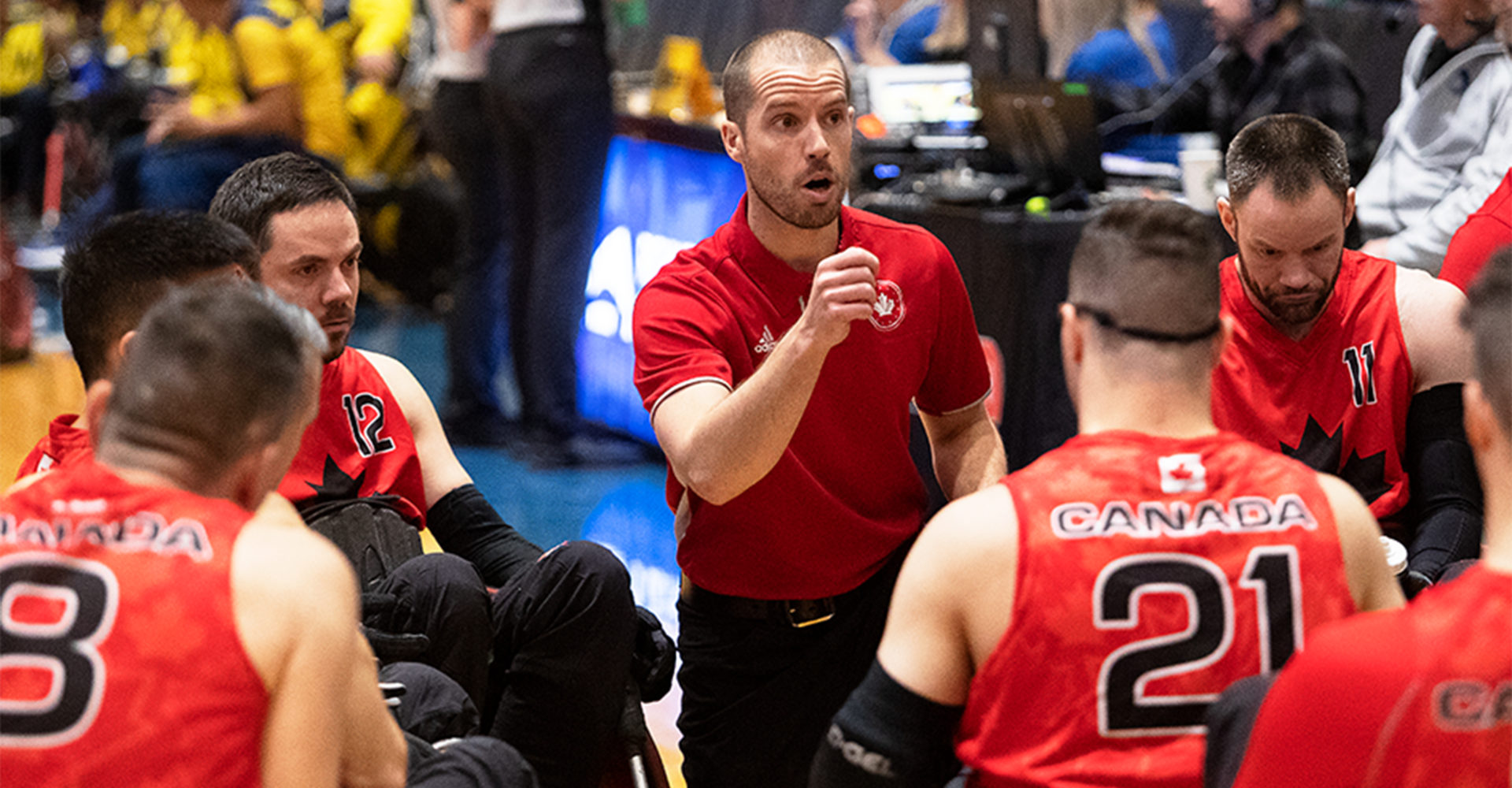 Become A Coach
Coaches are essential for teaching and developing athletes at all levels of wheelchair rugby. By becoming a coach, not only are you taking the first steps into a rewarding career, you will also:
Inspire and develop others
Play a role in ensuring wheelchair rugby can be played throughout Canada
Make new and lasting friends
Gain a range of transferable skills
Wheelchair Rugby NCCP Coach Development Model
To ensure that every wheelchair rugby coach has the skills necessary to succeed, the Coaching Association of Canada and Wheelchair Rugby Canada have worked together to develop a National Coaching Certification Program (NCCP) Coach Development Model to help guide coaches as they develop their skills.
Through the NCCP Coach Development Model, you can become one of three levels of coaches:
Club Coach
Performance Coach
High-Performance Coach.
A Club Coach is focused on grassroots, developing and recreational athletes, while a Performance Coach trains athletes with a high-performance focus, such as a provincial or national team. High-Performance Coach education is customized and personalized based on the needs of the coach, to give coaches the necessary knowledge, in order to demonstrate advanced coaching skills, abilities, and attitudes.
Whichever coaching pathway you choose, the instructions you receive through the NCCP Coach Development Model will help you become familiar with the unique needs of athletes with quadriplegia and/or multiple limb loss.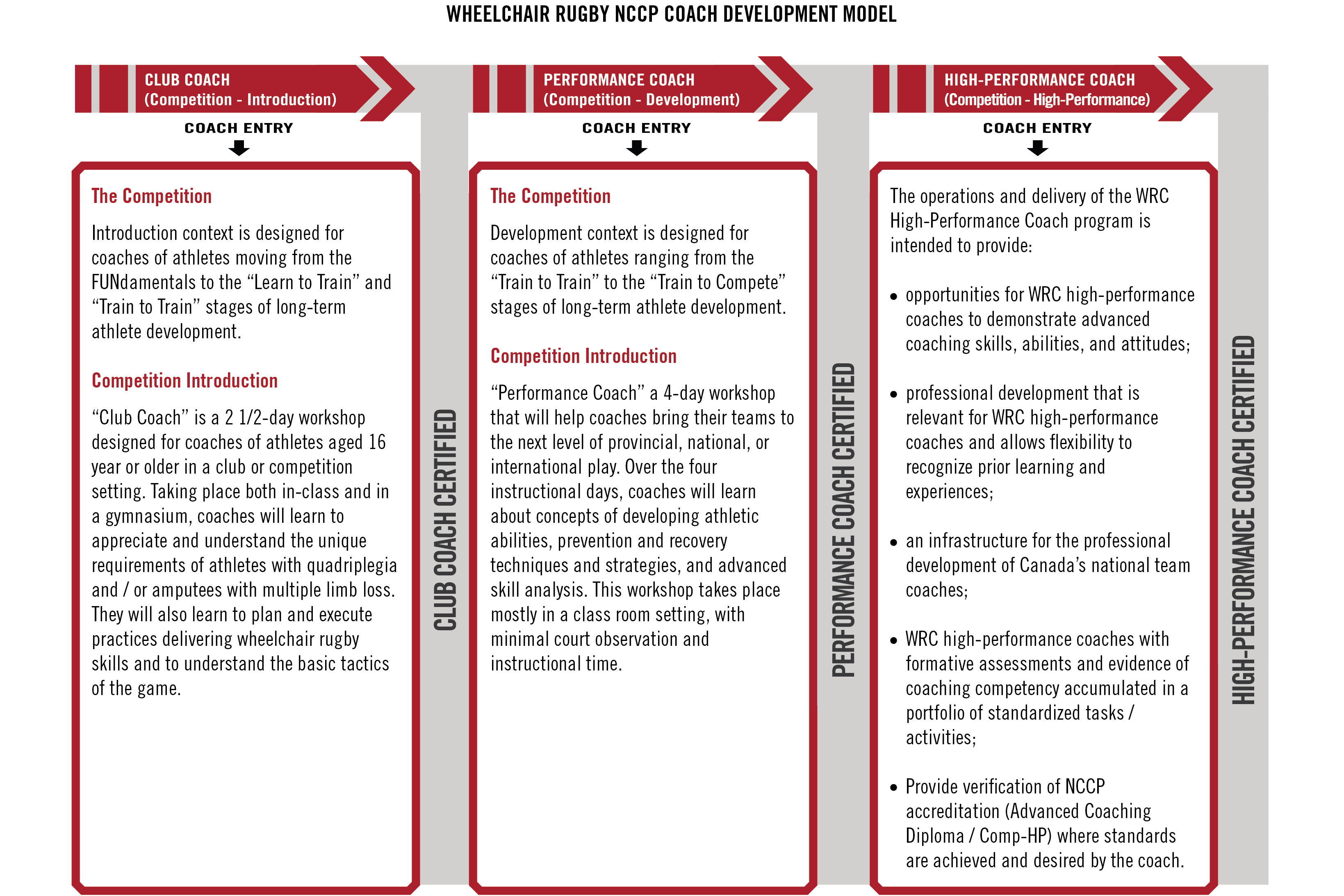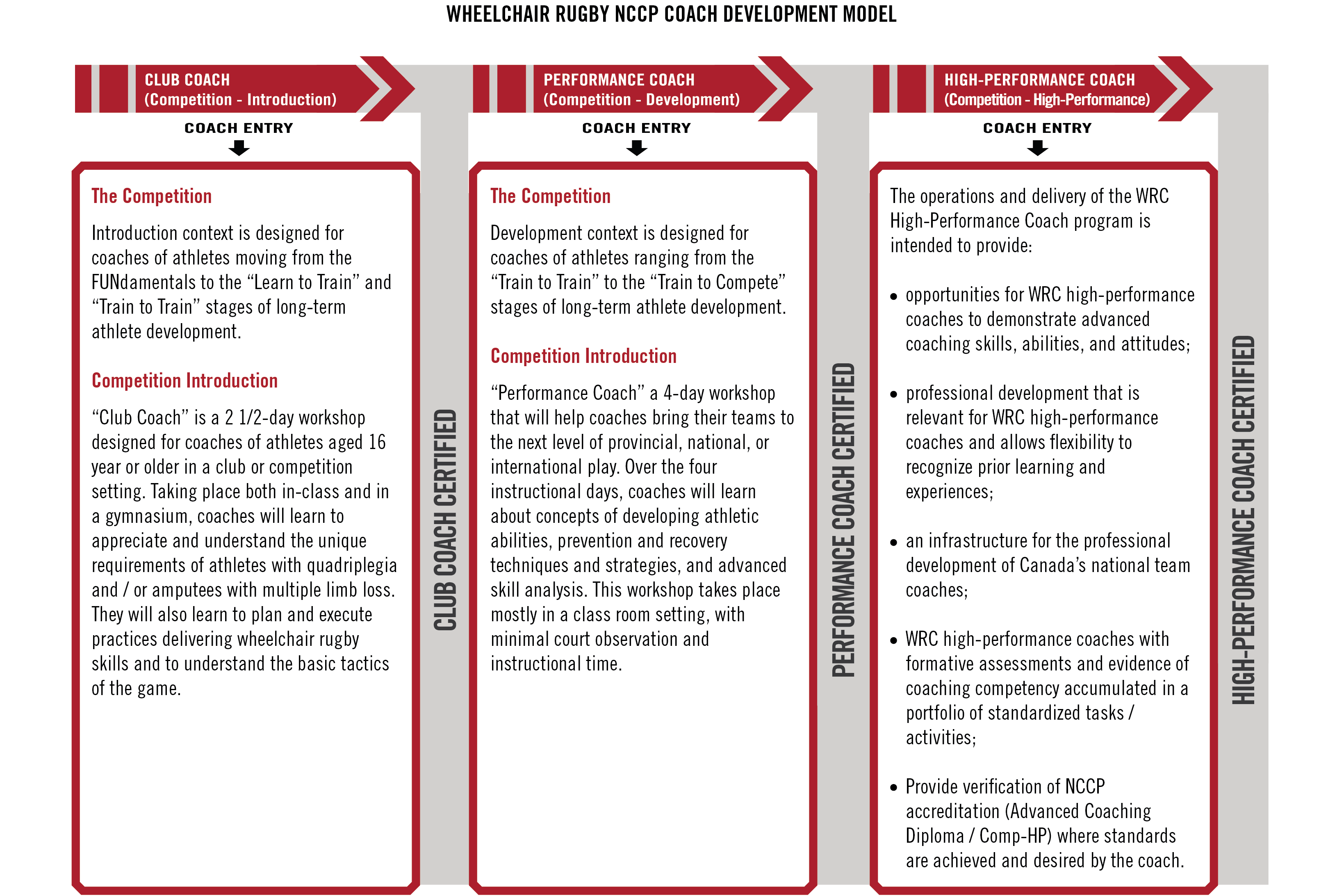 NCCP Coaching Stages
In-Training: The coach completes several modules and attends a wheelchair rugby club coach course. After this step, the coach is classified as being trained.
Evaluation: The coach is evaluated by a learning facilitator and completes more modules. After this step, the coach is classified as being certified.
Professional Development: To maintain certification, the coach earns points for completing professional development activities. Active club coaches must earn 20 points over 5 years, while active performance coaches must earn 30 points over 5 years.
Wheelchair Rugby NCCP Club Coach (Competition-Introduction) Coach Pathway 
Wheelchair Rugby NCCP Performance Coach (Competition-Development) Coach Pathway 
How do I get involved with Coaching?
If you are interested in becoming a wheelchair rugby coach, please contact Adam Frost at adam@wheelchairrugby.ca for more information.
Become a Referee
Refereeing the exciting game of Wheelchair Rugby is not only fun, but it's also rewarding. We are always looking for referees to officiate the game at all levels.
No previous experience in wheelchair rugby? No problem! Many referees from able‐bodied sports or other parasports have easily made the switch to "murderball." Even if you've never blown a whistle before, we can help you learn to become an official.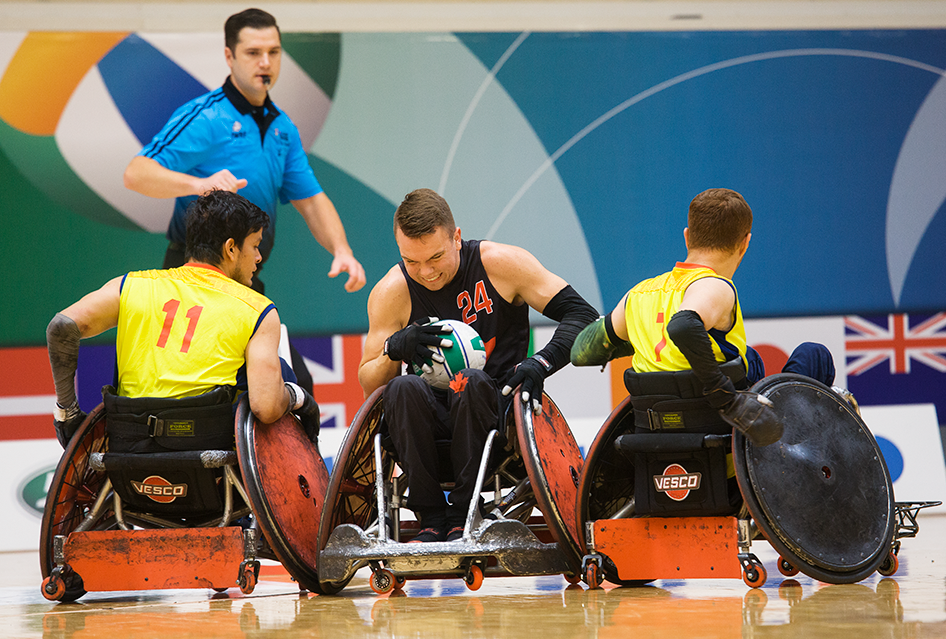 Benefits of Becoming a Referee:
Opportunity to give back to the community
Great way to be active and stay healthy
Meet new people and develop friendships
Get involved at a level that suits you (Domestic, National or International)
Personal satisfaction with achieving your own goals
Travel opportunities – including international travel
How do I get involved?
Entry level officiating clinics are available throughout the year in regions across Canada. If you are interested in becoming a referee, please contact Kevin Bowie at kevin.bowie@worldwheelchair.rugby for more information.
Canadian Wheelchair Rugby Officials Certification Pathway
Where can I learn more about Refereeing Wheelchair Rugby?
Visit the International Wheelchair Rugby Federation (IWRF) website for more information about refereeing. There you can learn more about the sport and download the latest IWRF Official Rules and other useful resources.