About
The Sport
Wheelchair rugby is a team sport for male and female athletes with a mobility-related disability in at least three limbs. It is a unique sport created by athletes with a disability that combines elements of basketball, handball, and ice hockey.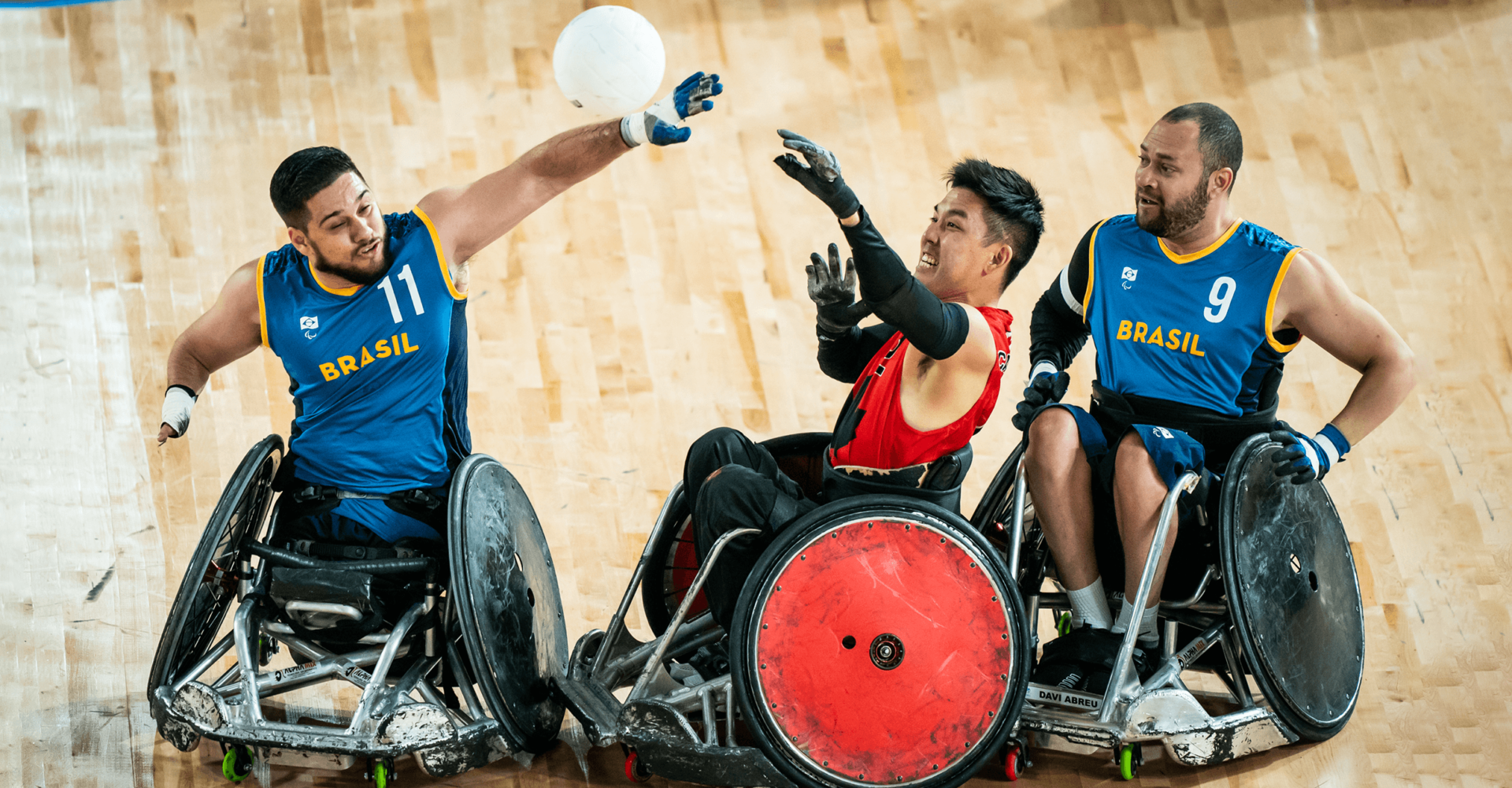 What is Wheelchair Rugby?
The object of the game is to carry the ball across the opposing team's goal line. Two wheels must cross the goal line for a goal to count, and the player must have firm control of the ball when he or she crosses the line. All wheelchair rugby players compete in manual wheelchairs. Players must meet the minimum disability criteria of the sport and must be classifiable under the sport classification rules.
Who Can Play?
To be eligible to play, individuals must have a disability that affects both the arms and the legs. They must also be physically capable of propelling a manual wheelchair with their arms. Athletes with neurological disabilities must have at least three limbs with limited functions; athletes with non-neurological disabilities must have limited function in all four limbs. The majority of wheelchair rugby players have spinal cord injuries that have resulted in full or partial paralysis of the legs and partial paralysis of the arms. Other disability groups who are represented include polio, cerebral palsy, some forms of muscular dystrophy, dysmelia, amputations, and other neurological conditions such as Guillain-Barré Syndrome. Men and women are classified equally and compete on the same teams; there are no separate men's and women's competitions. However, teams are allowed an additional 0.5 points for each woman who is playing in the line-up on the court.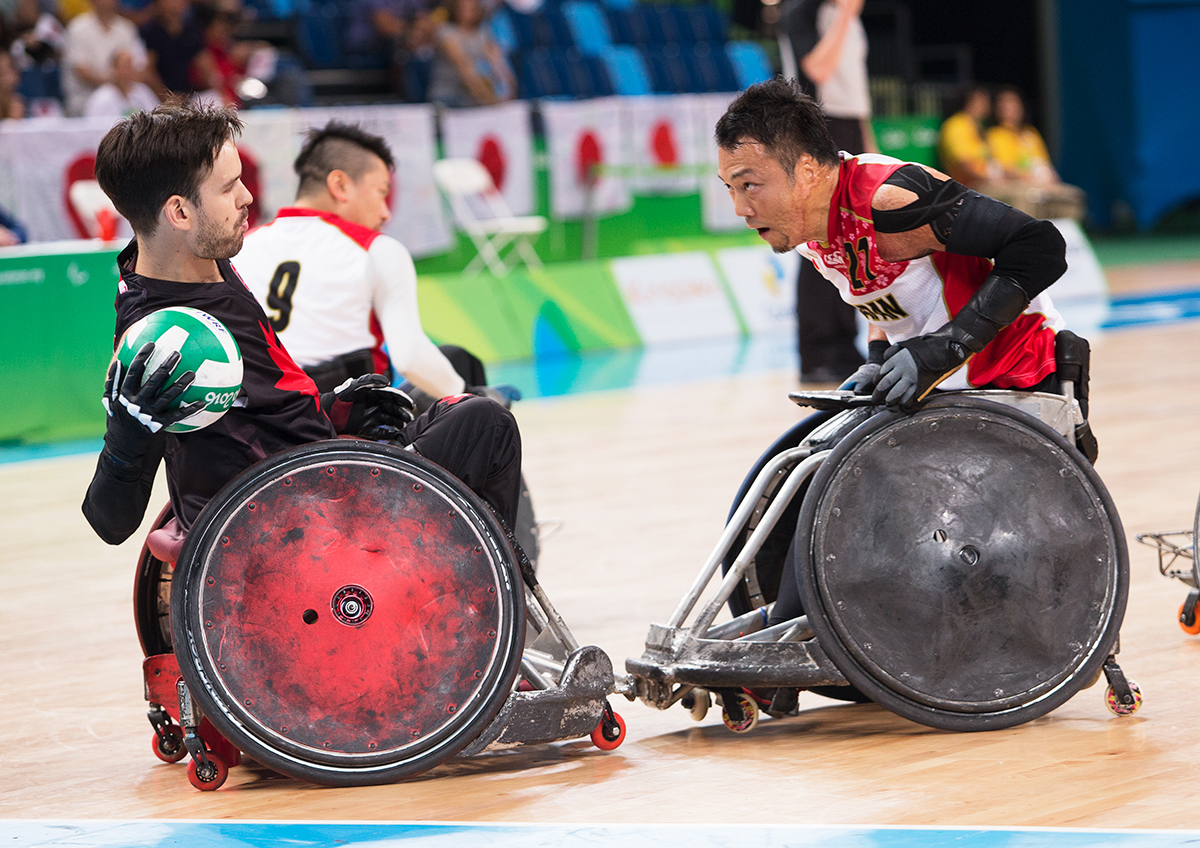 History
Wheelchair rugby was invented in 1976 in Winnipeg, Canada, by a group of quadriplegic athletes who were looking for an alternative to wheelchair basketball. They wanted a sport that would allow players with reduced arm and hand function to participate equally. The sport they created, originally called murderball, is now known as wheelchair rugby. One of the founders, Duncan Campbell, still plays in BC and has been on numerous organizing committees ranging from local to international level events. He is currently the Director of National Development at Wheelchair Rugby Canada.
Wheelchair rugby first appeared outside Canada in 1979 at a demonstration at Southwest State University in Minnesota. The first Canadian National Championship was held the same year. The first team in the United States was formed in 1981 and the first international tournament, which brought together teams from the US and Canada, was held in 1982. Throughout the 1980s, other local and national tournaments took place in various countries. The first international tournament was held in 1989 in Toronto, Canada, with teams from Canada, the USA, and Great Britain. This was a breakthrough for developing international competition and co-operation.
Wheelchair rugby first appeared at the World Wheelchair Games in 1990 as an exhibition event. In 1993, with 15 countries actively participating, the sport was recognized as an official international sport for athletes with a disability and the International Wheelchair Rugby Federation (IWRF) was established as a sport section of the International Stoke Mandeville Wheelchair Sports Federation (ISMWSF). Seven countries participated in wheelchair rugby at the 1993 Stoke Mandeville World Wheelchair Games. In 1994, wheelchair rugby was officially recognized by the International Paralympic Committee (IPC) as a Paralympic sport. The first Wheelchair Rugby World Championships were held in Nottwil, Switzerland, in 1995, with eight teams competing. In 1996, wheelchair rugby was included as a demonstration sport in the Atlanta Paralympic Games.
In 2000, Wheelchair Rugby was included for the first time in the Paralympic Games competition program as a full-medal sport at the Sydney 2000 Paralympic Games. It has since been featured at every Summer Paralympics and is included in the competition program for the 2020 Games in Tokyo. World Championships and the Paralympics are held every 4 years.
Currently, there are more than forty countries that actively participate in the sport of wheelchair rugby, or who are developing programs within their nation. The IWRF includes three zones: The Americas, with six active countries; Europe, with fourteen active countries; and Asia-Oceania, with six active countries.
Canada – Major International Results
1995 World Championships: 2nd
1996 Atlanta Paralympic Games: 2nd
1998 World Championships: 3rd
2000 Sydney Paralympics: 4th
2002 World Championships: 1st
2004 Athens Paralympics: 2nd
2006 World Championships: 3rd
2008 Beijing Paralympic Games: 3rd
2010 World Championships: 5th
2012 London Paralympic Games: 2nd
2014 World Championships: 2nd
2016 Rio Paralympic Games: 4th
2018 World Championships: 6th