Podium Club
Apply for 2022/2023 Podium Club Funding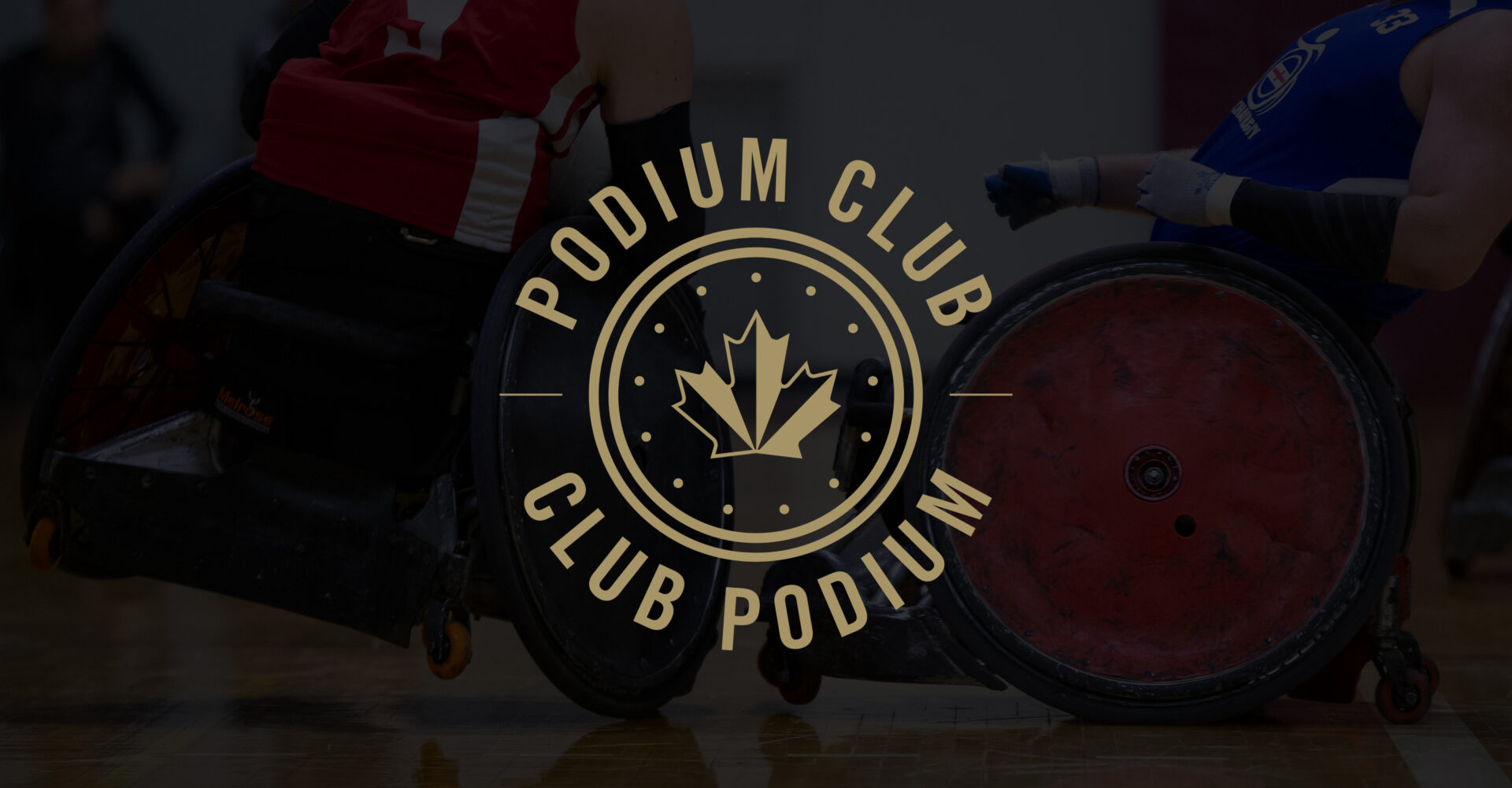 Podium Club is an innovative program designed to support the development of wheelchair rugby clubs across Canada. It uses a multi-tiered approach, based on Bronze, Silver, and Gold levels of support that are geared towards the elements we've identified in our Long-Term Athlete Development Model, which is published as Full Contact.
2022 / 23 Podium Club Application Information 
The 2022/23 Podium Club application process has been modified to better support club growth and development in this planning based approach to club development. Changes this year will allow clubs or PSOs applying for grants a greater degree of freedom to determine their own priorities.   
Successful applicants may now receive between $1500.00 and $4500.00 to allocate toward projects that support their priorities in one of four areas, as outlined in the matrix below.  Applicants will now set up to three individualized priorities for club development and submit a list of actions and budget required to achieve these priorities.  Funding for projects will NOT be withheld if priorities are not met if evidence of the attempt is provided along with receipts in the new year. 
The matrix below can be used as a guide in determining club priorities.  If priorities are not captured below that does not mean you cannot apply for funding.  
Deadline to submit: Friday, October 21, 2022 
Podium Club Priority Matrix
| CULTURE AND GROWTH  | COMPETITION | ATHLETE DEVELOPMENT  | COACH DEVELOPMENT  |
| --- | --- | --- | --- |
| Athlete Recruitment | Travel to Competition  | Incorporating Fun / Team Building  | Wheelchair Rugby Specific Knowledge (NCCP)  |
| Health and Safety  | Host a Competition  | Individual Performance Improvements  | Other Professional Development Knowledge  |
| Coach / Official Recruitment  | Official Development  | Performance Immersion  | Mentorships  |
| Professionalism, Diversity, and Inclusion  | Event Rules or Formats  | Group Performance Services  | Evaluations  |
Podium Club offers a matching equipment grant up to $4,000. Further information on required quotes can be found in the Smartsheet Application.
Although Podium Club is designed to support club development, Wheelchair Rugby Canada looks to support locally targeted athletes with potential to reach their performance goals.  Three matching grants of up to $750 are available for clubs to provide enhanced opportunities for their targeted athletes. These grants may be used for IST services such as strength and conditioning trainers or opportunities to participate in performance environments (daily training environments, performance camps or performance competitions) that are beyond the club's ability to support.
Please note that receipts will be submitted online through this webpage and a reminder will be sent in March 2023. 
Please contact Adam Frost at adam@wheelchairrugby.ca if you have any questions.  
Deadline has passed for 2022-2023 applications.
How do I identify if we are Gold, Silver or Bronze? 
The Podium Club Committee will determine your funding level there is no need to identify Gold, Silver or Bronze.
How will the Podium Club Committee make its decisions? How will the Podium Club Committee make its decisions? 
The detail in your priorities, budget and the certification level of coach will be considered.
How do I qualify for a higher amount of funding? 
Applications that identify a variety of priorities may receive more funding than those who do not.
Are there any other limitations on being funded? 
Clubs who do not have a certified coach at the Introduction to Competition context are NOT eligible for gold levels of funding.
I would like to apply for the $750 targeted athlete matching grant is there anything else I need to know? 
Please provide the objective evidence (athlete profile) to support the claim that the athlete has performance potential.
If I prioritise Competition Hosting and are funded at the bronze level I am no longer restricted to $500.00? 
I have an athlete that I have identified as someone who could benefit from additional training with performance athletes, and I have been approved for the $750 targeted athlete matching grant. Does the National Team provide me with the training opportunities?  
No. You need to work with other clubs and/or provincial partners to create these opportunities.