Announcement, Article
WRC's Nancy Wong joins ViaSport Panel for International Women's Day
March 3, 2023March 8th Virtual event will highlight the importance of embracing equity in organizations.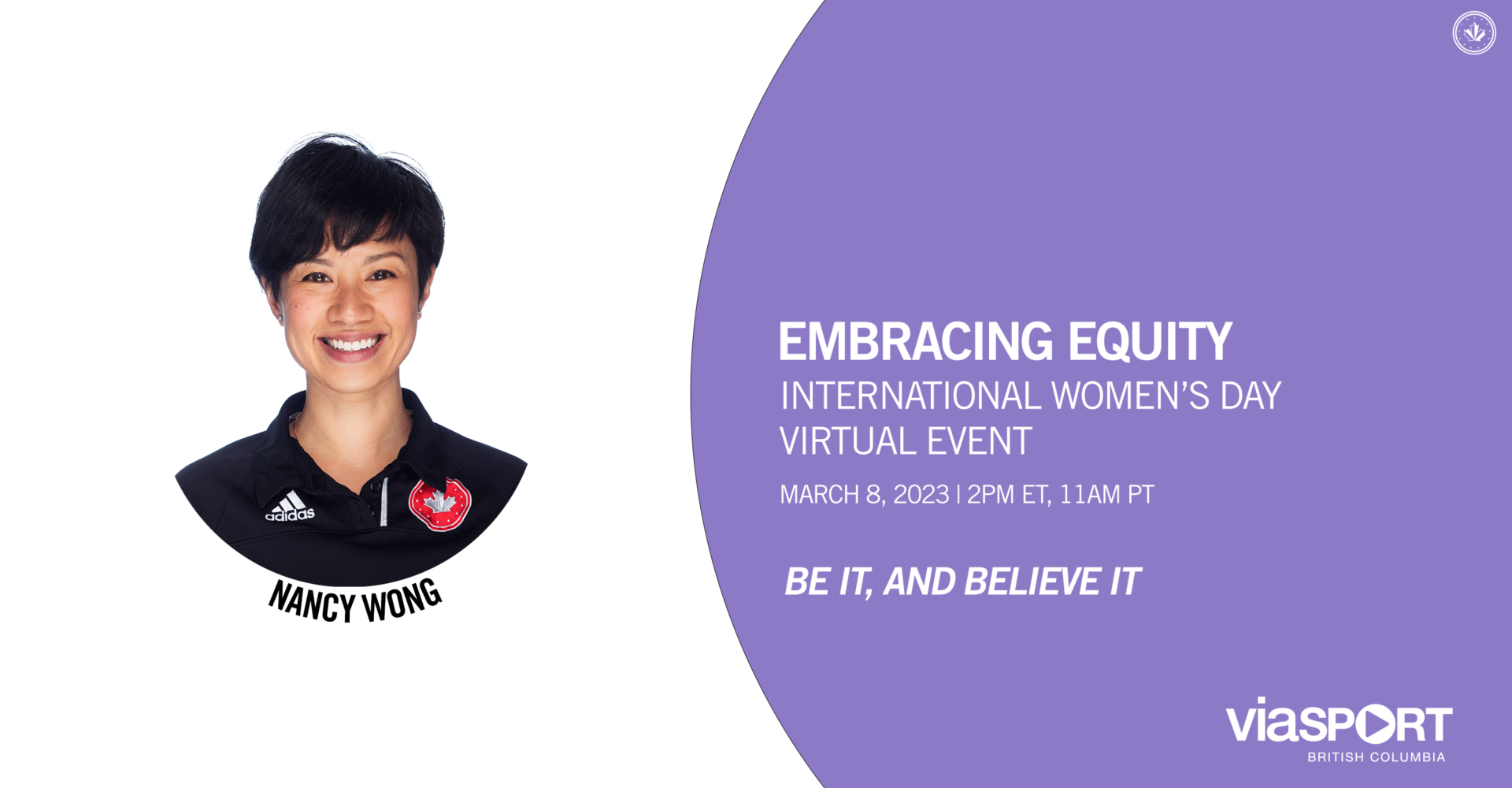 March 3, 2023 – Wheelchair Rugby Canada is proud to have Performance Services Manager, Nancy Wong, paneling ViaSport's Embracing Equity on March 8th. The virtual event opens discussion on i) building equity with intent, ii) the value of good policy, and iii) ensuring success for mothers, administrators, and athletes.
Presenters:
Nancy Wong, Performance Services Manager, Wheelchair Rugby Canada – panelist
Charlene Krepiakevich, CEO, viaSport BC – host
Kevin Bowie, Manager, Sport Development, viaSport BC – host
Dehara September, Technical Operations Manager, Surrey United Soccer Club and Founder, Venus FC Canada – keynote address and panel moderator
Rick Benson, Sports Operations Manager, Ringette BC – panelist
Danika Mazur, Coach and Girlstylerz Lead Coordinator – panelist
Emma Gibbons, CEO, Volleyball BC – panelist
Nancy is an active advocate and supports female para-athletes, in a mixed gender sport.  She is a new parent, recently returning to the high-performance environment, after a maternity leave. Nancy attended the 2022 Wheelchair Rugby World Championships in Vejle, Denmark by accessing organization opportunities that support new mothers who are nursing or need childcare support. These initiatives are supported through standing policy and budgets in place to ensure there are no barriers to participation or ability to resume professional duties.  Nancy is proud that Wheelchair Rugby Canada is listening, learning and leading in addition to being represented for International Women's Day for their impact on empowering Women and embracing equity. 
Learn more about Nancy as a National Team Performance Services Manager here.
For more info on the virtual event and the panelists, click here. Watch the recording here.
ABOUT WHEELCHAIR RUGBY CANADA
Wheelchair Rugby Canada is the national governing body for the Canadian Heritage Sport of wheelchair rugby. Wheelchair Rugby Canada strives to be a world-leader in wheelchair rugby, a respected advocate for wheelchair athletes and a visionary organization committed to excellence in programs from recruitment to retirement.
MEDIA CONTACT
Nathan Lederer
Communications and Marketing Manager
Wheelchair Rugby Canada
nathan@wheelchairrugby.ca or 905-531-7428