National Championships
Schedule and Rosters Announced for the 2019 National Championships Powered by Vesco
April 25, 2019Championships to be held in Ottawa, ON from May 3-5, 2019.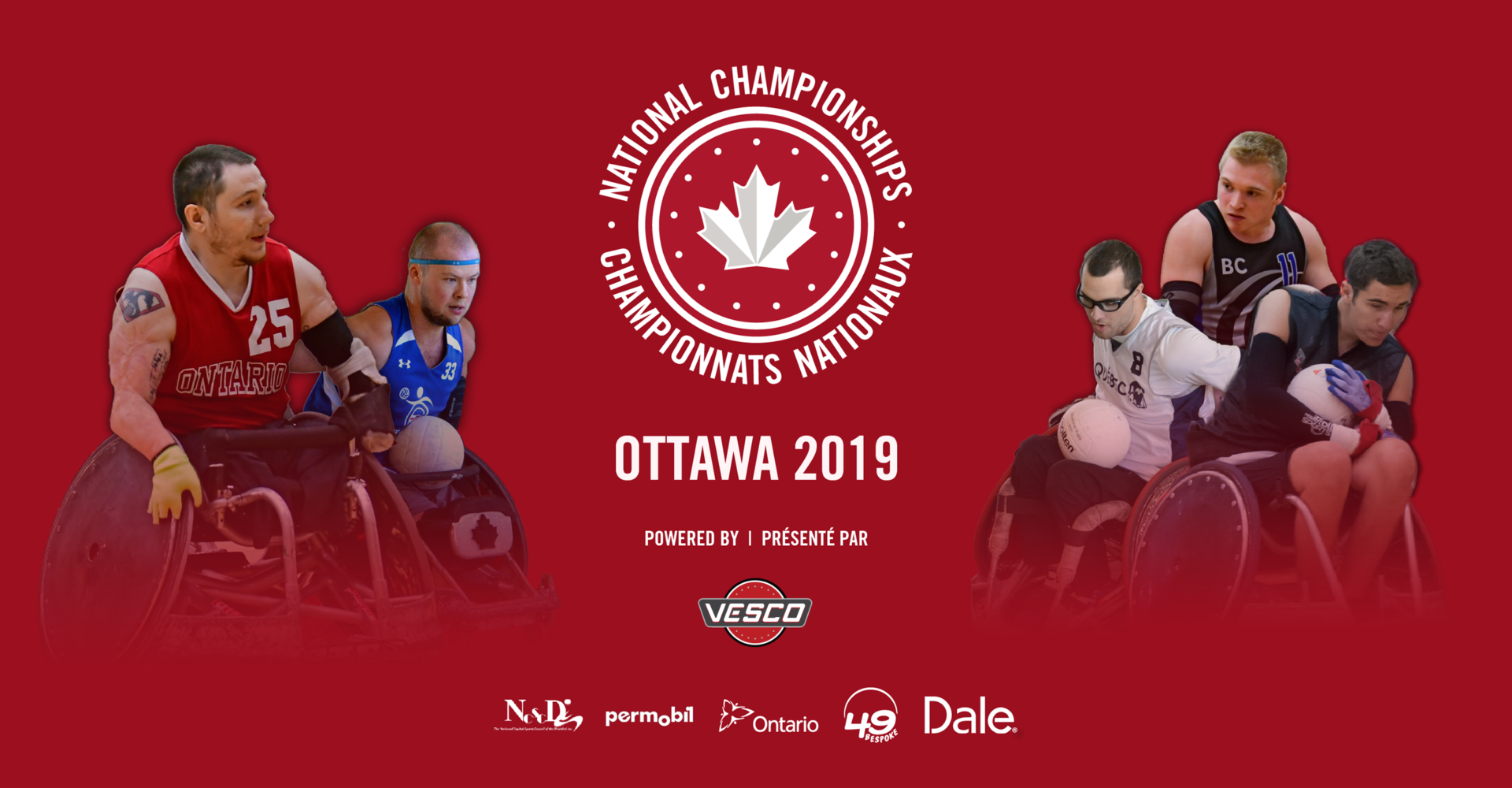 Wheelchair Rugby Canada is pleased to announce the schedule for the 2019 National Championships Powered by Vesco.
Eleven teams from five provinces will compete in Ottawa from May 3-5 at the 2019 National Championships. The event will take place at the Montpetit Hall gymnasium and will be hosted by the Ottawa Stingers. Admission is free.
"The Ottawa Stingers are thrilled to be hosting the National Championships next week. We look forward to welcoming everyone to the University of Ottawa for a great competition consisting of the best wheelchair rugby players in Canada," said Ottawa Stingers and National Team co-captain Patrice Dagenais.
The National Championships is the culmination of the Canadian Wheelchair Rugby season and brings together the best athletes from across the country to compete for the chance to be crowned National Champion.
Teams will compete in two divisions, based upon rankings that have been determined by the Seeding Committee.  Top-ranked teams will compete for the Campbell Cup in Division 1, with lower ranked teams vying for the Zbieranowski Cup in Division 2.
Competition Schedule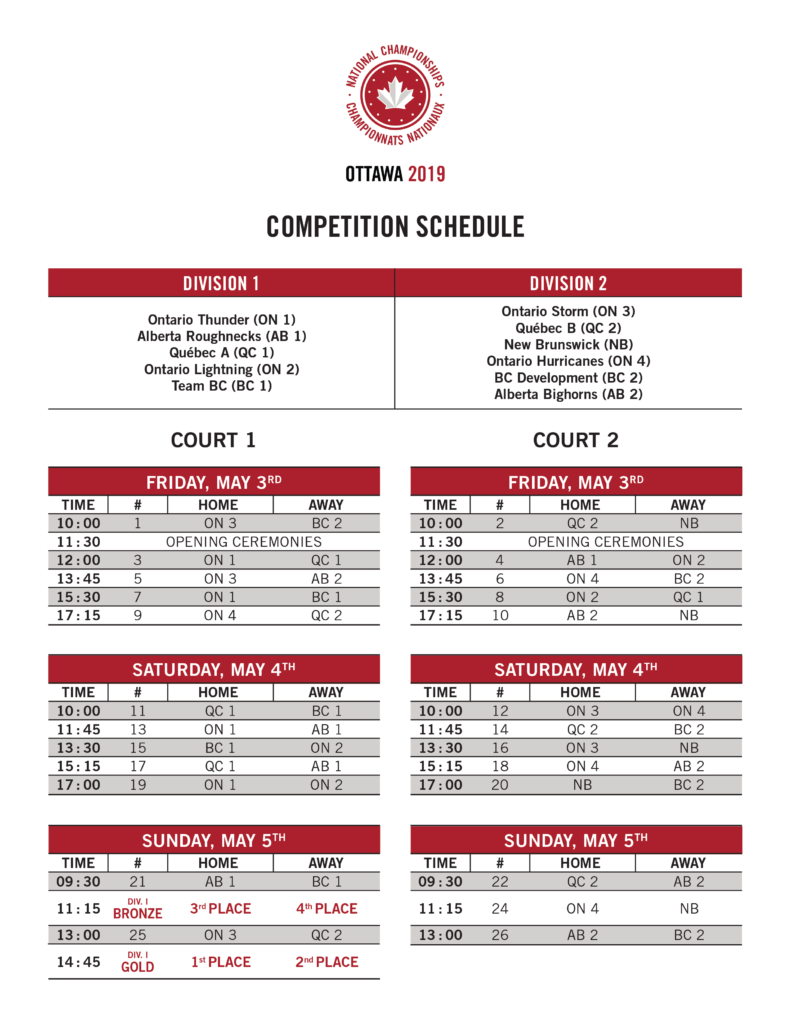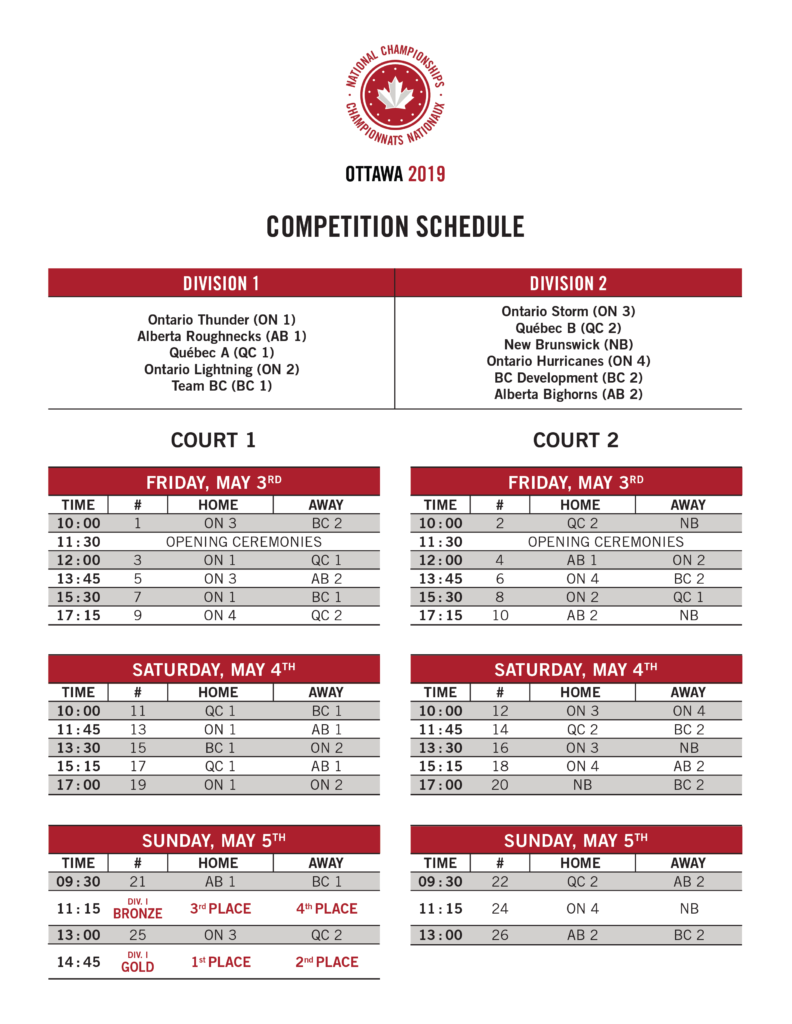 Click HERE to download a printable version of the competition schedule.
Team Ontario was in dominant form at last year's competition, coming out on top in both divisions. However, a repeat of that feat in 2019, will certainly prove to be a challenge, as the level of competition throughout Canada continues to grow.
The grit and pace of Alberta's Zak Madell and Branden Troutman is bound to give teams nightmares on the defensive end, whereas Équipe Québec's experienced roster, which includes four Team Canada players, will be well suited to handle the difficult game situations. British Columbia, winners of the Campbell Cup in 2015, will also field a strong roster, featuring a mix of established veterans and promising up-and-comers.
Division 1 Rosters can be viewed HERE
Division 2 Rosters can be viewed HERE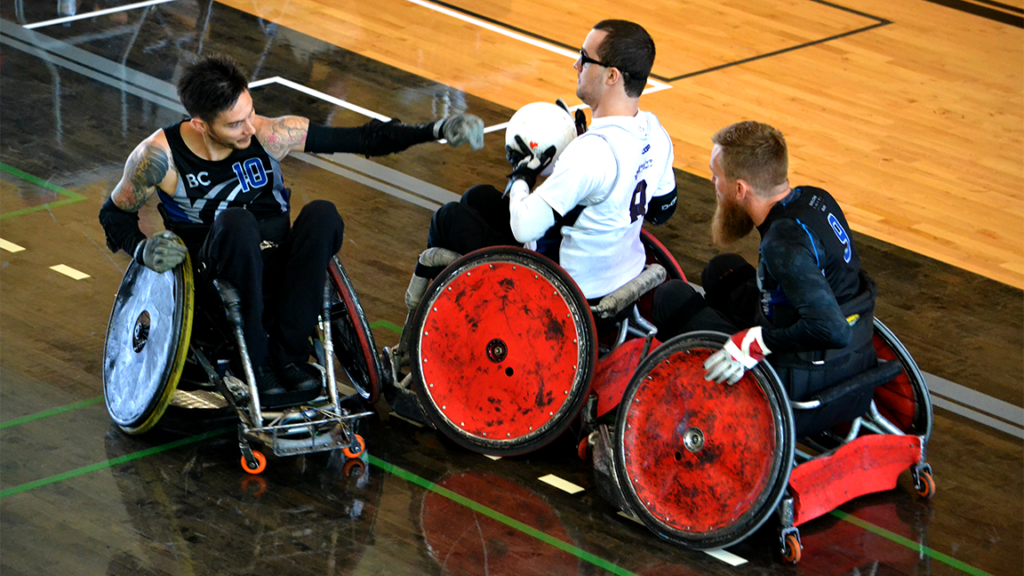 Webcast
Wheelchair Rugby Canada is also excited to announce that select matches from the 2019 National Championships will be streamed on Facebook Live. A streaming schedule will be provided prior to the start of the event.
–
About Wheelchair Rugby Canada
Wheelchair Rugby Canada is the national governing body for the Canadian Heritage Sport of wheelchair rugby. Wheelchair Rugby Canada strives to be a world-leader in wheelchair rugby, a respected advocate for wheelchair athletes and a visionary organization committed to excellence in programs from recruitment to retirement.
For more information, please contact:
Ben Parker-Jones
Communications and Marketing Coordinator
Wheelchair Rugby Canada
Tel: 613.523.0004 Email: ben@wheelchairrugby.ca