Announcement, National Team
CPC AND CBC/RADIO-CANADA TO OFFER STREAMING COVERAGE OF PARALYMPIC QUALIFIERS
March 3, 2020Live coverage available via CPC Facebook page and CBC Sports and Radio-Canada Sports digital platforms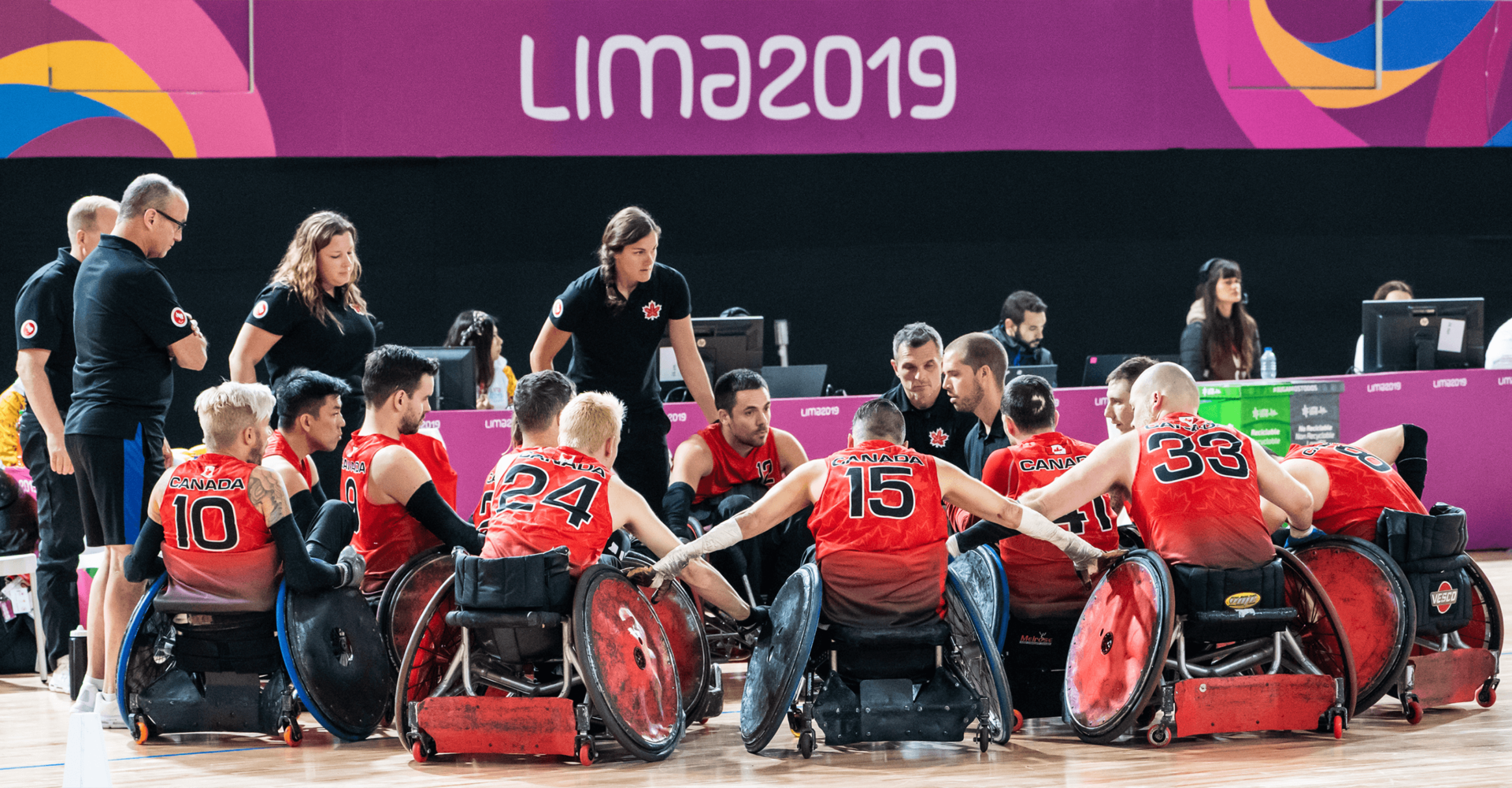 RICHMOND, B.C. – Viewers across the country will be able to follow the Canadian wheelchair rugby team's quest to qualify for the Tokyo 2020 Paralympic Games, as the Canadian Paralympic Committee and CBC/Radio-Canada will be live streaming coverage of the International Wheelchair Rugby Federation Paralympic Qualification Tournament from March 4-8 as part of the Paralympic Super Series.
Taking place at the Richmond Oval in Richmond, B.C., seven teams are competing in the last chance qualifier with the top two finishers earning their ticket to Tokyo.
Canada, who finished fourth at the Rio 2016 Paralympic Games, will be represented by a team of 12 athletes including co-captains Trevor Hirschfield and Patrice Dagenais. Canada will be competing alongside Sweden, Germany, Switzerland, France, Brazil, and Colombia. Following round-robin play, the No. 1 team will face No. 4, and No. 2 vs. No. 3, with the two match winners earning the Tokyo spots.
"We are very excited that the 2020 IWRF Paralympic Qualification Tournament is part of the Super Series and that our games will be broadcast live," said Dagenais, a two-time Paralympian and London 2012 silver medallist. "This competition is our last opportunity to qualify for the Tokyo Paralympic Games, so it is crucial that we perform at our best. Knowing that our family, friends and all rugby fans in Canada can watch us play live will create a great feeling of support for the team."
Viewers will be able to follow the action via the free CBC Gem streaming service, cbcsports.ca, the CBC Sports app for iOS and Android devices, and CPC Facebook page, as well as the Radio-Canada Sports app and radio-canada.ca/sports. Each of Canada's games will be live streamed, with the team's opening game versus Switzerland starting at 4:30 p.m. PT / 7:30 p.m. ET on Wednesday March 4.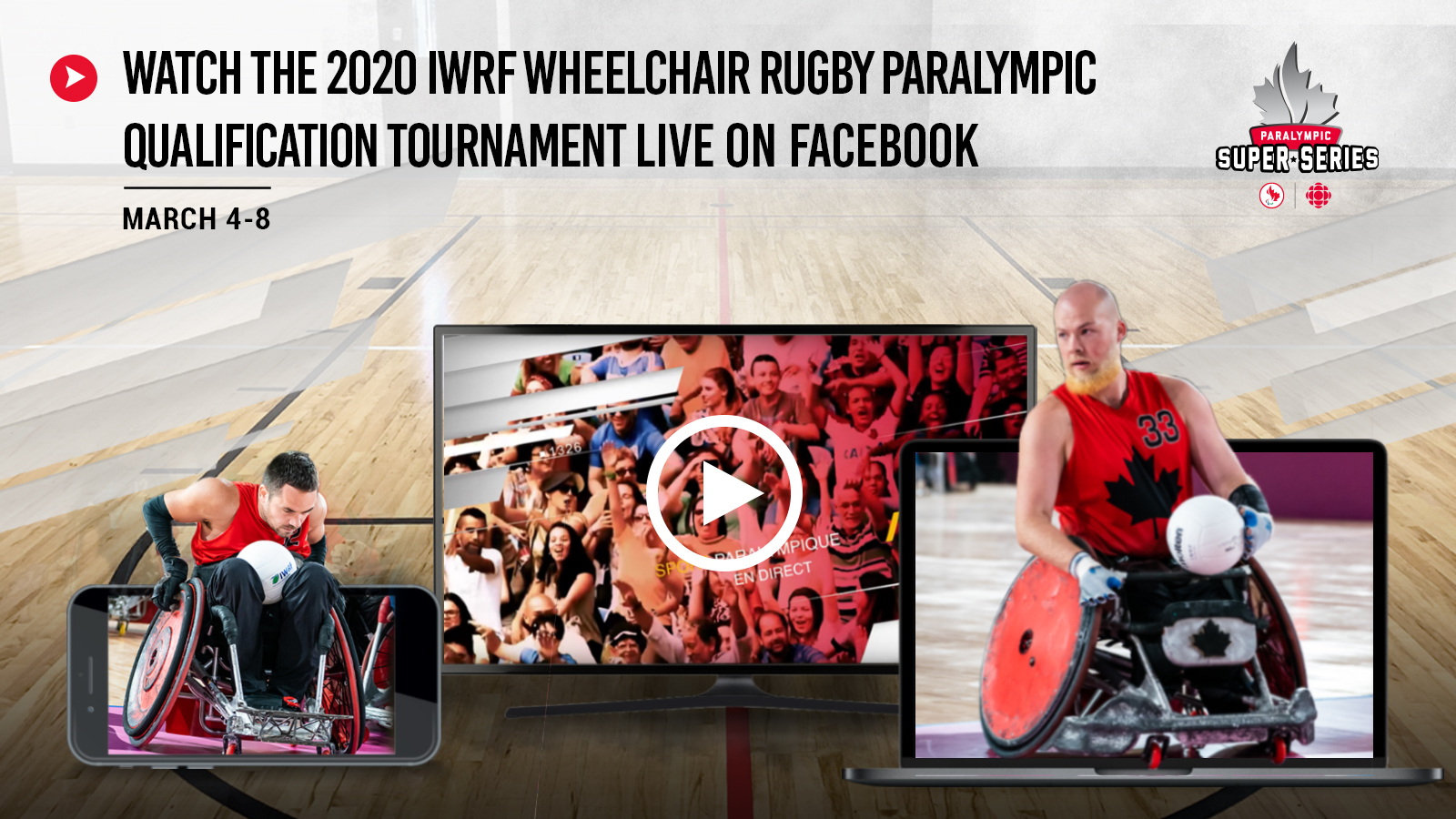 "We are so excited to add this qualifying tournament to our Paralympic Super Series coverage alongside CBC/Radio-Canada, and to be able to share the stories of our wheelchair rugby team on the road to Tokyo," said Martin Richard, executive director, Communications and Brand, Canadian Paralympic Committee. "This event is critical for our team's Tokyo 2020 goals and will undoubtedly offer five days of electrifying, intense competition. We encourage everyone to support our incredible wheelchair rugby athletes as they do everything they can to qualify for this summer's Paralympics."
Paralympian Benoît Huot will be in Richmond as the CPC's onsite reporter, to provide additional content including interviews with the athletes. The CPC's social media channels will also feature highlight packages and live clippings during the games.
The IWRF Paralympic Qualification Tournament joins the slate of Paralympic Super Series events to be live streamed via a partnership between the Canadian Paralympic Committee and CBC/Radio-Canada. Since its launch last year, the Paralympic Super Series – which aims to offer coverage of Canada's Para athletes at events outside of the Paralympic Games – has featured world championships in Para alpine skiing, Para nordic skiing, Para ice hockey, Para swimming, Para athletics, and Para cycling, as well as the Lima 2019 Parapan Am Games.
Live coverage will include all of Canada's games, with the team's round-robin schedule below. Please visit Paralympic.ca/Paralympic-super-series for more information and follow @CDNParalympics for live updates.
Wednesday March 4
Canada vs. Switzerland – 7:30 p.m. ET / 4:30 p.m. PT
Thursday March 5
Canada vs. Colombia – 1 p.m. ET / 10 a.m. PT
Canada vs. Brazil – 7 p.m. ET / 4 p.m. PT
Friday  March 6 
Canada vs. Sweden – 3 p.m. ET / 12 p.m. PT
Canada vs. Germany – 9 p.m. ET / 6 p.m. PT
Saturday March 7
Canada vs. France – 5 p.m. ET / 2 p.m. PT
Sunday March 8*
Qualification Match 1 – 3 p.m. ET / 12 p.m. PT
Qualification Match 2 – 5 p.m. ET / 2 p.m. PT
*Coverage to be confirmed pending Canadian participation