Article
Community and Quadzillas' Wheelchair Rugby for Mike Breske
April 18, 202361-year-old club president prepares for 4th edition of Quadzillas Tournament, provides story on navigating the sport and their club.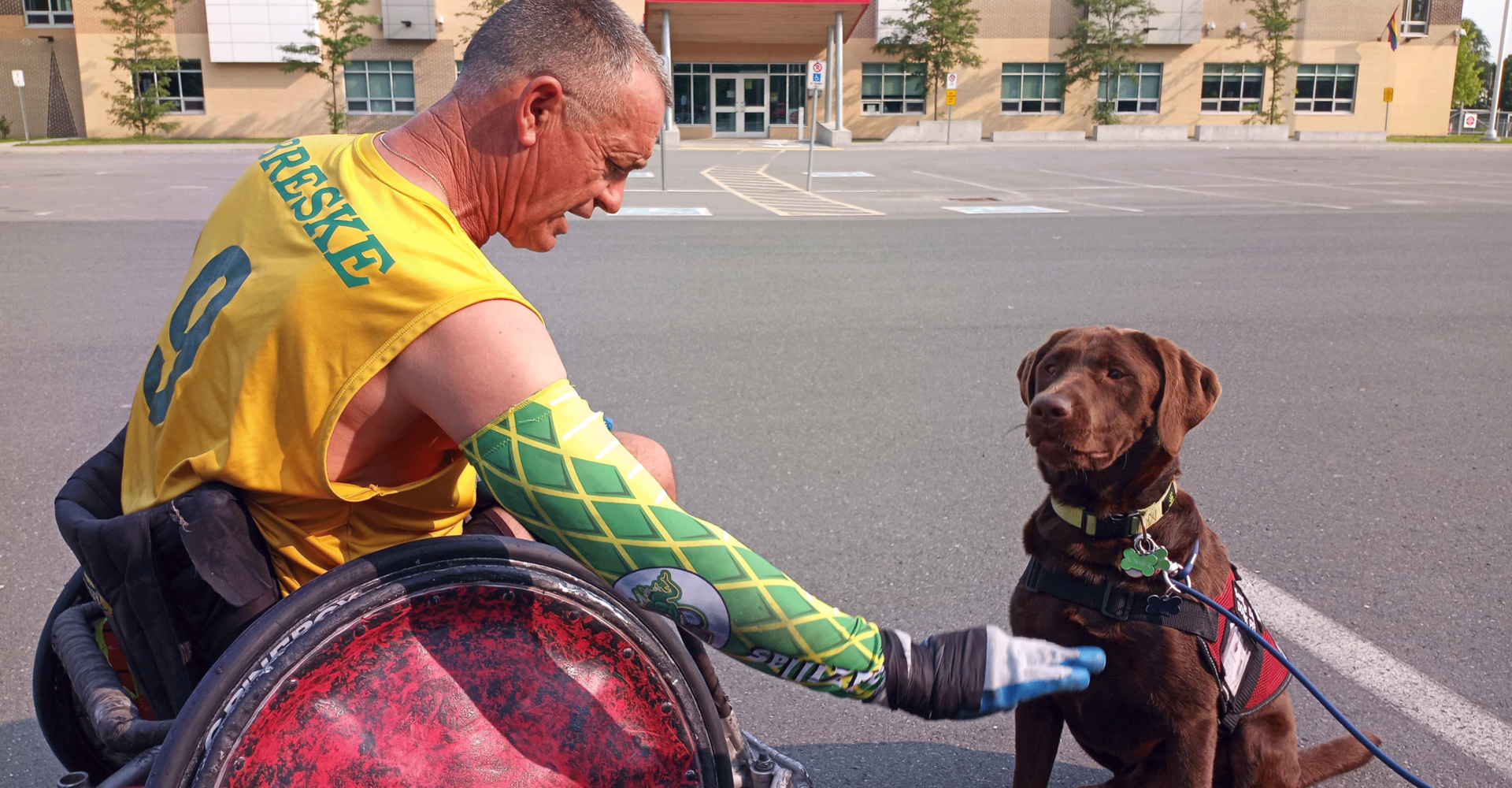 Mike Breske found purpose in wheelchair rugby after having back-surgery for lower lumbar-disk disease and diagnosed with PTSD which lead to a medical release from the Canadian military after a 35 year career. Mike was a wheelchair user for three years, finding motivation difficult during that span.
"I know what it's like sitting in the basement and not coming out and not having anything to go to. I got invited out to play [wheelchair] rugby and it was just basically smashing chairs for me."
"Erika Schmutz got me motivated."
However, the local (Trenton) Quinte Quadzillas wheelchair rugby team lacked structure and support through sponsorship until Mike and his wife, Sherri, decided to organize the club.
"Now, we do a three-hour fitness class on Sundays, and a three-hour practice on Wednesdays at the [Trenton Canadian Forces] Base. We'll be doing demos with the [Canadian Forces base] this summer, doing a couple of clinics with them."
Mike and the Quadzillas club continue to support their communities organizing wheelchair rugby clinics and demos for schools as well as for Easter Seals camp in Perth, Ontario (pre-pandemic) Canada's largest local provider of programs, services, and issues-leadership and development for the disability community.

"During Disability Week, we would go down to CFB Kingston, we put a big show on and then all the military people hop in chairs".
In anticipation for the Toronto 2017 Invictus Games, the Quadzillas club had lend their rugby chairs to the team for their Kingston training camp; National Team player, Mike Whitehead was Canada's Invictus coach.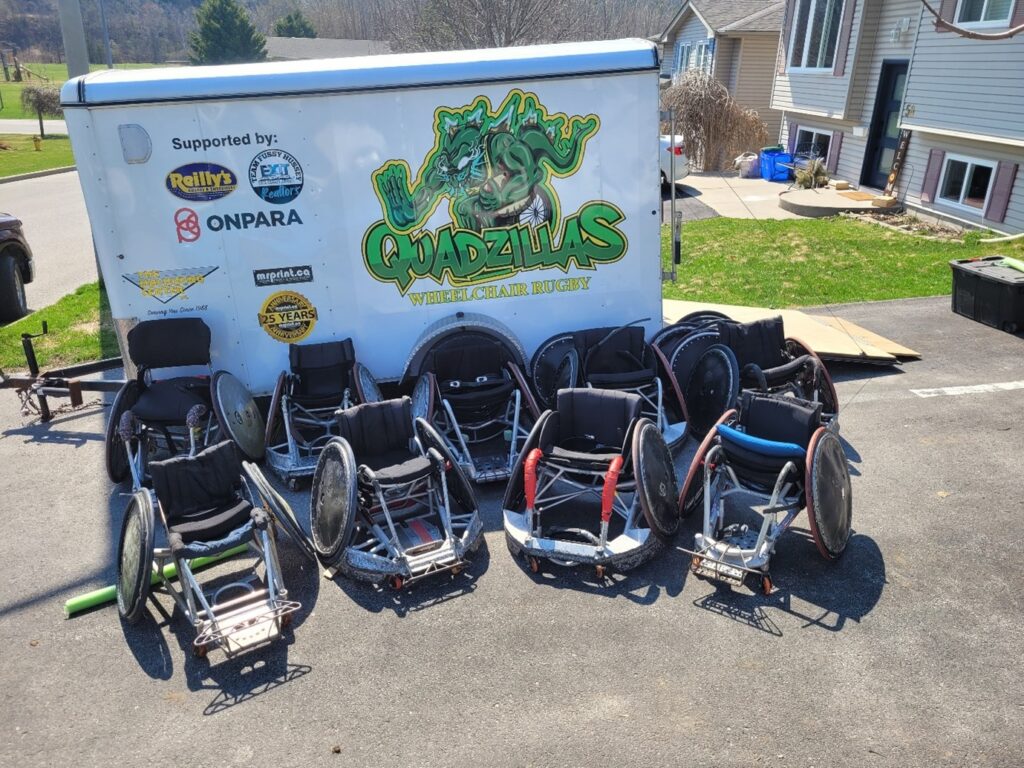 "Mike Whitehead had all the chairs for a full week of clinic."
The Quadzillas own all their equipment; the club has 10 rugby chairs with a trailer for transport between events, competitions, and clinics. With all that equipment, has come the necessity for learning chair maintenance since medical conditions have sidelined their friend and team mate , Larry Van Norman, a wheelchair repair technician who had previously conducted maintenance and repairs on the team's equipment.
"I'm learning [to maintain a wheelchair] on the fly… my wife and I."
With Quadzilla's hosting their 4th edition of the tournament this April 21st, the club is excited to resume their annual tradition last seen in 2019.
The tournament does not charge registration fees, nor do they charge for anything at the venue. They only ask is for Food bank donations to further support their community.
"I'm a strong believer in giving back."
As for the courts, the rental fees for the gym have often been an out-of-pocket expense for Mike when sponsorship and team fees have been used elsewhere.
"I pay for the gym almost every year because that tournament means so much to me. It's once a year that we get to see everybody coming together and supporting our parasport. I know what this means to me, because I have been down in that basement, and had been climbing."
Learning along the way, Mike and the Quadzillas are growing the awareness for the sport and for what the Parasport community can offer.
"Our goal this year was to basically get as many people in the stands from the community as possible to see [the sport]."
Word-of-mouth accounts for most of the attendees. Those who come to watch the tournament are friends, businesses, and our supporters' physio and massage.
"We're hoping that we can get more support from the community that way,… sponsorships and everything else. And we're also hoping that we can pick up players because we don't have any rehab clinics to access, so it's kind of hard to find players."
Through personal connections, Mike continues to find prospective players to invite to the club.
"We give them a business card; we tell them everything we do. And if they call us, they call us. If they don't, they don't."

"I just basically tell people that I'm running a wheelchair rugby team and to look up the club and try out."
Mike's active recruitment has led to an individual to come out and try the sport.
"It's important and means a lot to have full participation, you know? My wife and I will go the extra mile to make sure that the guys are happy. And, you know, we're smiling and playing."
That extra mile was also the investment of a team trailer to keep all their chairs and equipment.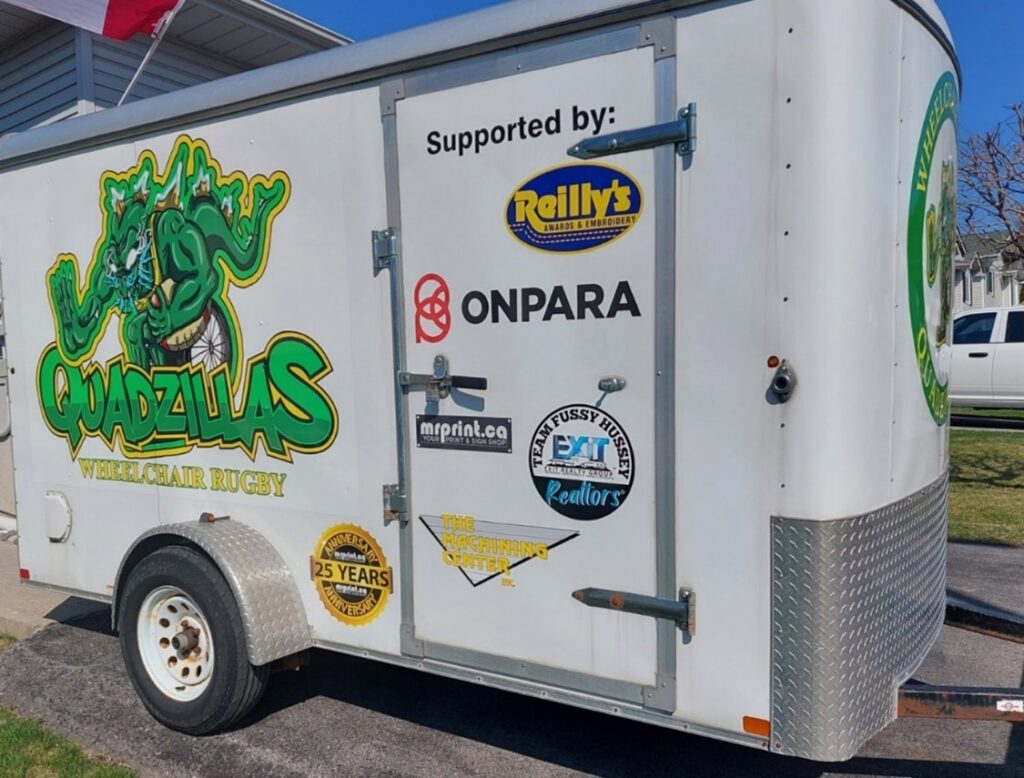 The trailer is branded with their club sponsors who continue to support Quadzillas.
"It's hard because a lot of places aren't doing well. The the pandemic hurt a lot of us. We basically had to rebuild our rapport with different businesses and stuff like that."
But thanks to our sponsors, (Reilly's Awards & Embroidery, The Machining Center, Mr. Print.ca, Team Fussy Hussey EXIT Realtors), Mike continues to provide maintenance, programming, clinics and their annual tournament.
For Mike Breske and many others, wheelchair rugby provides community and purpose.
"Rugby's done so much for me; I want to do more for rugby."
Interested in playing or supporting the Quadzillas, you are welcome to reach Mike Breske at quadzillasrugby@gmail.com.
ABOUT WHEELCHAIR RUGBY CANADA
Wheelchair Rugby Canada is the national governing body for the Canadian Heritage Sport of wheelchair rugby. Wheelchair Rugby Canada strives to be a world-leader in wheelchair rugby, a respected advocate for wheelchair athletes and a visionary organization committed to excellence in programs from recruitment to retirement.
MEDIA CONTACT
Nathan Lederer
Communications and Marketing Manager
Wheelchair Rugby Canada
nathan@wheelchairrugby.ca or 905-531-7428