Article, Competition
Strong Second Half For Canada In Win Over New Zealand At 2022 Wheelchair Rugby World Championship
October 15, 2022Team advances to fifth-place game against France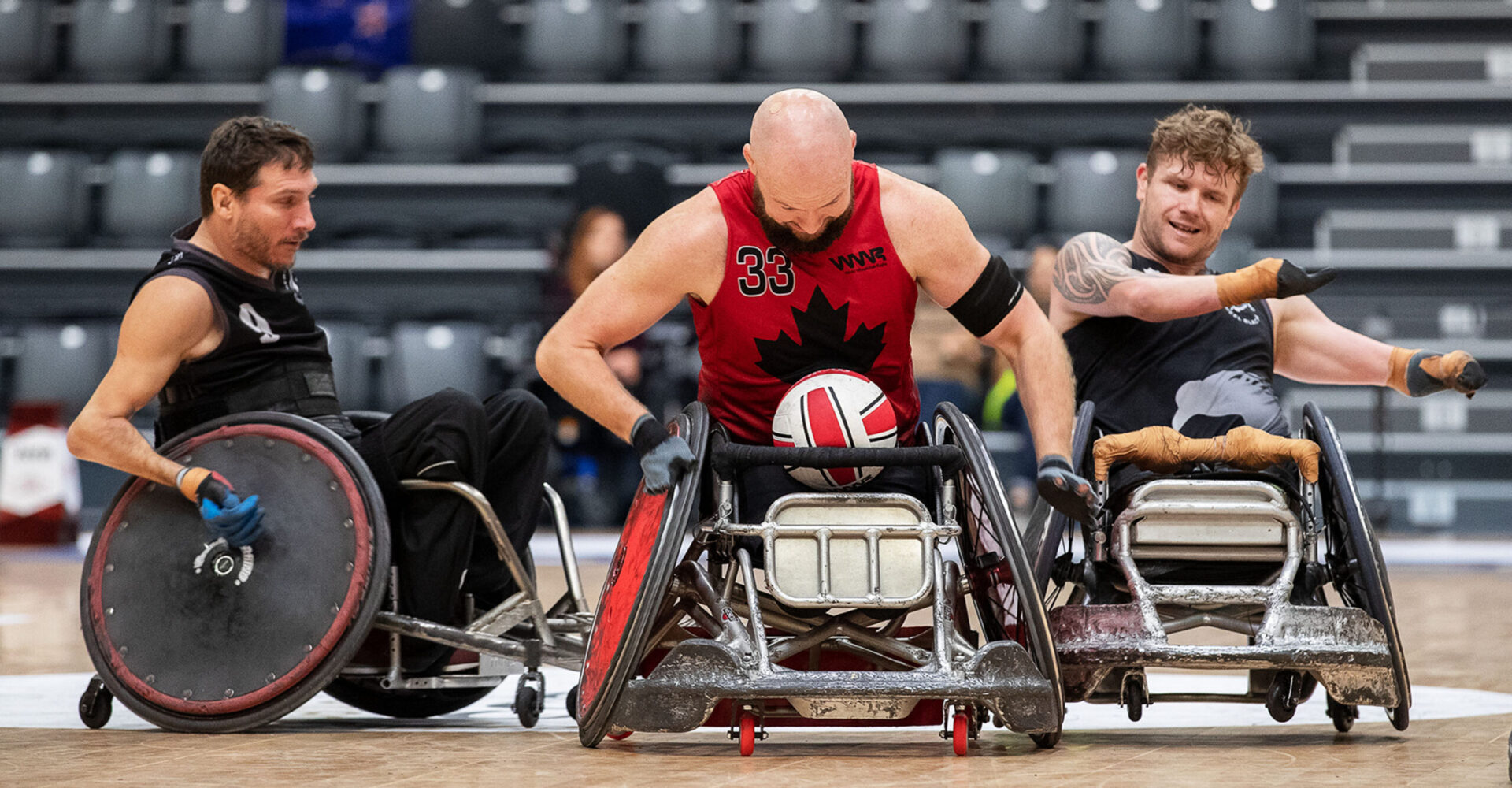 VEIJLE, Denmark – Canada dominated the second half Saturday in a 60-49 victory over New Zealand to advance to the fifth-place game at the 2022 Wheelchair Rugby World Championship.
The Canadians, ranked sixth in the world, will face world number-five France on Sunday at 5:30 a.m. ET. The French were upset by host Denmark in Friday's quarterfinal after going undefeated in the preliminary round.
On Saturday, France defeated Paralympic Games champion Great Britain 51-48 to meet Canada for fifth spot.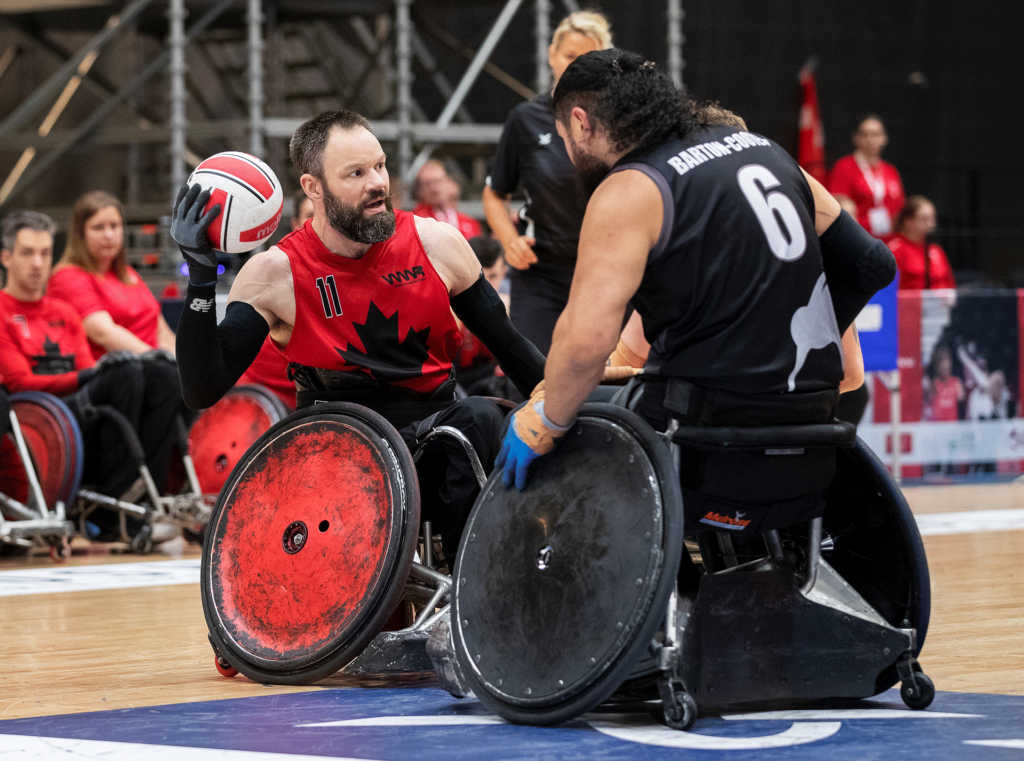 Photo: Kevin Bogetti-Smith
Zak Madell of Okotoks, Alta. led Canada against the Kiwis with 29 points with Anthony Létourneau of Boisbriand, Que. adding seven. Mike Whitehead of Windsor, Ont., Fabien Lavoie of Quebec City, and Travis Murao of Toronto scored five points each.
''The New Zealanders gave us a big challenge,'' said Lavoie, a five-time Paralympian. ''When my line hit the floor I felt we needed to cause some turnovers. We were worried it was a little too close and we could lose it at the end.''
The first half was a tight battle with Canada up 15-14 after the first quarter and 26-25 at the half. However the Canadians pulled away in the last 16 minutes, scoring 17 points in both quarters. They led 43-38 after three.
''Our line was focused on stopping the players with the ball and forcing them to pass,'' said Lavoie, who scored four of his five points in the third quarter. ''We transitioned quickly to defense to retrieve those passes.''
In the medal rounds, Denmark faces Australia in one semifinal later Saturday while defending champions and world number-one Japan meets the U.S. It was the Americans who defeated Canada 53-51 in Friday's quarterfinal.
Canada and France also played for fifth at the last worlds in 2018 and the 2020 Paralympic Games.
In 2018, France defeated Canada 52-51, but the Canadians turned the tables last summer at the Tokyo Paralympics with a 57-49 win.
Canada's game against France will be aired via an expanded Paralympic Super Series highlights show available at 9 a.m. (ET) on Sunday. It can be viewed on Paralympic.ca and the CPC's Facebook page as well as CBC Sports digital platforms, including the free CBC Gem streaming service, cbcsports.ca, and the CBC Sports app for iOS and Android devices.
To learn more about the 2022 Wheelchair Rugby World Championship, visit 2022WRWC.com.
Media Contacts:
Nicole Watts
Manager, Public Relations
Canadian Paralympic Committee
nwatts@paralympic.ca / 613-462-2700
CBC Sports cbcsports@cbc.ca
Joanna Landsberg
CBC Public Relations
joanna.landsberg@cbc.ca / 647-628-4788
For media information about Team Canada at the 2022 Wheelchair Rugby World Championships:  
Nathan Lederer
Communications and Marketing Coordinator
Wheelchair Rugby Canada
nathan@wheelchairrugby.ca / 905-531-7428