Announcement, Article
Official Ryan Gaudet to be honored at Saskatchewan Sport Awards
January 12, 2023WRC is proud to recognize Ryan Gaudet as the recipient of the Volunteer Dedication Award.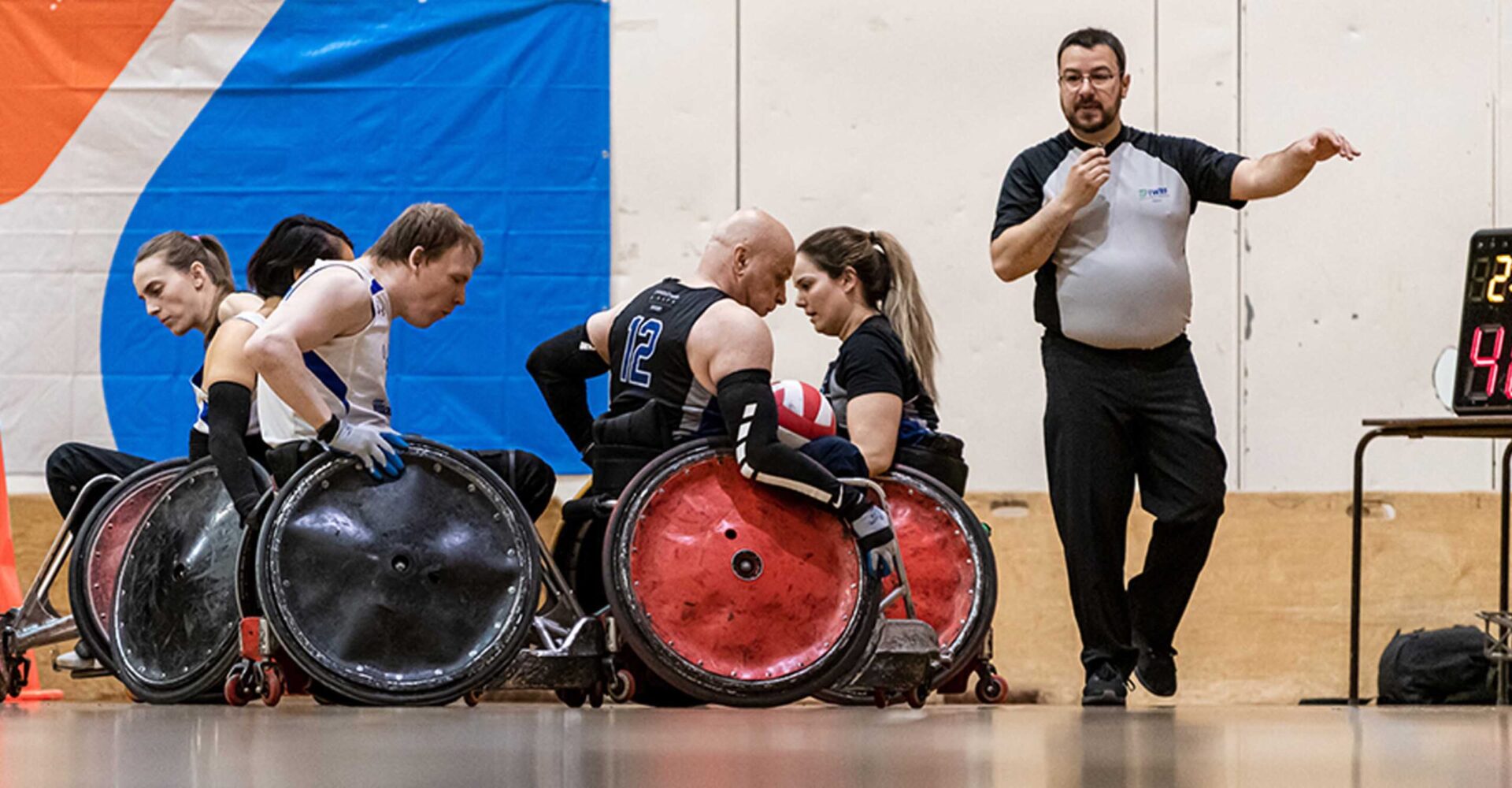 January 12, 2023 – Wheelchair Rugby Canada (WRC) is proud to recognize Ryan Gaudet as the recipient of the Volunteer Dedication Award. Nominated by Saskatchewan Wheelchair Sports Association (SWSA), Ryan has officiated all over Canada including every Vancouver Invitational since 2004, the Montreal Invitational, National Championships, and the Crash for Cash. Receiving his Zonal & World licenses in 2011 and 2015, respectively, Ryan's international resume includes:
2016 Paralympic Games – Game Commissioner (worked gold medal game)
2018 World Championship – Game Commissioner
2020 Paralympic Games – Referee (worked bronze medal game)
2022 World Championship – Referee
Ryan started his parasport journey as a participant in wheelchair basketball, while supporting his cousin Julian who competed in both wheelchair basketball & wheelchair rugby. In 2003, he attended his first wheelchair rugby official's clinic, led by former head official Gilles Briere.
"Ryan Gaudet has had an outstanding career as an official, one that he pursued with passion, positivity, doggedness and resilience," said Canadian Head Official, Kevin Bowie. "He created outstanding rapport with athletes & coaches and was an expert at elevating the level of his partners. Although he's put down his whistle, I'm sure it won't be long till he picks up a pen and sits down in the evaluator chair. When he does, I know he will be successful. I know he will continue to make others successful."
Gaudet has been the head official for Saskatchewan, Alberta, and Manitoba since 2013 and has previously served as the president of the Board for SWSA.
Although Ryan will be stepping away from officiating to take some time with family, he is looking forward to supporting the sport off the court as an evaluator, head official and clinician, both domestically and for the WWR.
ABOUT SASKATCHEWAN SPORT AWARDS
The annual program celebrates the success and dedication of those in the province's amateur sport community through two categories – Excellence Awards and Recognition Awards. The Excellence Awards celebrate outstanding event performances or a series of performances by a Saskatchewan athlete, coach or team within a given calendar year, while the Recognition Awards include the Volunteer and Coach Dedication Awards which honour individuals who have devoted their time and effort to the growth of sport in Saskatchewan. The 2022 Saskatchewan Sport Awards will be celebrated gala on Thursday, Jan. 26 at 7 p.m. at TCU Place in Saskatoon. More on recipients here.
ABOUT WHEELCHAIR RUGBY CANADA
Wheelchair Rugby Canada is the national governing body for the Canadian Heritage Sport of wheelchair rugby. Wheelchair Rugby Canada strives to be a world-leader in wheelchair rugby, a respected advocate for wheelchair athletes and a visionary organization committed to excellence in programs from recruitment to retirement.
MEDIA CONTACT
Nathan Lederer
Communications and Marketing Manager
Wheelchair Rugby Canada
nathan@wheelchairrugby.ca or 905-531-7428