Announcement
National Development Director Duncan Campbell to Retire
May 12, 2021Campbell set to retire from his role effective May 31, 2021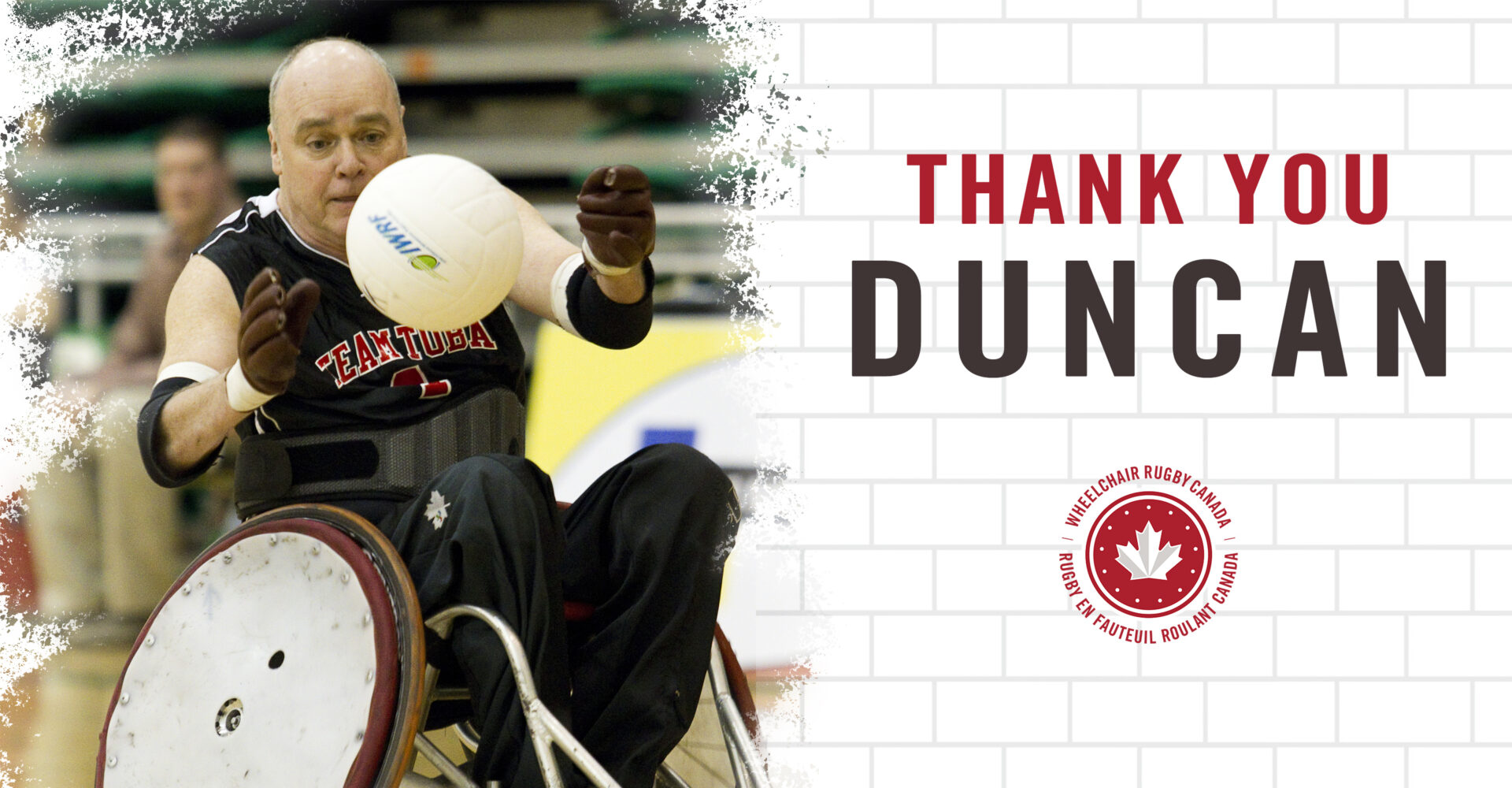 Ottawa, May 12, 2021 – Wheelchair Rugby Canada announced today that Duncan Campbell will be retiring from his role as National Development Director effective May 31, 2021.
Campbell, fondly known as the "Quad Father," is one of the original founders of wheelchair rugby in 1976.
"It has been amazing, but as they say, all good things must come to an end.  I really have a hard time believing that I have been involved in this game for 45 years, but every day has been worth it. To see a game which started as a whim in a rehab gym in Winnipeg, grow to be the fastest growing wheelchair sport in the world, has been amazing. I have loved playing, developing, coaching, recruiting, and watching the game for all those years." said Duncan Campbell.
As a young athlete in Winnipeg, Duncan created the sport with a group of friends. He developed the basic rules and regulations of a game designed specifically for quadriplegics and others with high-level impairments.
"I have seen the game change through the development of highly technical equipment, rule changes, changes in the classification system, change in athlete development, change in financial support, and many other ways, but the heart of the game remains the same."
Whether it is as a player, coach, recruiter or organizer, Duncan has remained active in the sport since the very beginning. He has won a handful of national championships as a player, been the assistant coach for Canada's wheelchair rugby team at the 2000 Summer Paralympic Games, and mentored many of Canada's top player's, including Paralympians Garett Hickling, Ian Chan, and Trevor Hirschfield. He also served as an IWRF Board Member for over 10 years and was part of the organizing committee that hosted the 2010 World Wheelchair Rugby Championships in Vancouver, BC.
"A simple competitive team sport providing the opportunity to play to a group of individuals with disabilities who did not have that opportunity prior to Murderball being created.  I hope the others who started it with me realize what we did. There are now quads around the world playing this game, becoming more confident, healthier, and usually more independent. Some of those changes are even more important than playing the game."
Over the years, Campbell has received numerous recognitions for his distinguished contributions to the sport of wheelchair rugby and the Paralympic movement.
2004       Canadian National Championship trophy renamed the Campbell Cup
2005       Inducted as a Builder into the Canadian Paralympic Committee Hall of Fame
2013       Awarded the Paralympic Order
2015       Inducted as a Pioneer into the BC Sports Hall of Fame
2017       The Founding Fathers inducted into the Canadian Wheelchair Rugby Hall of Fame
2018       Inducted as the first member of the IWRF Hall of Fame
2020       Inducted as a Builder into Canada's Sports Hall of Fame
"I want to leave by thanking each and every one of you for keeping this game alive and growing. Whether you are a player, coach, referee (I know I was mouthy as a player), classifier, or administrator. What you do, in some way, helps the game. Most of the time you are committing your time and energy as a volunteer and I have always appreciated that commitment. It has been a very weird year, and I will miss seeing everyone at Nationals.  I am pretty sure that even though I am retiring, my involvement will continue in some way or another. Rugby rules."
Wheelchair Rugby Canada would like to thank Duncan Campbell for his incredible dedication and commitment to the development of wheelchair rugby since 1976. Duncan's contributions to the sport are immeasurable, and he has paved the way forward for many generations of wheelchair rugby athletes to come.
"Gratefully, Duncan intends to continue his work as a volunteer because we cannot imagine wheelchair rugby without the Quad father's involvement.  He is at the heart of everything we do." said WRC CEO, Cathy Cadieux.  His positivity, humor and kind but firm attitude have helped to develop a generation of players whose lives have been forever changed through their involvement in wheelchair rugby.  And not only the players but all those involved in this amazing sport.  I count myself extremely fortunate to know Duncan.  He is a mentor, friend, colleague and the best example ever of how to make lemonade when life hands you lemons."
To highlight his many accomplishments, a celebration, with Duncan, is being organized for next year's National Championships.
–
ABOUT WHEELCHAIR RUGBY CANADA
Wheelchair Rugby Canada is the national governing body for the Canadian Heritage Sport of wheelchair rugby. Wheelchair Rugby Canada strives to be a world-leader in wheelchair rugby, a respected advocate for wheelchair athletes and a visionary organization committed to excellence in programs from recruitment to retirement.
MEDIA CONTACT
Ben Parker-Jones
Communications and Marketing Coordinator
Wheelchair Rugby Canada
ben@wheelchairrugby.ca or 613-523-0004