Article, Competition
Host country returns to podium at Canada Cup with silver medal
June 5, 2022Canada's wheelchair rugby team loses thrilling final in overtime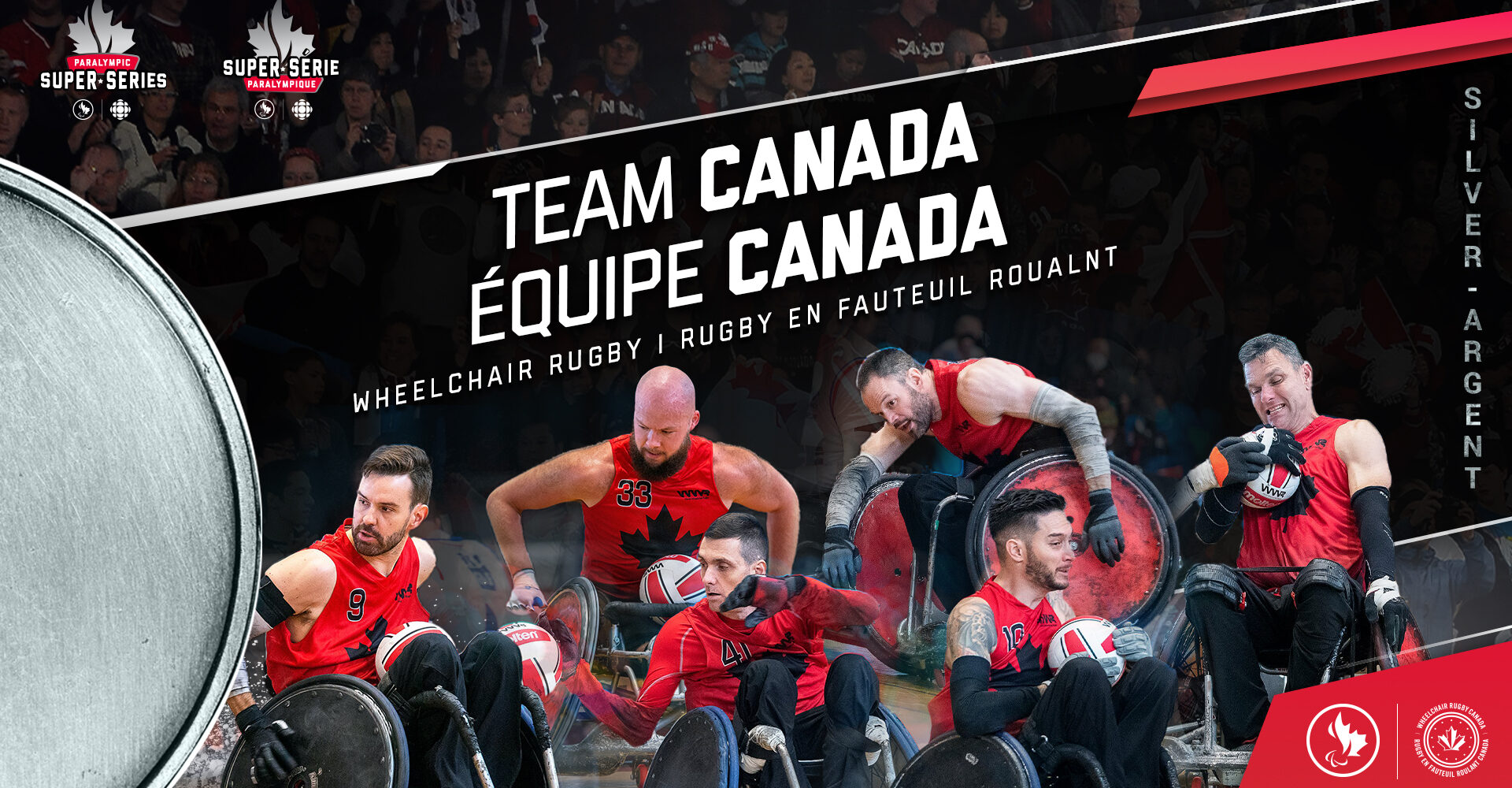 RICHMOND, B.C. – Canada returned to the podium for the first time since 2014 at the Canada Cup wheelchair rugby tournament, earning the silver medal following a dramatic 57-56 overtime loss in the final to Japan on Sunday.
The Canadians went 5-0 to place first in the preliminary round, but this time faced a much sharper and harder hitting Japanese squad which showed why it is the defending world champion.
'It's great to see we are right in there right now,'' said Canada's co-captain Trevor Hirschfield. ''Playing a tight game against Japan, especially with the world championships later this year is promising. Hats off to the guys, a great week.''
Hirschfield, a three-time Paralympian, forced the overtime when he completed a three-way passing play at the buzzer to tie the score 52-52. With only 12 seconds left in regulation, Mike Whitehead hustled down the court, tossed the ball to Zak Madell who found Hirschfield parked on the goal line.
The Japanese had first possession in OT and grabbed a 53-52 lead. The teams exchanged points the rest of the way and Canada ran out of time in its bid to send the game to a second overtime.
Madell, second in scoring at the Paralympic Games tournament last summer where Canada placed fifth, led the home attack with 33 points. Cody Caldwell added nine, Mike Whitehead seven, and Hirschfield five.
Canada grabbed its first lead at the end of the first quarter at 14-13 when it recovered an errant pass by Japan. But two Canadian mistakes in the second quarter, one on a botched scoring opportunity and another on a time violation, put Japan back ahead 19-18.
''Today we saw the Japanese team we are used to,'' said Hirschfield. ''They were fast and they hit hard. In the preliminary game they had an unusual slow start and we feasted on that.
''So it was a tough loss for us in the final.''
In return, the visitors got sloppy at the end of the third with Hirschfield and Madell cashing in and it was 37-36 Canada. Fuya Shirakawa, Japan's top scorer with 19 tries, regained the lead with 1:51 left in regulation when a Canadian pass was intercepted, setting up a dramatic finish.
The Canadians were looking to win their first ever gold medal in nine editions of the Canada Cup tournament, which is considered one of the biggest in the sport outside of the Paralympic Games and world championships. They were fourth at the last two editions in 2016 and 2018 and have now won four silver medals overall.
In the bronze medal game Sunday, Denmark defeated Great Britain 52-50.
To learn more about Canada Cup, visit CanadaCupWCRugby.com.
Media Contacts:
Nicole Watts
Manager, Public Relations
Canadian Paralympic Committee
nwatts@paralympic.ca / 613-462-2700
Joanna Landsberg
CBC Public Relations
joanna.landsberg@cbc.ca / 647-628-4788
For media information about Canada Cup:
Nathan Bragg
BC Wheelchair Sports Association
communications@bcwheelchairsports.com / 604-715-7298
For media information about Team Canada at Canada Cup:
Nathan Lederer
Communications and Marketing Coordinator
Wheelchair Rugby Canada
nathan@wheelchairrugby.ca / 905-531-7428