Article, Competition
Great Britain and USA Strike back in Day 2 of Tri Nations
July 21, 2022WRC  continues their Tri Nations tournament with consecutive losses in Day 2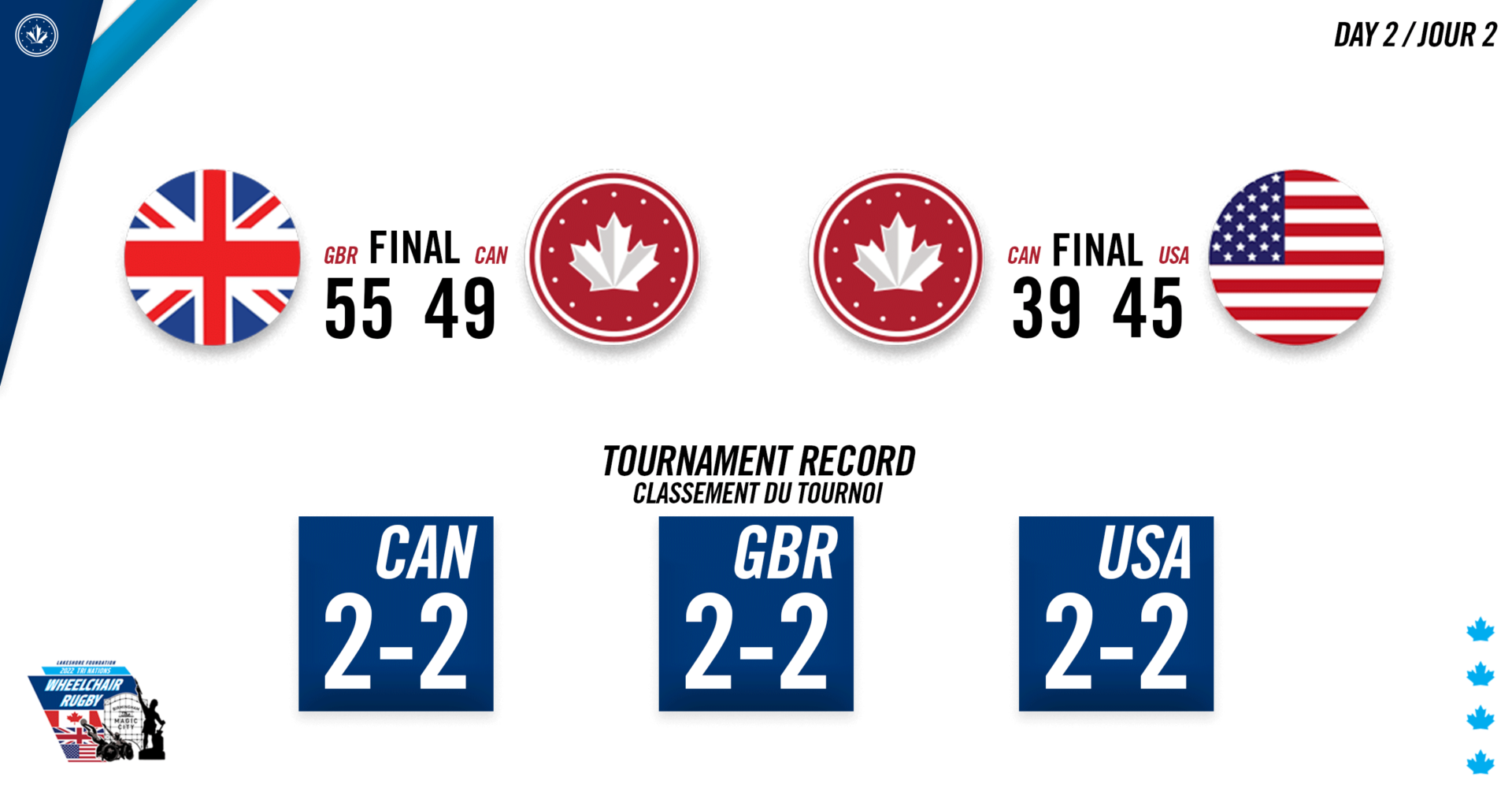 Wheelchair Rugby Canada (WRC) continues their Tri Nations tournament with consecutive losses in Day 2 of action. Britain bounces back from a 0-2 start to the tournament, defeating Canada 55-49.
Great Britain pulled away in the third quarter, outscoring the Canadians 13-8 in that stretch.
"GB put the pressure on in the third and was able to put some space between us," said Co-Captain Hirschfield. "We can't afford to take the foot off the gas at this level. Time to move onto the next game and build on the things that are working."
In Canada's second match of the day, Team USA the rematch, the final score 45-39. Solid defense from Canada forced the USA to use all their timeouts by the half; however, Canada's turnovers costed them.
"We didn't execute to our potential and the score reflects that," said Caldwell. "We approach tomorrow the same way we approach every game. Stick to our style of play and execute the way we are capable off and it will be a good day."
Team USA outscored Canada in each quarter.
"The U.S. team really pressured us to make plays and passes and made the windows very tight," said Debly. "We will regroup and come out flying next time."
Canada finishes preliminary action on Friday, stream the event on Youtube.
For the complete schedule, and more on the Tri Nations Invitational, visit their website here.
ABOUT WHEELCHAIR RUGBY CANADA
Wheelchair Rugby Canada is the national governing body for the Canadian Heritage Sport of wheelchair rugby. Wheelchair Rugby Canada strives to be a world-leader in wheelchair rugby, a respected advocate for wheelchair athletes and a visionary organization committed to excellence in programs from recruitment to retirement.
MEDIA CONTACT
Nathan Lederer
Communications and Marketing Coordinator
Wheelchair Rugby Canada
nathan@wheelchairrugby.ca or 905-531-7428