Competition, National Team
DAY 2: CANADA REMAINS UNDEFEATED IN LIMA
August 24, 2019Canada defeat Brazil 58-43 and Colombia 64-45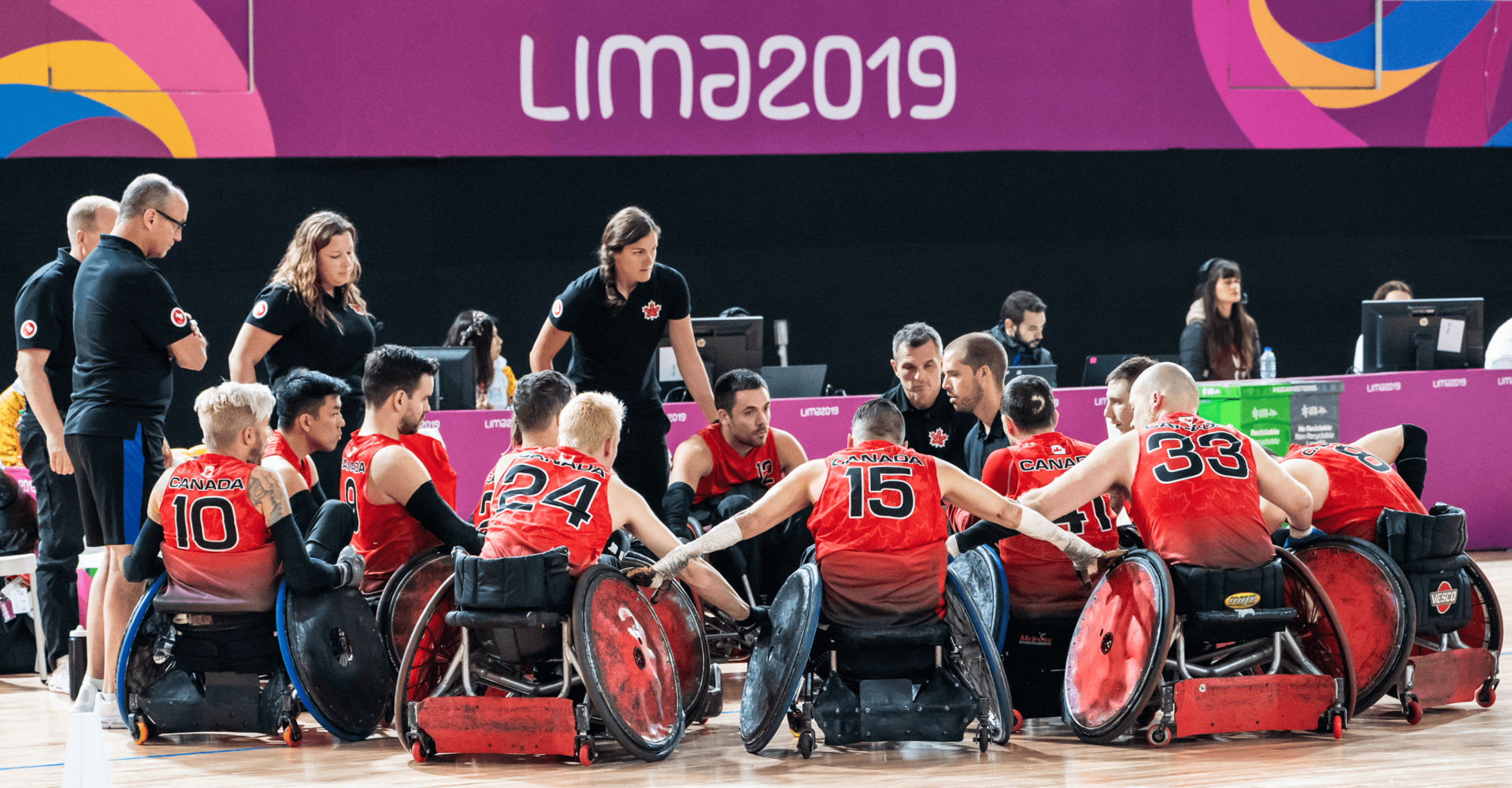 LIMA, PE. – Canada remains undefeated at the 2019 Parapan American Games, following a pair of well-earned victories over Brazil and Colombia. The results mean Canada will move on from the round robin stage to Monday's semifinals.
Canada 58 Brazil 43
The beginning of the 1st quarter saw Canada and Brazil exchange tries back-and-forth, with very little separating the two teams. However, as the quarter wore on, Canada would gain the ascendancy and force the Brazilians into a few key turnovers. The quarter would end, Canada 17 Brazil 12.
The second and third quarters would follow a similar script. Canada's Zak Madell would twist and turn his way through the Brazilian defense to score, while Travis Murao and Eric Rodrigues would bully Brazil into making mistake.
By the time the buzzer went off to end the third quarter, Canada was well on their way to victory with a 16-point lead.
The fourth quarter would play out at a lesser tempo, with both teams choosing to rest players, in order to conserve some energy. Both teams are scheduled to play a second match on Saturday.
The match would end 58-43 for Canada.
Mike Whitehead – "I felt that today's game went really well. You've got to give Brazil a lot of credit. They had a strong game plan and managed to execute it at times. In the end, we chipped away, stuck with our own game plan, and slowly increased the lead…"
Patrick Côté – "We are focusing on the next game here. We made a couple adjustments defensively. There was a little problem with communication, and I think we'll correct this in the next game this afternoon. We're going to rest, eat, and relax before playing Columbia this evening."
Canada 64 Colombia 45
Canada was off to the races from the opening tip-off on Saturday night, showing why they are one of the tournament's favorites. By being incisive on attack and unshakable on defense the Canadians managed to build up a size-able 8-point lead over their Colombian opponents by half-time.
That lead would stretch even further in the second half, as Mike Whitehead would continue to cut through Colombia's defense with precise and accurate passes to Zak Madell (19 tries) and Travis Murao (15 tries).
Colombia's struggles would be compounded even further by their fumbles and misplaced passes. They would turnover the ball 22 times on the night – Canada had 8 turnovers.
The match would eventually finish 64-45 in favor of Canada, giving the Canadians their third-straight win at Lima 2019.
David Willsie – "Colombia are a strong team. They're a very emotional team so they come out all fired up. It started off as being one of our best games ever. The first five minutes we were all over them and caught the wind out of their sails. I'm proud of the guys."
Trevor Hirschfield – "The way we prepared for this tournament was through focusing a lot on the Brazil, Colombia, and the US and we have a solid game plan which we'll put to work and see how that matches up against the US. Chile is a great first place to start. We have Chile first thing tomorrow so we can start working on some of those tactics and carry that forward to the US game…"
"The US has a lot of veterans on their team. They've got Chuck who's a veteran and a work-force but, for us, it's less worrying about them and worrying more about what we're trying to do in the game."
DAY 3 PREVIEW
(Canada vs Chile at 08:00 PT / 11:00 ET, Canada vs USA at 13:00 PT / 16:00 ET)
With a spot in Monday's semifinals locked in, Canada will now shift it's focused to finishing top of the round robin standings. In order to do so, the Canadians will need to win both matches on Sunday.
Canada's first match on Sunday will be against Chile.
Ranked 21st in the world, Chile made their international debut in 2015. They have since made steady improvements to their game and have managed to bring through the ranks a genuine try-scoring threat in Christian Madariaga Dallez (3.5).
Without a doubt, a tricky test for Canada, but one they should be able to overcome if they stick to their strengths.
Canada will then play arch-rivals the United States on Sunday afternoon, in a match that many fans will have marked on their calendars as a "must watch".
USA are the top-ranked team in the tournament and have possess a wealth of experience within their ranks, with 9 of their players possessing either World Championship and/or Paralympic experience.
Expect it to be a tense and tight affair, that will go right down to the last play. You won't want to miss it.
LIVE COVERAGE
Viewers will be able to follow the Canadian Parapan Am Team via the free CBC Gem streaming service, cbcsports.ca, the CBC Sports app for iOS and Android devices, and CPC Facebook page, as well as the Radio Canada Sports app and radio-canada.ca/sports.
SCHEDULE & RESULTS
August 23: Canada 60-24 Argentina
August 24: Canada 58-43 Brazil
August 24: Canada 64-45 Colombia
August 25: Canada vs. Chile
August 25: Canada vs. USA
August 26: Semifinals
August 27: Gold and bronze medal games
–
About the Canadian Paralympic Committee: Paralympic.ca
About Wheelchair Rugby Canada: WheelchairRugby.ca
MEDIA CONTACT
Ben Parker-Jones
Communications and Marketing Coordinator
Wheelchair Rugby Canada
ben@wheelchairrugby.ca or 613-523-0004