Announcement
CCWG Webinar Series Starts September 10
September 8, 2020Webinar to begin at 11 pm PT / 2 pm ET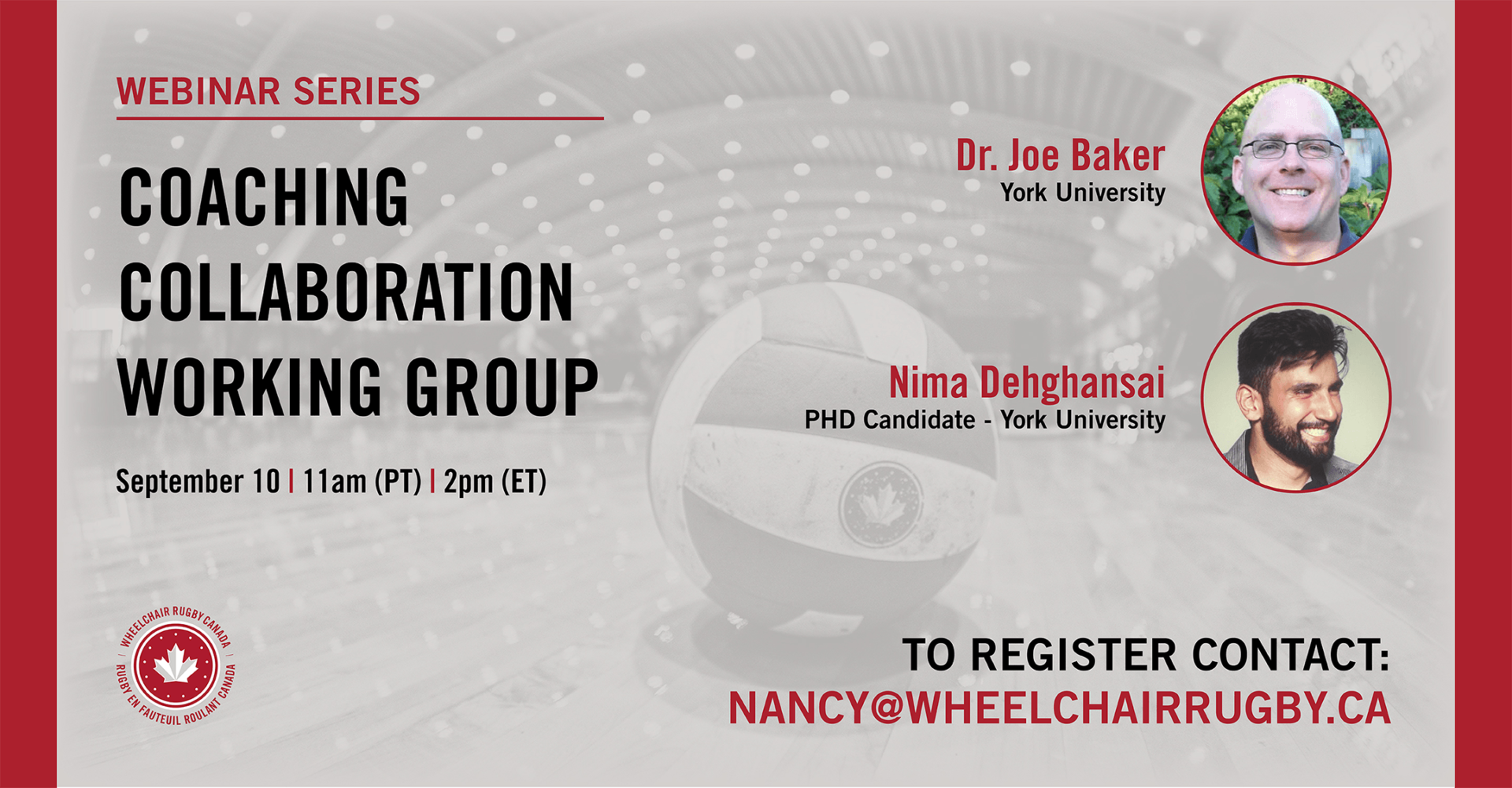 Wheelchair Rugby Canada will be hosting its first Coaching Collaboration Working Group (CCWG) webinar on Thursday, September 10 at 11 pm PT / 2 pm ET, featuring world-renown experts and researchers in Skill Acquisition in Sport, Dr. Joe Baker and Nima Dehghansai.
The CCWG webinar will be held over Zoom video conferencing and is free for anyone to join, however, registration is required.
To register, please contact Nancy Wong at nancy@wheelchairrugby.ca.
Biographies of our featured speakers:
Dr. Joe Baker – York University
Joe is a world leading expert on talent identification, athlete development, and sport expertise. For more than 20 years, Dr. Baker has explored the factors that influence athlete development and has collaborated with national and international stakeholders to enhance current systems for identifying and developing athletes.
Nima Dehghansai (PhD Candidate) – York University 
Nima Dehghansai has been the lead on various projects focusing on talent identification and development in the Canadian and Australian Paralympic systems. His work focuses on informing policy to maximize resources and optimize athlete development. He has also worked as a skill acquisition specialist for various Canadian and Australian sporting organizations.
–
ABOUT WHEELCHAIR RUGBY CANADA
Wheelchair Rugby Canada is the national governing body for the Canadian Heritage Sport of wheelchair rugby. Wheelchair Rugby Canada strives to be a world-leader in wheelchair rugby, a respected advocate for wheelchair athletes and a visionary organization committed to excellence in programs from recruitment to retirement.
FOR MORE INFORMATION, PLEASE CONTACT:
Ben Parker-Jones
Communications and Marketing Coordinator
Wheelchair Rugby Canada
Tel: 613-523-0004
Email: ben@wheelchairrugby.ca