Competition, National Team
CANADA'S WHEELCHAIR RUGBY TEAM OFF TO A WINNING START AT LIMA 2019
August 23, 2019Canada defeat Argentina by a score of 60-24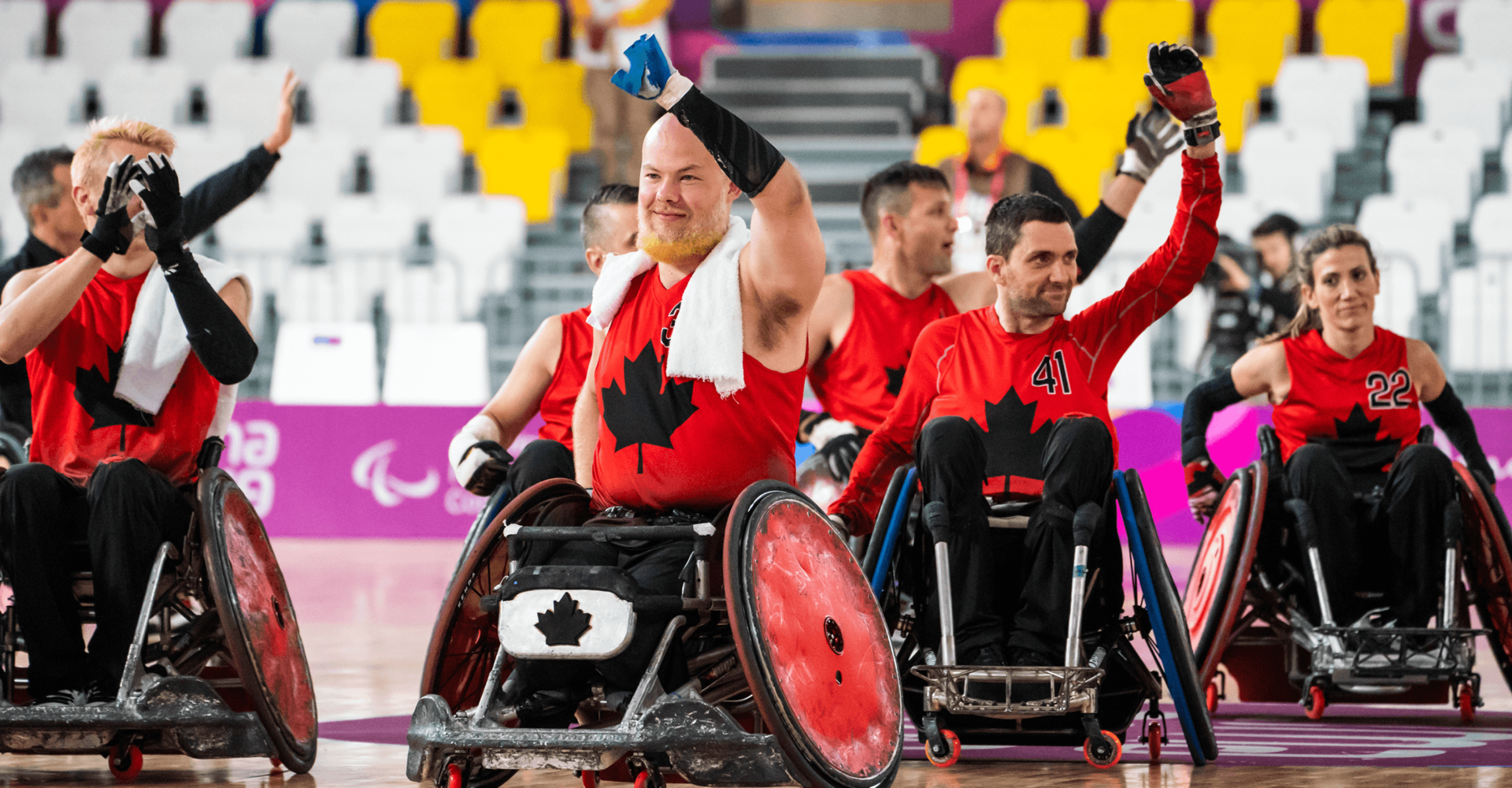 (LIMA, PE) – Canada's wheelchair rugby team began their quest to defend their Parapan American Gold on Friday morning, with a 60-24 victory over Argentina at the Polideportivo Villa El Salvador stadium in Lima, Peru.
The Canadian team was out of the gates quickly and built a commanding 17-4 in the first quarter. With sharp passing and constant movement, they managed to create gaps within the Argentinian defense and exploit them with ease. 
Canada had nine different try scorers on the day, with Ben Perkins scoring a game-high 11 tries.
The team's defensive press was equally as impressive, throughout the match. By hurrying and harrying the Argentinian offence, they were able to create 26 turnovers.
Veteran player Mike Whitehead led the game with 3 steals.
"Argentina have come a long way since the last time I saw played them four years ago. It was a good competition to see how we'll match up for the rest of the tournament." said Zak Madell
By half time the score was 31-9 in favor of the Canadians.
Canada's offense and defense continued to make plays on both sides of the ball, in the second half of the game. It would allow them to further extent their lead in the remaining quarters and eventually see out the game, 64-20.
All 12 players saw court time and two Canadian rookies made their major international debuts; Mélanie Labelle and Benjamin Perkins.
"I was never expecting to represent Canada from the get-go. My quiet dream was 2024 and to be here right now and hoping to punch a ticket to Tokyo 2020 is amazing. I'm looking to do my job out there." said Mélanie Labelle after the match.
It was the perfect start for the defending Parapan Am Games gold medalists, but harder assessments lie ahead, with matches against Brazil and Colombia scheduled for tomorrow.
"Starting the tournament strong was obviously a big goal we had. We were ready to play and getting that first win feels good, heading into the tougher part of our schedule." said Head Coach Patrick Côté.
DAY 2 PREVIEW
(Canada vs Brazil at 08:00 PT / 11:00 ET, Canada vs Colombia at 15:00 PT / 18:00 ET)
Tougher challenges await Canada on the second day of competition in Lima, with tricky matches against Brazil and Colombia on the schedule. However, wins in both games would see Canada all but qualify for the semi-final stage of the competition.
Brazil, the highest-ranked South American team, will be Canada's first opponents of the day. The Brazilians are a rising force in the world of wheelchair rugby and are known to play a fast-paced and physical game. Canada will certainly need to be on their game to overcome them and secure the win.
"We'll take our two games tomorrow one at a time. Starting with Brazil in the morning we know that they will be well-prepared and bring a lot of energy. We will need to match that and execute our game plan." said Head Coach Patrick Côté.
Canada's second match of the day will see them take on Colombia.
The last time these two teams met was in the preliminary round of the 2018 World Championship and Canada won 59-46. On the day, Canada's clever passing combinations between Branden Troutman and Mike Whitehead caused all sorts of problems for the Colombians.
The Canadians will surely be looking for a repeat performance, but it might not be as straight-forward. The Colombians are a talented group and will be determined to cause a major upset.
LIVE COVERAGE
Viewers will be able to follow the Canadian Parapan Am Team via the free CBC Gem streaming service, cbcsports.ca, the CBC Sports app for iOS and Android devices, and CPC Facebook page, as well as the Radio Canada Sports app and radio-canada.ca/sports.
SCHEDULE & RESULTS
August 23: Canada 60-24 Argentina
August 24: Canada vs. Brazil
August 24: Canada vs. Colombia
August 25: Canada vs. Chile
August 25: Canada vs. USA
August 26: Semifinals
August 27: Gold and bronze medal games
–
About the Canadian Paralympic Committee: Paralympic.ca
About Wheelchair Rugby Canada: WheelchairRugby.ca
MEDIA CONTACT
Ben Parker-Jones
Communications and Marketing Coordinator
Wheelchair Rugby Canada
ben@wheelchairrugby.ca or 613-523-0004