Competition, National Team
CANADA'S WHEELCHAIR RUGBY TEAM ADVANCE TO GOLD MEDAL GAME AT LIMA 2019
August 26, 2019Canada defeat Brazil 56-46 in the semifinals on Monday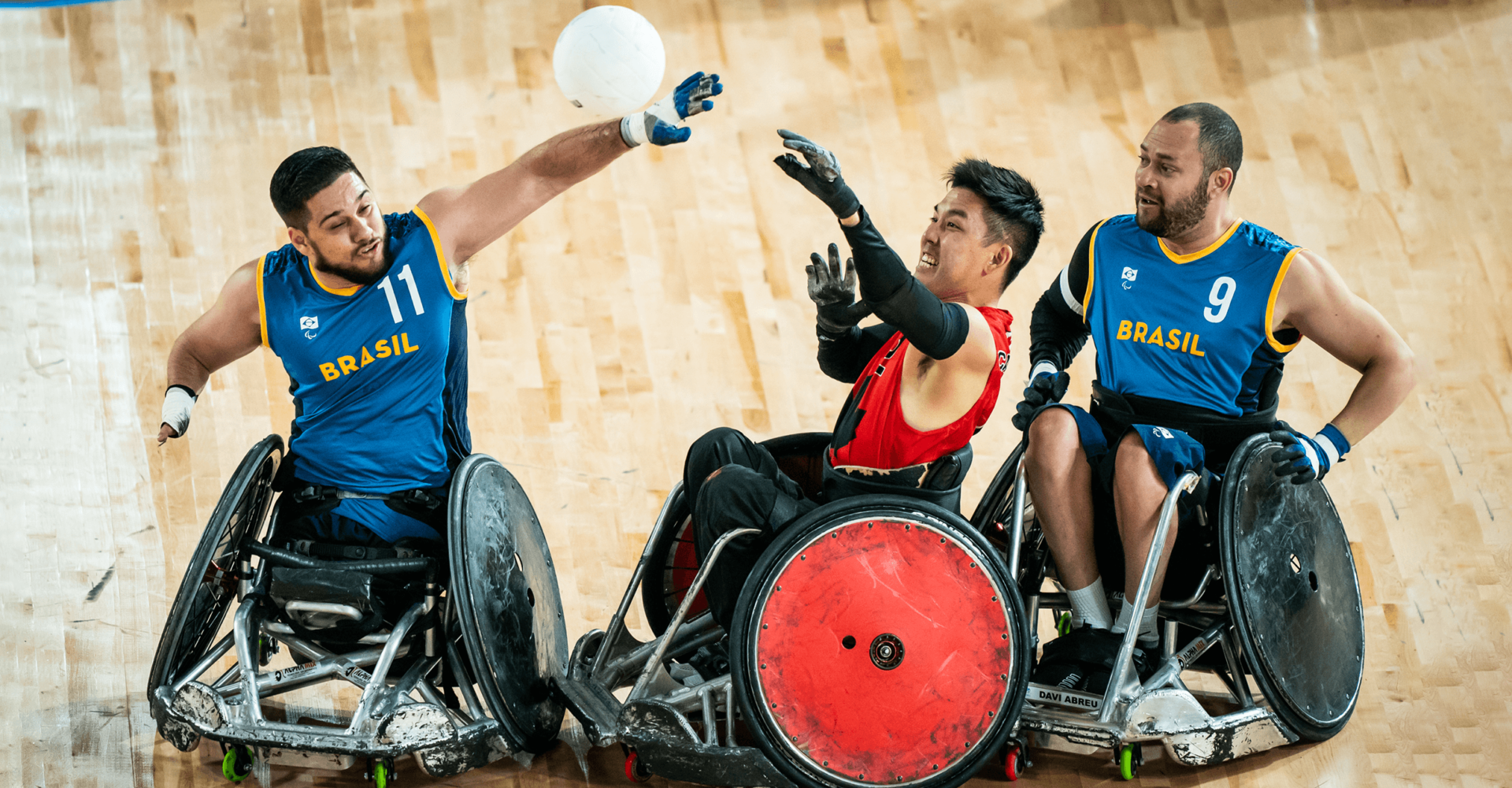 LIMA, PE. – Canada's wheelchair rugby team produced a dominant display in the semifinals of the 2019 Parapan Am Games to defeat Brazil by a score of 56-46. The Canadians will now move on to the gold medal game against their long-time rivals, the United States, which will be played on Tuesday, August 27th at 10:00 PT / 13:00 ET.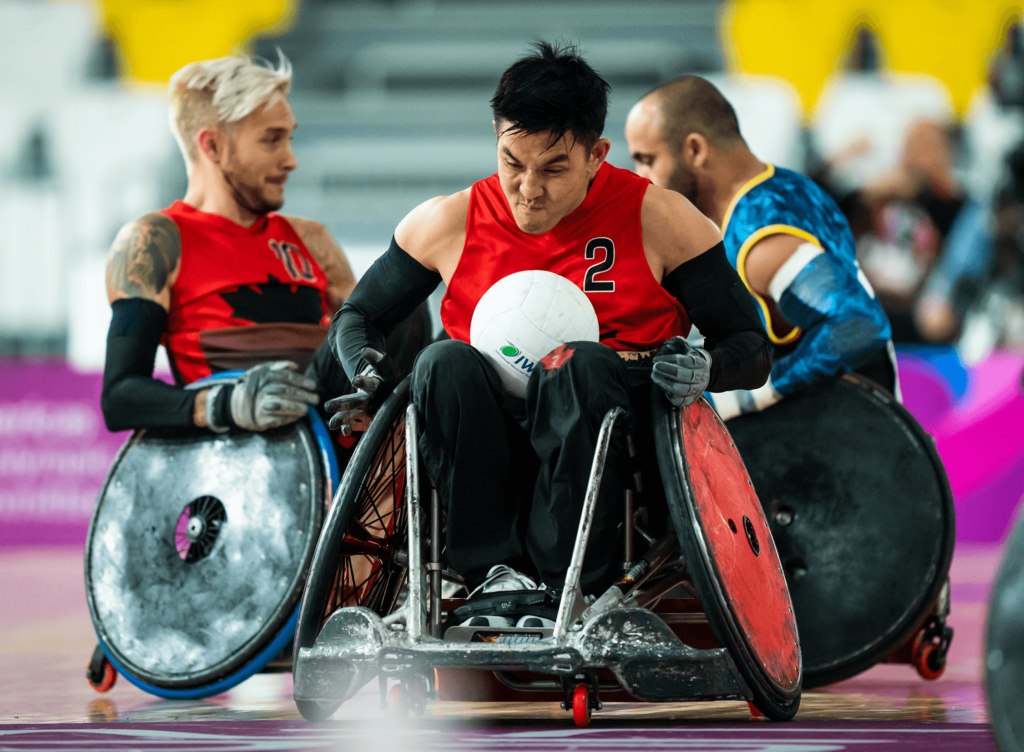 Canada 56 Brazil 46
Canada started the semi-final match up with a lot of intensity and tenacity, determined to shake off yesterday's narrow loss to the United States in the round robin.
Brazil, on the other hand, appeared to be caught off-guard by Canada's style of play and labored in the opening exchanges. As a result, they would fall behind to Canada by five tries, by the end of the first quarter.
Points were traded back-and-forth at the beginning of the 2nd quarter, with very little separating the two teams. However, a well-timed steal by Zak Madell in the fourth minute gave their Canada the opportunity to extend their lead even further. Ruthlessly, the Canadian took it.
Canada would lead 29-23 going into the break.
The Canadians would refuse let up in the third, by continuing to press on defense and create havoc on offense.
Clever passing combinations between Travis Murao, Cody Caldwell and Patrice Dagenais would time and time again, prove too much for Brazil, would eventually extend Canada's lead to 10 tries.
Canada would eventually see out the remainder of the match, secure the win, and book their place Tuesday's gold medal final.
Shayne Smith (Athlete) – "I think we played well as a team. We had each other's backs and we're ready for tomorrow. I think the team has been dominant and we're coming for the US. We must do a little bit better in our transitions. I think we can turn it up a little. Same energy, with a little more focus and I think we'll be alright."
Zak Madell (Athlete) – "Brazil came out very energetic as they always do. They're a passionate team and we knew we couldn't take time off. We went out there and we performed our game plan and we'll use that as good preparation for our game against the United States tomorrow in the finals… We want to show that we're some of the best in the world at this. It's our sport, that we invented, so we want to make sure that we make a name for ourselves and bring as much success with us as we can…
"There's not too much time to enjoy this one. We're going to review film right now and start preparing for our next game as soon as we're finished here. We're going to make sure the bodies are moving and ready to go, and do what we can to be well prepared for whoever we play tomorrow… We had some calls that didn't go our way yesterday so we need to make sure that we don't put the game in the refs hands and go out there, control what we can control, and bring home a gold for our country."

DAY 5 – CANADA VS USA
(Match to be played at 10:00 PT / 13:00 ET)
Canada and the United States will meet in the gold medal final of the Lima 2019 Parapan American, in what promises to be a blockbuster game between two long-time rivals.
The United States came out on top earlier in the competition, defeating narrowly defeating Canada 54-51. However, the Canadian are likely to have learned their lessons from that time out, and are likely to put together a game place to stop the USA's top scorers, Chuck Aoki and Josh Wheeler.
Whatever happens on Tuesday in the final, expect fireworks from these two teams.
LIVE COVERAGE
Viewers will be able to follow the Canadian Parapan Am Team via the free CBC Gem streaming service, cbcsports.ca, the CBC Sports app for iOS and Android devices, and CPC Facebook page, as well as the Radio Canada Sports app and radio-canada.ca/sports.
SCHEDULE & RESULTS
August 23: Canada 60-24 Argentina
August 24: Canada 58-43 Brazil
August 24: Canada 64-45 Colombia
August 25: Canada 70-34 Chile
August 25: Canada 51-54 USA
August 26 (Semifinal) Canada 56-46 Brazil
August 27 (Gold Medal Game) Canada vs USA
About the Canadian Paralympic Committee: Paralympic.ca
About Wheelchair Rugby Canada: WheelchairRugby.ca
MEDIA CONTACT
Ben Parker-Jones
Communications and Marketing Coordinator
Wheelchair Rugby Canada
ben@wheelchairrugby.ca or 613-523-0004