Article, Competition
Canada Sweeps Preliminary at Quad Nations
September 17, 2022Team Canada completes preliminary action having went undefeated through their first three games.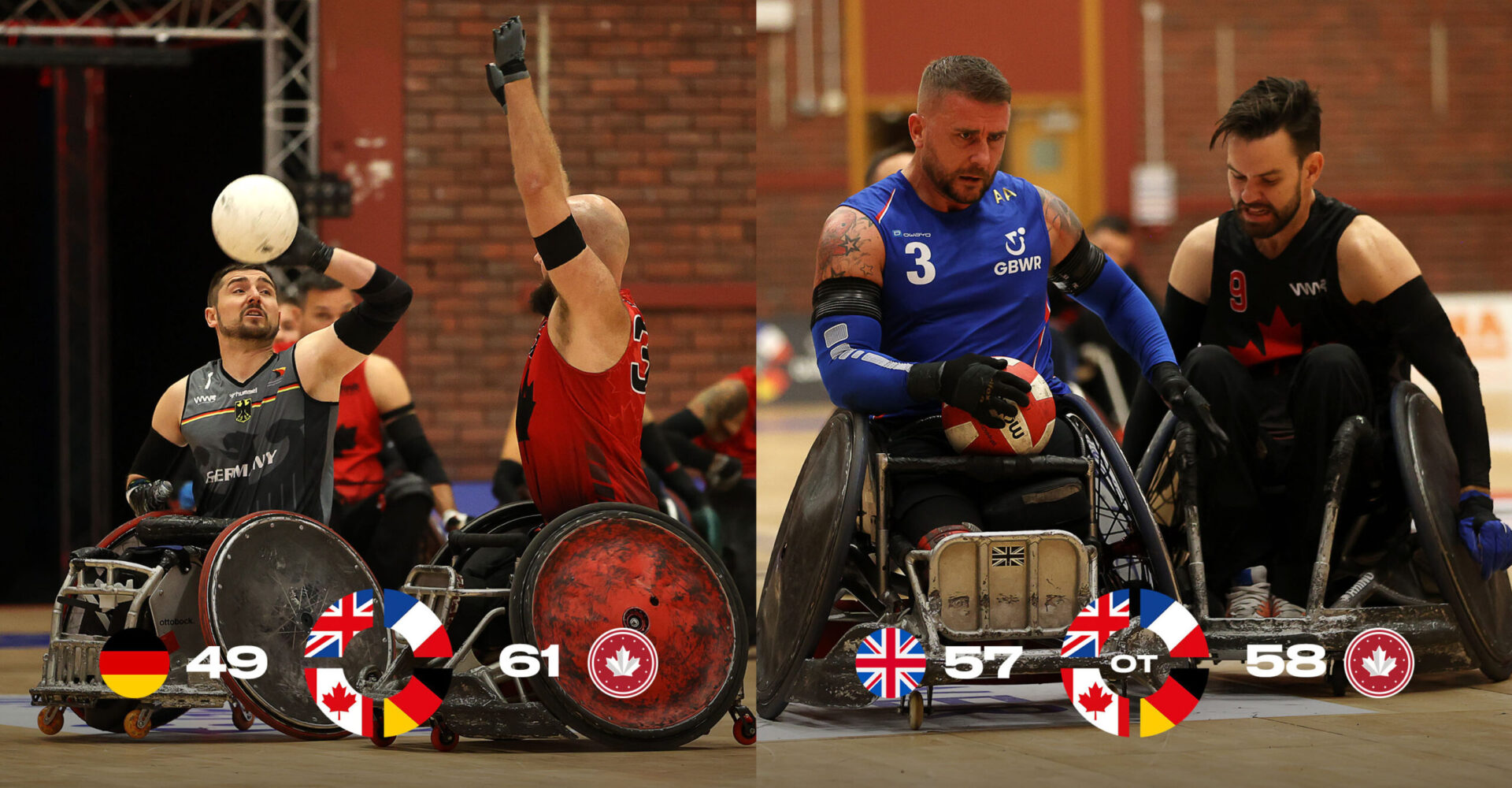 Saturday, September 17th – (Cardiff, Wales) Team Canada completes preliminary action having went undefeated through their first three games. Canada finishes in the 1-seed and will face Germany in the semi-final, Sunday.
Canada took care of business early Saturday morning, outscoring Germany 61-49. Germany finishes preliminary in the fourth seed with a 0-3 record.
Travis Murao on the morning match: "When you haven't played [Germany] in a number of years, there's always a 'feeling out process' to start the game. That being said, I think the squad did a great job remaining focused during a game was full of distractions."
Canada entered Quad Nations ranked 6th internationally; this is the final preparation for World Championships this October.
"We're having a great time out here in Wales, continued Murao. "It being our first time we weren't sure what to expect but the volunteers, staff and venue have all been top notch".
In Canada's final preliminary match, Canada forced overtime against Great Britain after trailing through the first three quarters of action; however, Canada finished on-top 58-57.
"It felt good to comeback, said Cody Caldwell. "We believe in each other and believe in our style of play that coaches have out in place. We've had a few comebacks this year that had help build our confidence."
Eric Furtado-Rodrigues on OT: "It was exciting. We executed our game plan and the things that we have been working on for the past years and were able to come out in top against a formidable opponent."
The Quad Nations tournament concludes action tomorrow with a series of elimination matches. Canada is set to play Germany in the Semi-final.
"We have a semi-final with Germany to take care of first, but anytime you have a chance to win a competition and beat the defending Paralympic gold medalists to do it, your going to be excited," continued Caldwell.
Semi-Final Match – Canada vs. Germany
4:00am ET, 1:00am PT
Bronze Medal Match – TBD
9:00am ET, 6:00am PT
Gold Medal Match – TBD
11:30am ET, 8:30am PT
For the complete Quad Nations schedule, visit their website here.
Streaming will be available via YouTube and Quad Nations' Facebook.
ABOUT WHEELCHAIR RUGBY CANADA
Wheelchair Rugby Canada is the national governing body for the Canadian Heritage Sport of wheelchair rugby. Wheelchair Rugby Canada strives to be a world-leader in wheelchair rugby, a respected advocate for wheelchair athletes and a visionary organization committed to excellence in programs from recruitment to retirement.
MEDIA CONTACT
Nathan Lederer
Communications and Marketing Coordinator
Wheelchair Rugby Canada
nathan@wheelchairrugby.ca or 905-531-7428