Article, Competition
Canada sets up USA quarterfinal duel at 2022 Wheelchair Rugby World Championship
October 13, 2022Squad finishes 3-2 in round robin action for third in pool B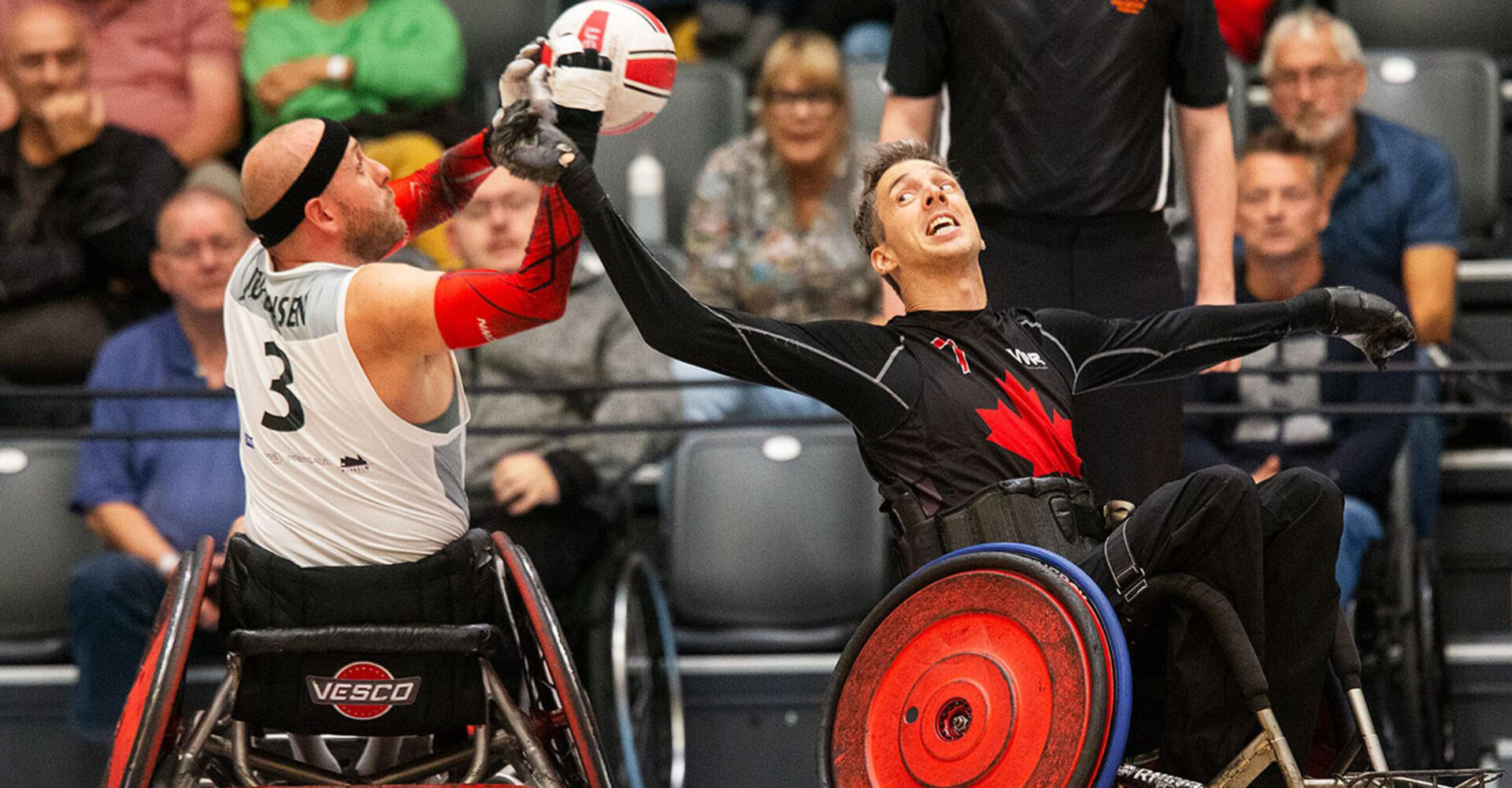 VEIJLE, Denmark – Zak Madell of Okotoks, Alta. scored 15 of his 40 points in the fourth quarter as Canada defeated Denmark 58-56 on Wednesday to conclude the preliminary round at the 2022 Wheelchair Rugby World Championship.
It's a third straight win for Canada which places third in Pool B with three wins and two losses. The Canadians will next face their archrival USA in the quarterfinals on Friday (8:45 am ET).
"It was an important win for us," said Canada's co-captain Patrice Dagenais of Embrun, Ont. "Especially that we were behind early in the game, and we were able to come back. We felt we were in control in the second half so it's good for our confidence."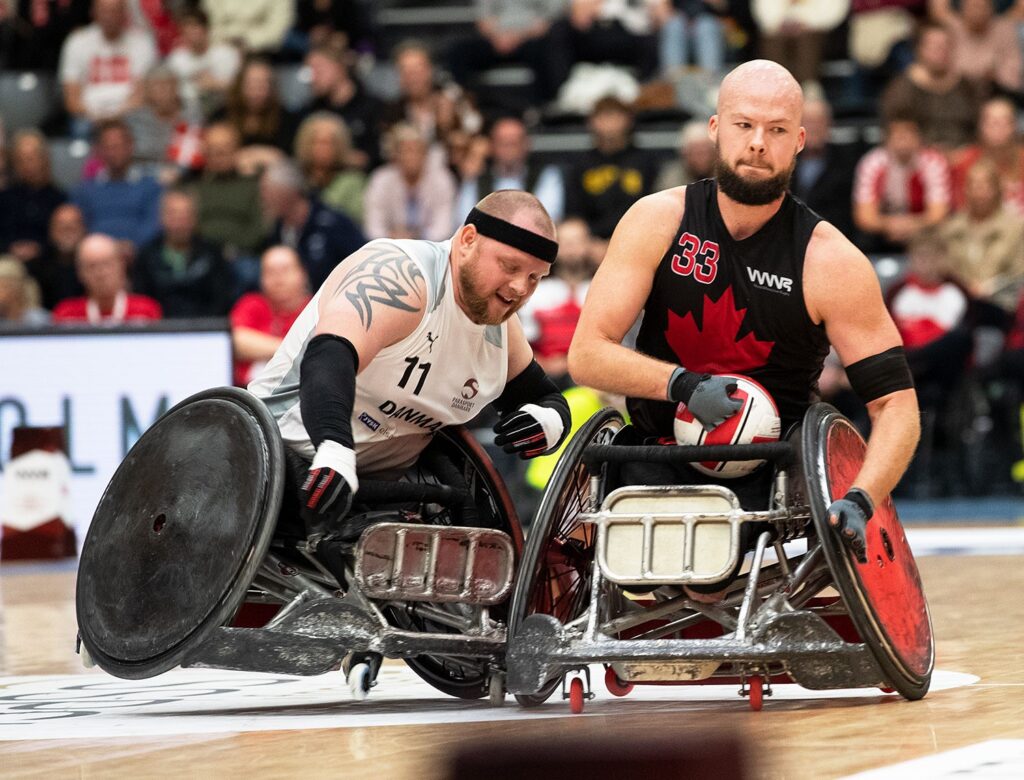 Photo: Kevin Bogetti-Smith
Madell, a three-time Paralympian, also added nine points in the second and third quarters and seven in the first. Fabrice Lavoie of Quebec City added six points.
The Canadians trailed 15-14 after the first eight minutes and the teams were tied 28-28 at the half and 42-42 after three.
"The eight teams headed to the quarterfinals are all good and I think we can beat anybody here," said Dagenais. ''It was important for us to focus on our game today, play well and bring that momentum forward tomorrow."
Defending champion Japan topped the Pool B standings with a 5-0 record followed by Australia at 4-1. The host Danes were fourth at 2-3 while Colombia was 1-4 and Brazil 0-5.
In Pool A, fifth-ranked France went undefeated to place first with the U.S. second at 4-1, the British 3-2, and New Zealand 2-3 grabbing the last playoff spot.
Canada will be facing a hungry U.S. team in the quarterfinal. The Americans are the most successful country in the sport with four world titles but their last was in 2010. They have three Paralympic Games gold medals, most recently in 2008.
At the Tokyo Paralympic Games last summer, the Americans edged Canada in the preliminary round 58-54 and the countries have a history of nail-biting matches.
Canada was fifth at the 2020 Paralympic Games and is looking for its first podium appearance at worlds since a silver in 2014.
The other quarterfinals Friday are Denmark-France, Australia-Great Britain, and Japan-New Zealand.
Canada's quarterfinal will be available to watch live through the Paralympic Super Series, and can be viewed on Paralympic.ca and the CPC's Facebook page as well as CBC Sports digital platforms, including the free CBC Gem streaming service, cbcsports.ca, and the CBC Sports app for iOS and Android devices.
Friday October 14
Quarterfinal – Canada vs. USA – 2:45 pm local time / 8:45 am ET / 5:45 am PT
To learn more about the 2022 Wheelchair Rugby World Championship, visit 2022WRWC.com.
Media Contacts:
Nicole Watts
Manager, Public Relations
Canadian Paralympic Committee
nwatts@paralympic.ca / 613-462-2700
CBC Sports cbcsports@cbc.ca
Joanna Landsberg
CBC Public Relations
joanna.landsberg@cbc.ca / 647-628-4788
For media information about Team Canada at the 2022 Wheelchair Rugby World Championships:  
Nathan Lederer
Communications and Marketing Coordinator
Wheelchair Rugby Canada
nathan@wheelchairrugby.ca / 905-531-7428