Article, Competition
Canada drops opener at 2022 Wheelchair Rugby World Championship
October 11, 2022Australia beats Canada by two points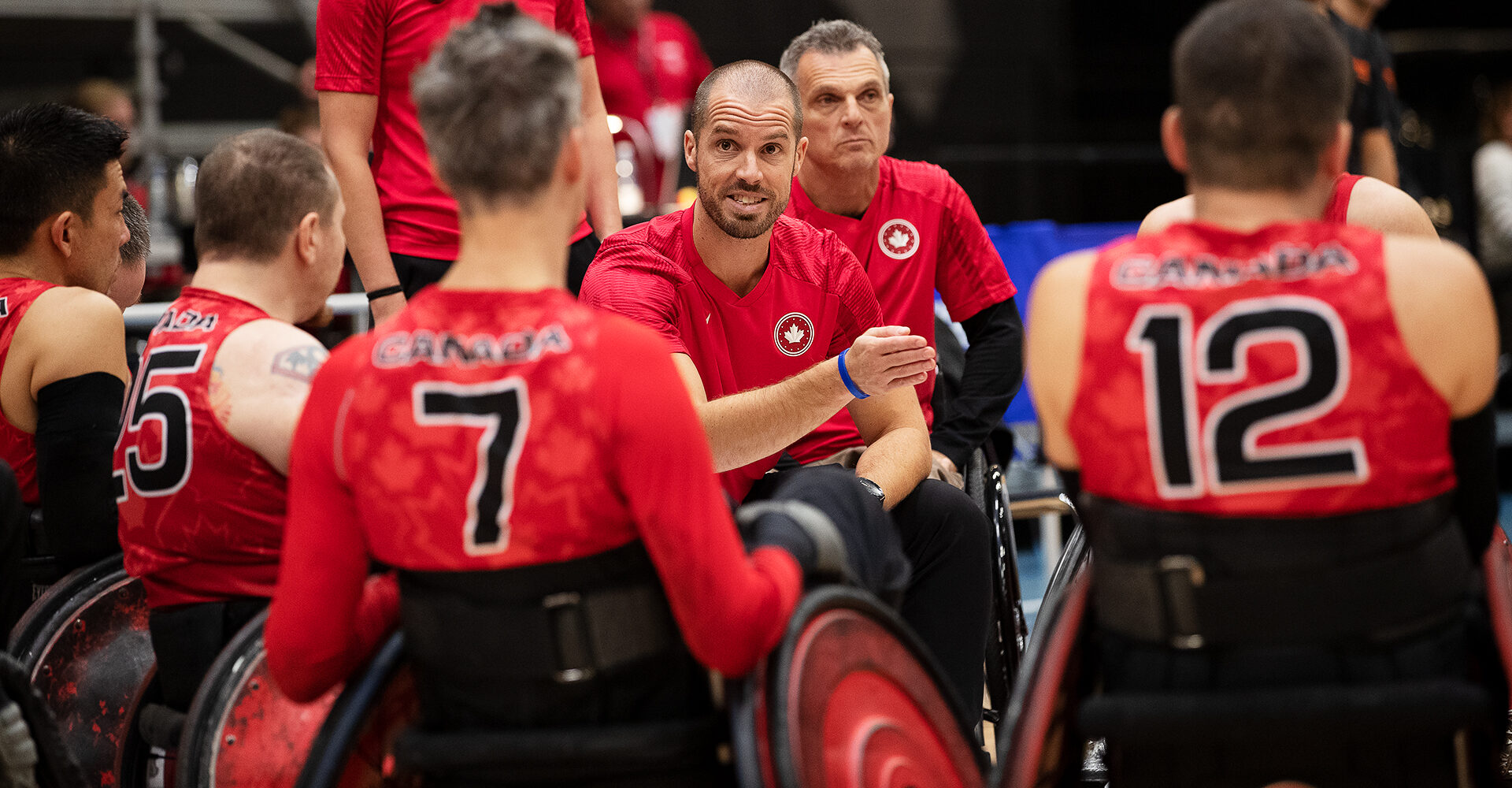 VEJLE, Denmark – Canada lost 55-53 to Australia on Tuesday in its opening game at the 2022 Wheelchair Rugby World Championship.
Zak Madell of Okotoks, Alta. led the Canadian attack with 29 points while Cody Caldwell of Peterborough, Ont., Travis Murao of Toronto, and Mike Whitehead of Windsor, Ont. completed the scoring with nine, eight, and seven points respectively.
"It's tough," said Caldwell, one of 11 returnees from Canada's Paralympic team which placed fifth in Tokyo last year. "We have the mindset to win every game. We knew Australia was going to be tough. Every play counts here. Hats off to them. They played their game."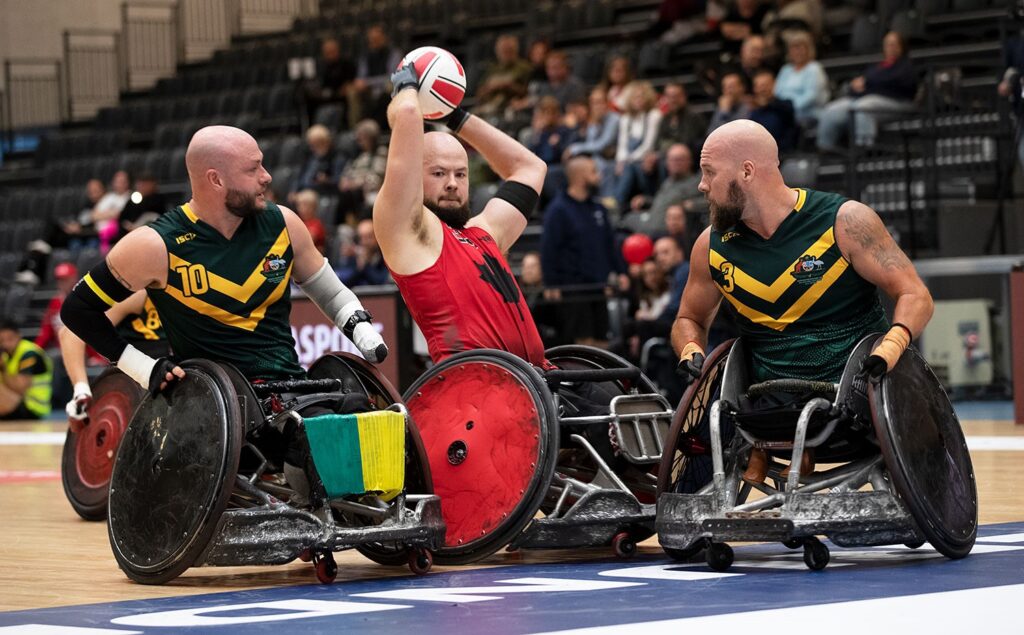 (Photo: Kevin Bogetti-Smith)
The Australians, ranked fourth in the world, led after each quarter: 15-13, 28-25 and 40-38. Four-time Paralympian Riley Batt was Australia's top scorer with a game high 31 points.
It was Australia's second win at the tournament. It defeated Brazil 57-36 on Tuesday morning in its opening game.
Canadian team captain Trevor Hirshfield received the Performance of the Day for causing a turnover in the third quarter which put Canada back in the game.
''We were trying to get last goal in that quarter,'' said Hirschfield. ''I just dropped into zone coverage and luckily it bounced to me and I was able to unload and we got two points there to end the quarter. We had dropped behind early and we were trying to claw back in.''
The schedule doesn't get any easier Wednesday for the sixth-ranked Canadians with two games on the docket. They face world number-one Japan in the morning, then Colombia in the early evening.
Japan, the defending world champions from the last worlds in 2018, opened with a 60-34 victory over Colombia. Denmark is the other country in Canada's pool.
Canada's games are available through the Paralympic Super Series, with three matches set to stream live and two games aired via extended highlights shows. They all can be viewed on Paralympic.ca and the CPC's Facebook page as well as CBC Sports digital platforms, including the free CBC Gem streaming service, cbcsports.ca, and the CBC Sports app for iOS and Android devices.
Canada's remaining round-robin schedule is:
Wednesday October 12
Canada vs. Japan – 9 am local time / 3 am ET (game will air via delayed highlights show)
Canada vs. Colombia – 5 pm local time / 11 am ET – LIVESTREAM
Thursday October 13
Canada vs. Brazil – 10 am local time / 4 am ET (game will air via delayed highlights show)
Canada vs. Denmark – 6 pm local time / 12 pm ET – LIVESTREAM
To learn more about the 2022 Wheelchair Rugby World Championship, visit 2022WRWC.com.
Media Contacts:
Nicole Watts
Manager, Public Relations
Canadian Paralympic Committee
nwatts@paralympic.ca / 613-462-2700
CBC Sports cbcsports@cbc.ca
Joanna Landsberg
CBC Public Relations
joanna.landsberg@cbc.ca / 647-628-4788
CBC Sports cbcsports@cbc.ca
For media information about Team Canada at the 2022 Wheelchair Rugby World Championships:  
Nathan Lederer
Communications and Marketing Coordinator
Wheelchair Rugby Canada
nathan@wheelchairrugby.ca / 905-531-7428