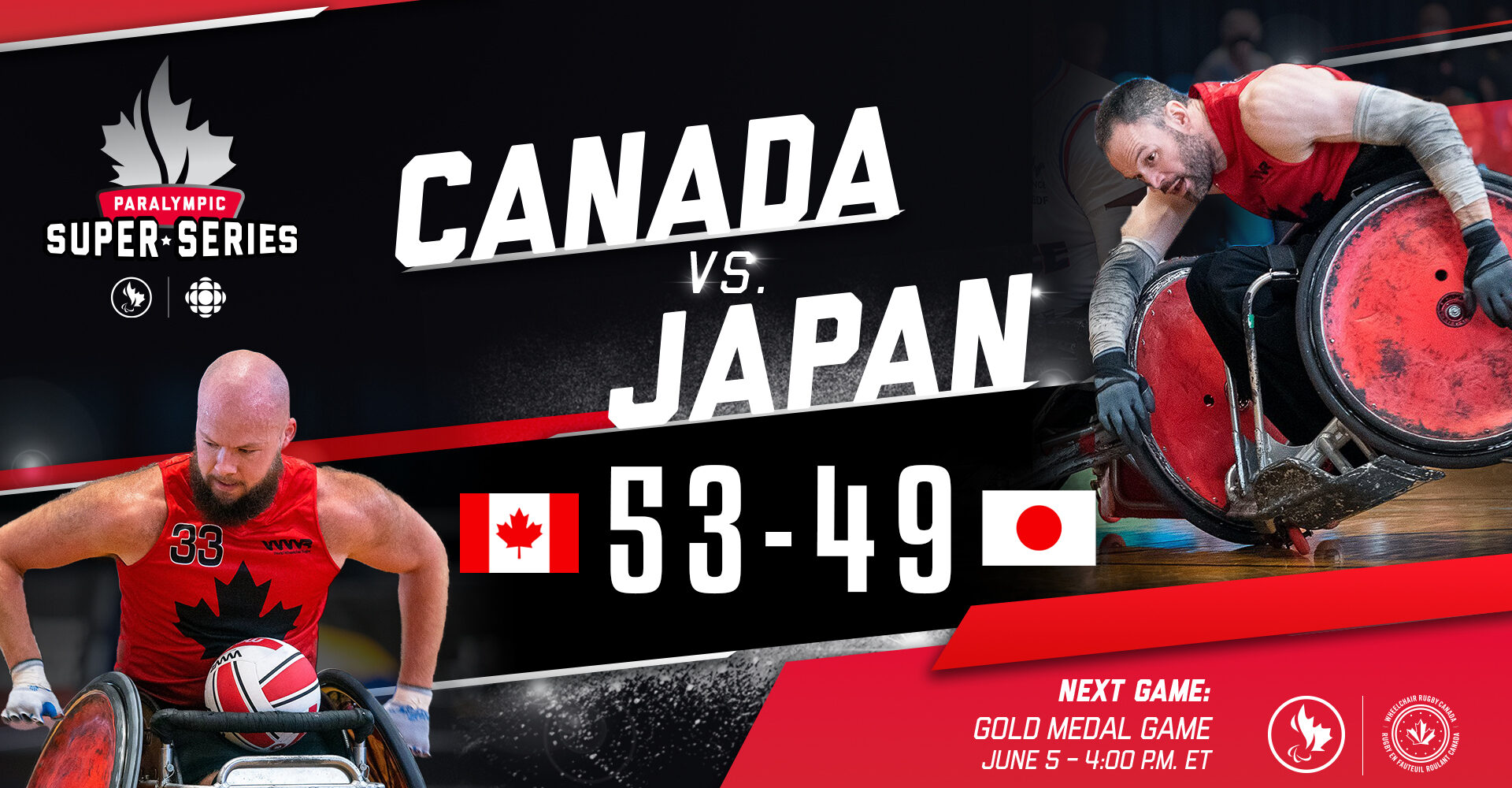 RICHMOND, B.C. – Canada's wheelchair rugby team continued its near flawless play on the floor on Saturday night with a 53-49 victory over reigning world champions Japan at the Canada Cup.
The Canadians finish the preliminary round with a perfect 5-0 mark. The two countries will face each other Sunday in the gold medal game. The Japanese posted a 4-1 record for second place in prelims.
''It's hard to have had a better preliminary,'' said Canada's head coach Patrick Côté.  ''I'm really pleased with our game today. We hadn't played Japan since last summer so we really wanted to have a strong start to the game."
That's exactly what happened as Japan lost the ball on three of its first five possessions as Canada built a 5-2 lead and was up 11-9 after a quarter.
The Japanese started the second quarter poorly as well as Canada capitalized on a time violation and fumble on route to leading 25-20 at the half.
''We have a lot of depth on our team,'' said Canadian scoring machine Zak Madell who led the attack with 23 tries. ''We got 10 players who have been on the court at least once every game and that keeps everybody fresh.''
Mike Whitehead added 10 points for the victors and Fabien Lavoie eight.
The gold medal game is set for 1 p.m. local time (4 p.m. ET) on Sunday. Denmark faces Great Britain for bronze at 10:30 a.m. local (1:30 p.m ET)
''I expect a closer match in the final,'' said Côté. ''Right now though we need to savour the moment, we hadn't beaten Japan in several years. We'll look at video and examine some minor errors we made and how we can clean that up."
All of Canada's round-robin games as well as the bronze and gold medal matches are being livestreamed on the Canadian Paralympic Committee's Facebook page and Paralympic.ca as well as CBC Sports digital platforms: the free CBC Gem streaming service, cbcsports.ca, and the CBC Sports app for iOS and Android devices. 
To learn more about Canada Cup, visit CanadaCupWCRugby.com. Please visit Paralympic.ca/Paralympic-super-series for more information on the Super Series and follow @CDNParalympics for live updates during the tournament. 
Media Contacts:
Nicole Watts
Manager, Public Relations
Canadian Paralympic Committee
nwatts@paralympic.ca / 613-462-2700
Joanna Landsberg
CBC Public Relations
joanna.landsberg@cbc.ca / 647-628-4788
For media information about Canada Cup:
Nathan Bragg
BC Wheelchair Sports Association
communications@bcwheelchairsports.com / 604-715-7298
For media information about Team Canada at Canada Cup:
Nathan Lederer
Communications and Marketing Coordinator
Wheelchair Rugby Canada
nathan@wheelchairrugby.ca / 905-531-7428