Article, Competition, National Team
Canada Defeats USA 51-47, Remains Perfect in Americas Championship
March 11, 2022Wheelchair Rugby Canada opens Day 3 with a victory against rival USA, the final score was 51-47.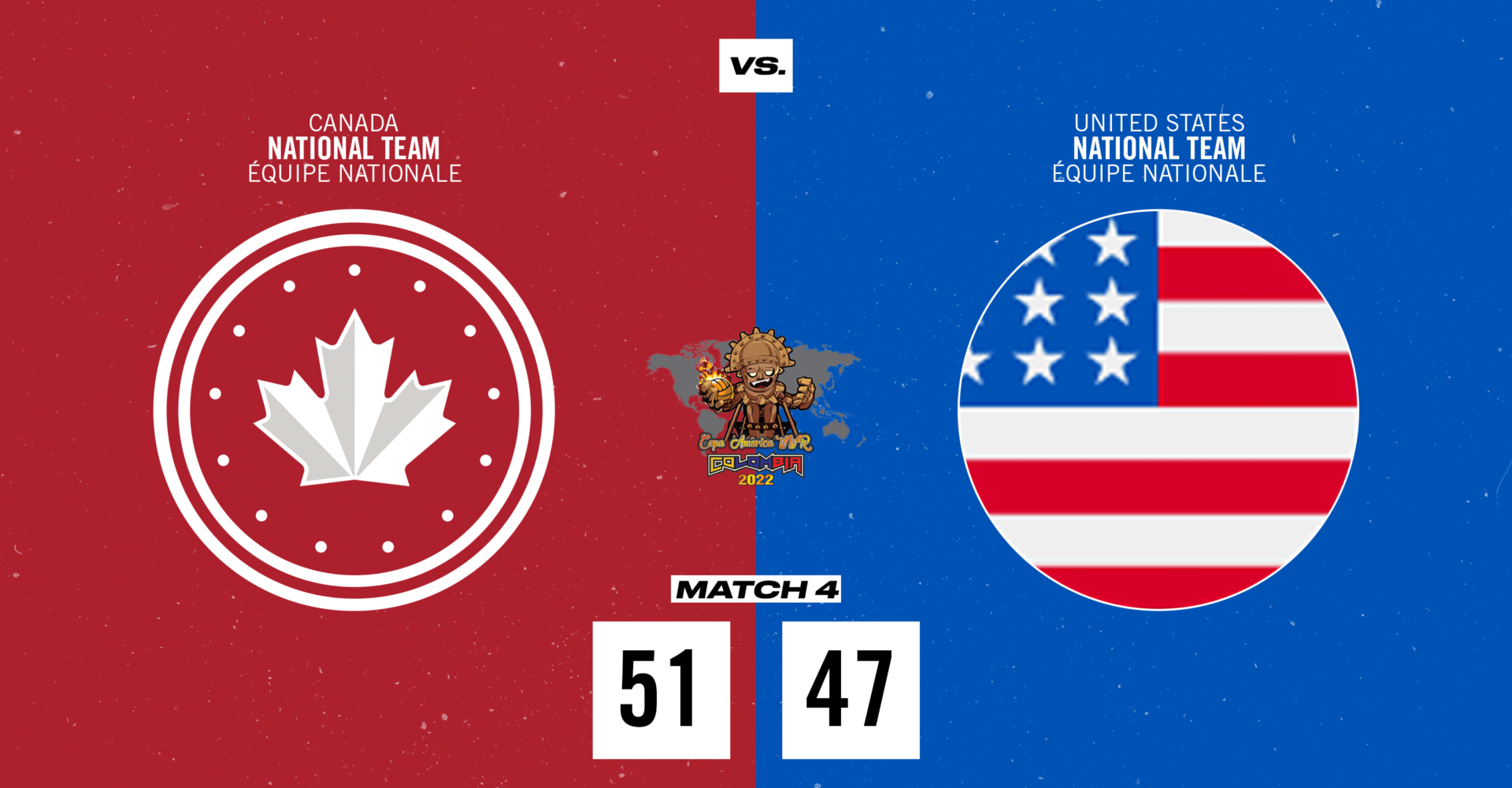 Ottawa, March 11, 2022 – Wheelchair Rugby Canada opens Day 3 with a victory against rival USA, the final score was 51-47. After a 15-15 first quarter, Canada took the lead in the second and held it for the remainder of the match. Canada remains as the only undefeated team in the tournament and will look to conclude preliminary action later against Chile.
"We played "Canada Rugby" for the full four quarters against an extremely strong opponent," said Eric Rodrigues. "Now we need to shift our focus to recovery and a quick turnaround for our game against Chile."
USA, ranked 1st internationally, will have an opportunity to play Canada again in a Gold Medal Game.
"The Guys were fired up. We were just ready to play the U.S. We came out firing, we thought we were in control from start to finish, said Coach Patrick Côté. "I think this game was good for the team because it's a tremendous confidence builder. We got the easier semi-final; we're going to have the longer break between the two games [of elimination]. We're going to have to come out with the same type of performance to come out on top tomorrow."
Canada is scheduled to play Chile in the final preliminary game at 2:30pm EST, 11:30am PAC.
For more details on streaming, media and scheduling visit the tournament's website here.
ABOUT WWR AMERICAS
The 2022 Americas Championship is a WWR tournament that provides qualification to the 2022 World Championship. Participating teams include Argentina, Brazil, Canada, Chile, Colombia, & United States.
ABOUT WHEELCHAIR RUGBY CANADA
Wheelchair Rugby Canada is the national governing body for the Canadian Heritage Sport of wheelchair rugby. Wheelchair Rugby Canada strives to be a world-leader in wheelchair rugby, a respected advocate for wheelchair athletes and a visionary organization committed to excellence in programs from recruitment to retirement.
MEDIA CONTACT
Nathan Lederer
Communications and Marketing Coordinator
Wheelchair Rugby Canada
nathan@wheelchairrugby.ca or 905-531-7428