Article, Competition
Canada defeats France to open 2022 Canada Cup wheelchair rugby tournament
June 2, 2022Zak Madell scores 22 points in Paralympic Games rematch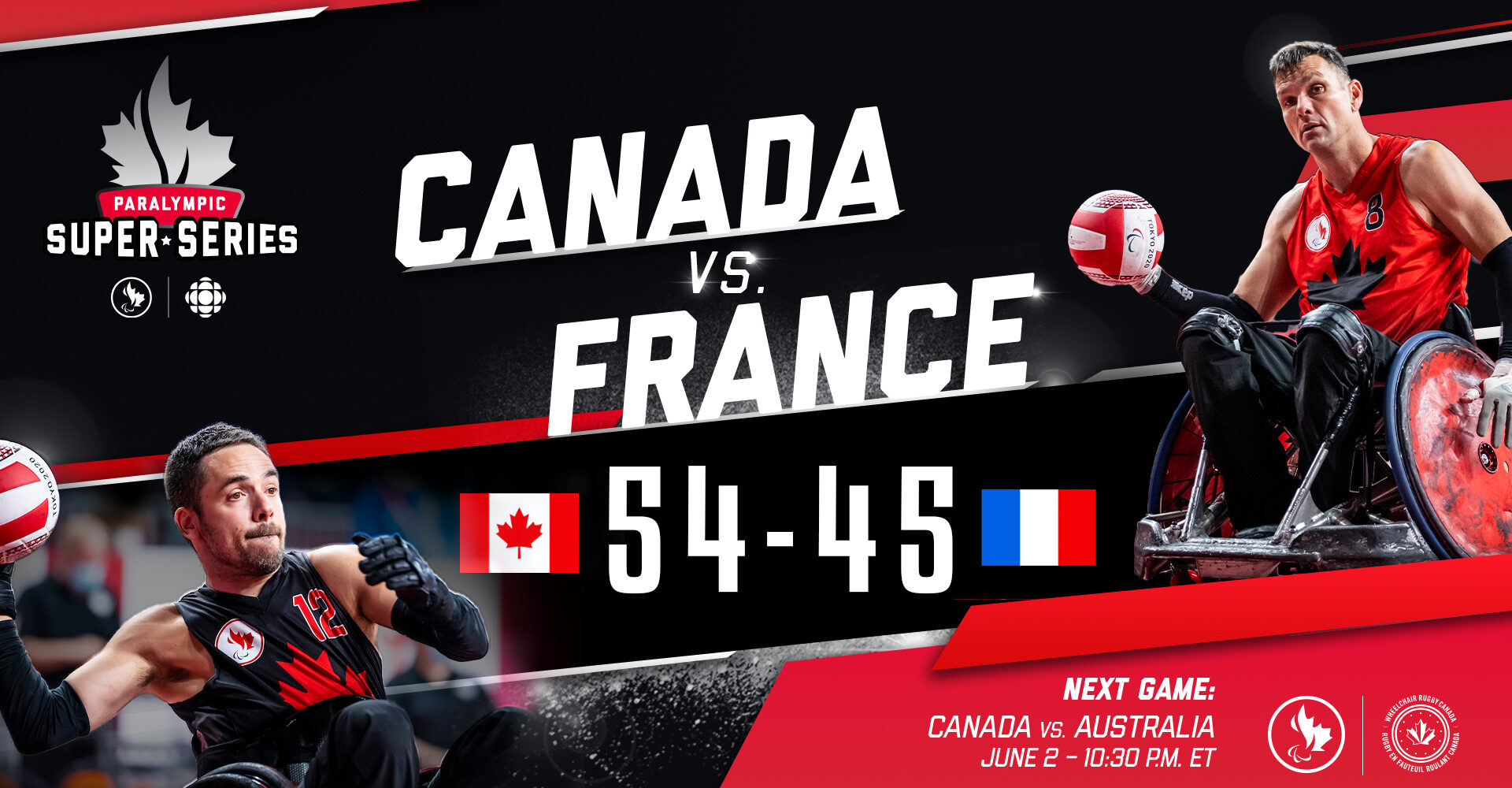 RICHMOND, B.C. – Zak Madell scored 22 points through the first three quarters then watched his Canadian teammates secure a 54-45 victory over France on Thursday afternoon in day one action at the Canada Cup wheelchair rugby tournament.
The game was a rematch of the fifth-place encounter between the two countries at the Paralympic Games last summer in Tokyo, which Canada won by eight points.
"We got a lot of good takeaways from this game," said Madell, from Okotoks, Alta., a three-time Paralympian who was second in tournament scoring at Tokyo 2020. "We were able to get everybody some pretty good minutes and everyone was able to contribute."
It was actually in the fourth quarter with Madell on the bench that Canada broke open a close game, outscoring the French 14-9 in the last eight minutes.
The teams exchanged the lead pretty much through the first quarter which ended 14-13 for the hosts. Canada was the first team to grab a two-point lead when it went up 21-19 with 4:30 left in the second and was then up 28-25 at the half.
It was another back and forth third quarter but two quick tries at the start of the fourth for Canada broke the gates open.
The French, the European champions, burned their four timeouts in the first quarter as they tried to work out early tournament kinks.
"It was a pretty close game early on but using all their timeouts showed they were in trouble," said Team Canada co-captain Patrice Dagenais of Embrun, Ont. "That was a good sign for us and that we should stick to the game plan and keep putting pressure on them."
Fabien Lavoie of Quebec City added 10 tries for the victors and Cody Caldwell of Peterborough, Ont. chipped in eight.
There are six countries in this tournament, with the four others Great Britain, the Paralympic champions in Tokyo, world number-two Japan, Australia (#4) and Denmark (#7). France and Canada are ranked fifth and sixth internationally.
"This is huge to have this tournament, especially with the lack of games during the pandemic," said Madell. ''We haven't had a lot of reps against some high-level international teams. These are the first big ones since Tokyo, so we want to use this to build towards the world championships this year and later Paris 2024."
In the tournament opener Thursday, Great Britain defeated Australia 61-54. Later Thursday Denmark faces Japan and Canada takes on Australia at 7:30 p.m. local time (10:30 p.m. ET.).
All five of Canada's round-robin games as well as the bronze and gold medal matches are being livestreamed on the Canadian Paralympic Committee's Facebook page and Paralympic.ca as well as CBC Sports digital platforms: the free CBC Gem streaming service, cbcsports.ca, and the CBC Sports app for iOS and Android devices. 
To learn more about Canada Cup, visit CanadaCupWCRugby.com. Please visit Paralympic.ca/Paralympic-super-series for more information on the Super Series and follow @CDNParalympics for live updates during the tournament. 
Competition continues through to Sunday.
Media Contacts:
Nicole Watts
Manager, Public Relations
Canadian Paralympic Committee
nwatts@paralympic.ca / 613-462-2700
Joanna Landsberg
CBC Public Relations
joanna.landsberg@cbc.ca / 647-628-4788
For media information about Canada Cup:
Nathan Bragg
BC Wheelchair Sports Association
communications@bcwheelchairsports.com / 604-715-7298
For media information about Team Canada at Canada Cup:
Nathan Lederer
Communications and Marketing Coordinator
Wheelchair Rugby Canada
nathan@wheelchairrugby.ca / 905-531-7428