Article, National Team
CANADA CONFIDENT HEADING INTO WHEELCHAIR RUGBY PARALYMPIC GAMES QUALIFIER
March 3, 2020''We are going to have to execute our game plans properly''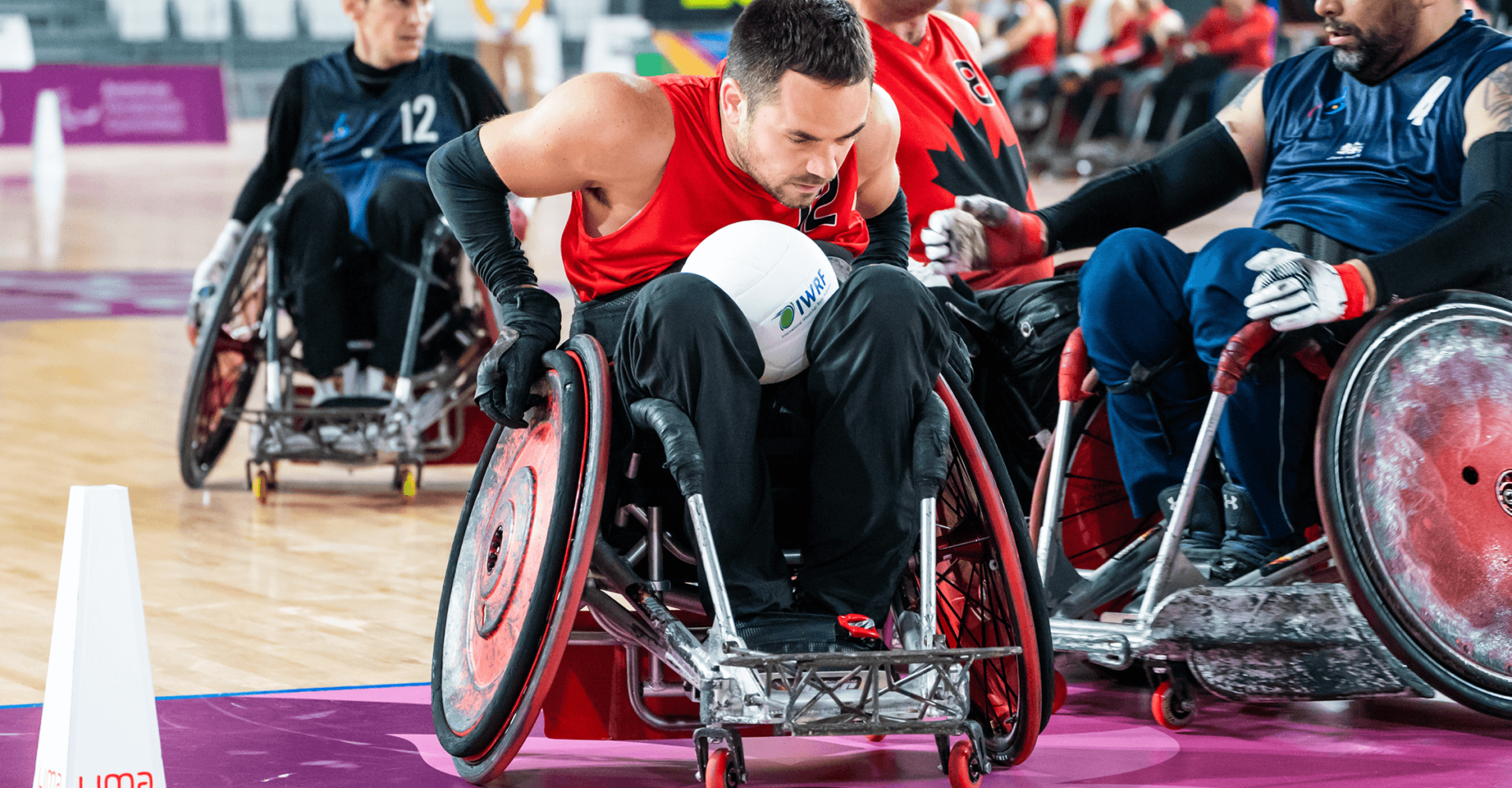 RICHMOND, B.C. – Patrice Dagenais has never been in a situation with the Paralympic Games less than six months out and he still doesn't know if he is going.
The Canadian wheelchair rugby co-captain hopes to book his and his teammates' tickets to Tokyo at the last chance Paralympic Games qualifier March 4-8 at the Olympic Oval in Richmond.
''Our families want to plan their trips,'' said Dagenais, half- jokingly. ''Being this close to the Games certainly adds a little bit of pressure.''
The other six countries represented at the event are Brazil, Colombia, France, Germany, Sweden, and Switzerland. Following a round-robin, it will be the No. 1 vs. No. 4 and No. 2 and No. 3 teams facing off with the two winners qualifying for the Games August 25 to September 6 in Tokyo.
Canada, France and Sweden (ranked fifth, sixth and eighth in the world) are considered the main combatants for the two spots.
''We are going to have to execute our game plans properly,'' said Dagenais of Embrun, Ont., and a two-time Paralympian. ''The competition will be strong and we can't afford to get ahead of ourselves in any game.
''Every year at the international level, the teams just keep getting better and better. You have to perform to win.''
Canada's top scorer Zak Madell of Okotoks, Alta., says being at home will help.
''One hundred percent that home court advantage is big for us,'' he said. ''We saw it in Toronto at the 2015 Parapan American Games where we won gold. Any time you have that crowd cheering for you, it gives the team that extra boost.''
With that win in Toronto, Canada automatically gained a spot for the Rio Games where it placed fourth. At the 2019 Parapan Ams, the Canadians lost to the Americans in the final forcing them into this week's situation.
''We've played a few Canada Cups here so we're used to the court, the hotel, the complete environment in Richmond. It's an advantage. We just have to capitalize on it,'' added Dagenais.
The Canadians recently had a training camp in London, Ont., where they studied videos and planned tactical strategies.
''Our strength is our depth, we are not a one-line team,'' said Cody Caldwell of Peterborough, Ont., a member of the 2016 team. ''After Rio we had some retirements but the younger ones have gained experience. We've played all the teams entered and we're confident.''
Other Canadian team members are Byron Green of Vancouver, Eric Rodrigues of Mississauga, Ont., Trevor Hirschfield of Parksville, B.C., Patrice Simard and Fabien Lavoie, both of Quebec City, Anthony Létourneau of Boisbriand, Que., Travis Murao of Toronto, Shayne Smith of Toronto and Mike Whitehead of Windsor, Ont.
Only Rodrigues, Létourneau and Smith don't have Paralympic Games experience.
Canada opens the round robin March 4 at 4:30 p.m. (all times local PT) against Switzerland. They face Colombia and Brazil on March 5 at 10 a.m. and 4 p.m., Sweden and Germany at noon and 6 p.m. on March 6 and France on March 7 at 2 p.m.
The top four teams after the round-robin will play off in two finals at noon and 2 p.m. on March 8 with the winners of each playoff match awarded one of the two available qualification spots for the Tokyo 2020 Paralympic Games.
There is no gold medal final.
(Article written by the Canadian Paralympic Committee)