Article, Competition
Canada Concludes Preliminary Competition at Tri Nations
July 22, 2022Canada finishes with a record of 3-3, alongside USA and Great Britain.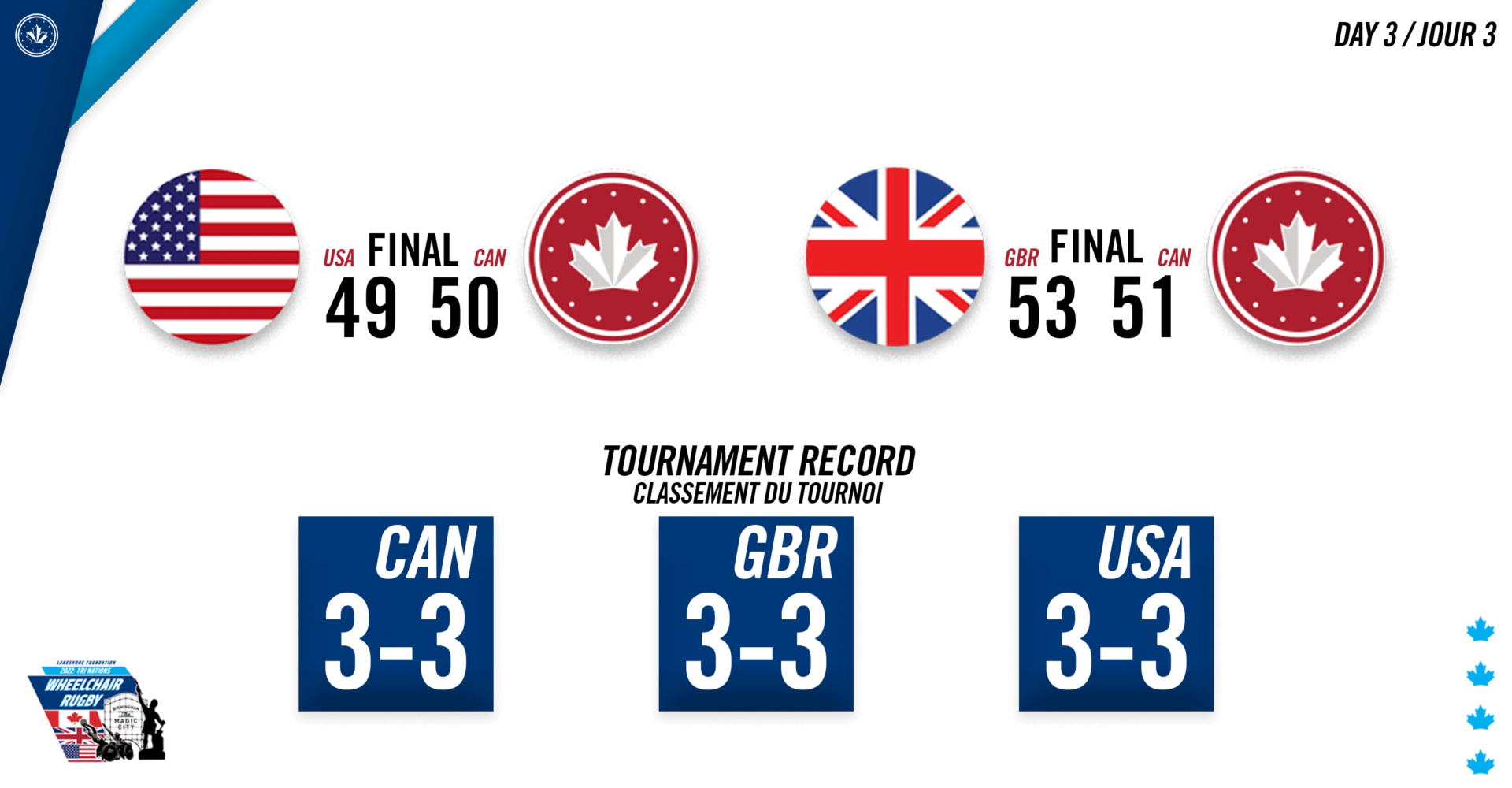 Wheelchair Rugby Canada (WRC) concludes preliminary competition, will play in Semi-final Saturday morning. Canada finishes with a record of 3-3, alongside USA and Great Britain.
Canada bounced back from Thursday's losses with strong defense against the Americans.
"They always pick their spot, we missed a couple cues to counter it," said Coach Willsie. "Once we made a couple tweaks on that, we were fine."
After finishing the half tied, Canada separated themselves in the third quarter going up by two, it was enough to carry them to the final buzzer.
"We had a great warm up, came in focused, fired up and ready to go," said Smith. "[USA] is a great team, we stuck to our plan, played our game and we were successful."
In Canada's second game of the day, Canada loses to Great Britain and the opportunity to clinch a berth in the finals. They will have another opportunity to advance in the Semi-final, Canada and USA compete Saturday morning at 11:00 am ET.
"We played a good game this afternoon as a team," said Hirschfield. "A couple last goals by GB when they had the possession arrow might have been the difference. As a team I think we can take lots of positives out of that game."
Point differential advances Great Britain to the Championship game.
Patrice Simard on the team's mentality: "The group is still very positive; we keep improving every game and the team will be ready for the semi-final tomorrow morning."
Canada concludes the tournament Saturday, with the opportunity to advance to the championship match, stream the event on YouTube.
For more information on the Tri Nations Invitational, visit their website here.
ABOUT WHEELCHAIR RUGBY CANADA
Wheelchair Rugby Canada is the national governing body for the Canadian Heritage Sport of wheelchair rugby. Wheelchair Rugby Canada strives to be a world-leader in wheelchair rugby, a respected advocate for wheelchair athletes and a visionary organization committed to excellence in programs from recruitment to retirement.
MEDIA CONTACT
Nathan Lederer
Communications and Marketing Coordinator
Wheelchair Rugby Canada
nathan@wheelchairrugby.ca or 905-531-7428