Article, Competition
Canada completes day one sweep with win over Australia
June 3, 2022Second half domination by hosts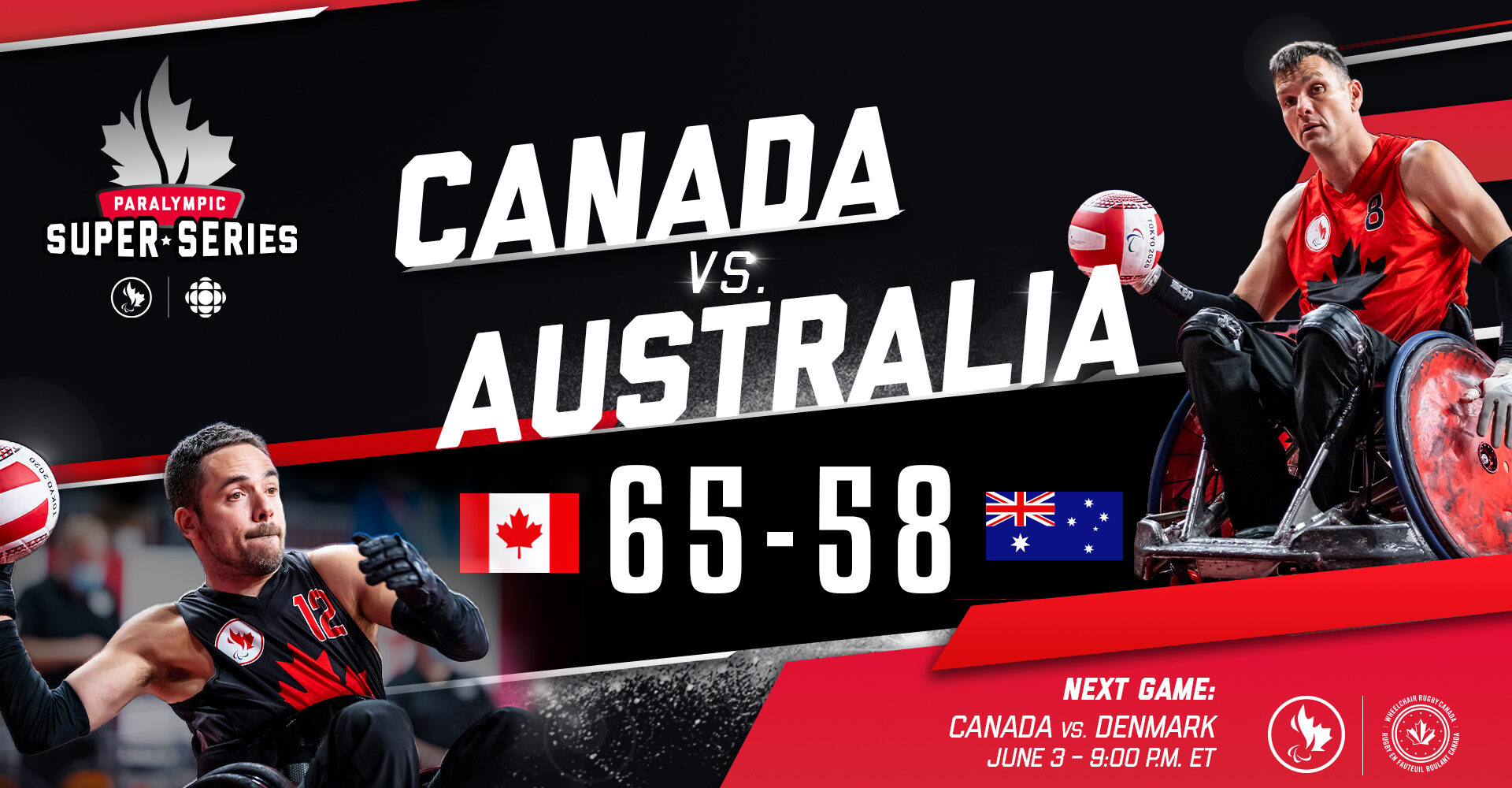 RICHMOND. B.C. – Canada capitalized on its opportunities and didn't concede a crumb on Thursday night as it defeated arch-rival Australia 65-58 for its second win on opening day at the Canada Cup wheelchair rugby competition.
Earlier Thursday, Zak Madell scored 22 tries to lead Canada to a 54-45 triumph over France. The Okotoks, Alta., native added 45 tries in the night cap as he played all four quarters.
In both matches, Canada's relentless pressure forced its opponents to burn its four timeouts by the end of the first half.
"We wanted to get Australia to pass the ball while maintaining our zone game,'' said Canada's head coach Patrick Côté. ''With no timeouts in the second half, they had nowhere to hide, and they cracked in the third quarter.''
The Canadians, fifth at Tokyo 2020, led 16-15 after the first quarter and it was tied 30-30 at the half. The match started to unravel for Australia due to turnovers early in the third when Canada gained its first two-point lead and by the end of the quarter it was 46-41.
''Our defence was clicking really well in both games,'' added Côté. ''There were some offensive mistakes in the morning game but tonight it was about as clean as it gets. I'm very proud of the boys.''
Cody Caldwell, one of several veterans on the Team Canada, felt this was one of Canada's best performances against Australia, the 2012 and 2016 Paralympic Games champion.
''We've had a lot of good battles with them,'' said Caldwell, from Peterborough, Ont., who scored five tries. ''This was one of our most complete games especially at a competition of this importance. To execute like this at the Canada Cup at home and come away with a big win like this on the first day is an awesome feeling.''
Travis Murao added eight tries for the winners.
Earlier Thursday, world number-two Japan defeated Denmark 61-53 while Paralympic Games champion Great Britain defeated the Australians 61-54.
The Canadians only have one game scheduled for Friday at 6 p.m. local (9 p.m. ET) against Denmark.
All five of Canada's round-robin games as well as the bronze and gold medal matches are being livestreamed on the Canadian Paralympic Committee's Facebook page and Paralympic.ca as well as CBC Sports digital platforms: the free CBC Gem streaming service, cbcsports.ca, and the CBC Sports app for iOS and Android devices. 
To learn more about Canada Cup, visit CanadaCupWCRugby.com. Please visit Paralympic.ca/Paralympic-super-series for more information on the Super Series and follow @CDNParalympics for live updates during the tournament. 
Competition continues through to Sunday.
Media Contacts:
Nicole Watts
Manager, Public Relations
Canadian Paralympic Committee
nwatts@paralympic.ca / 613-462-2700
Joanna Landsberg
CBC Public Relations
joanna.landsberg@cbc.ca / 647-628-4788
For media information about Canada Cup:
Nathan Bragg
BC Wheelchair Sports Association
communications@bcwheelchairsports.com / 604-715-7298
For media information about Team Canada at Canada Cup:
Nathan Lederer
Communications and Marketing Coordinator
Wheelchair Rugby Canada
nathan@wheelchairrugby.ca / 905-531-7428