Article, Competition
Canada clinches berth in championship game at Canada Cup wheelchair rugby tournament
June 4, 2022Hosts to face Japan for gold on Sunday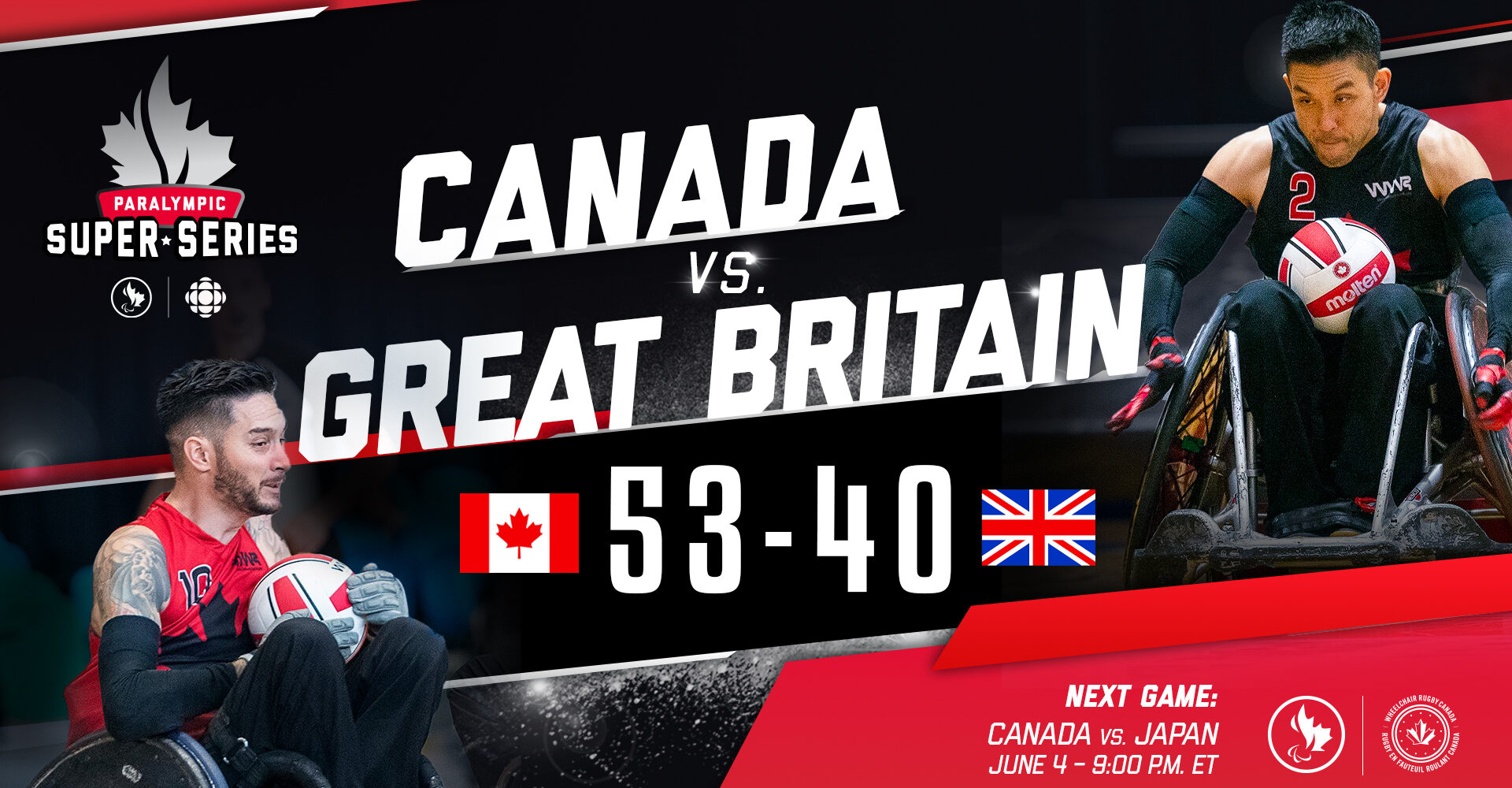 RICHMOND, B.C. – Canada clinched a berth in the final at the Canada Cup wheelchair rugby tournament Saturday afternoon with a convincing 53-40 victory over Great Britain, the Paralympic champions in Tokyo last summer.
The Canadians, ranked fifth in the world, improve to four wins and no losses. They will complete the round robin portion of the tournament Saturday against world number-two Japan, also 4-0. Then the two countries will play for gold on Sunday at 1 p.m. local (4 p.m. ET).
Zak Madell led Canada in scoring with 19 points, all in the first half after Canada built a 30-22 lead. Travis Murao scored seven of his 10 points in the third quarter while national team rookie Matt Debly added eight points.
The British knew they were in for a long afternoon, losing the ball on the opening play of the game to allow Madell to scoot into the end zone. Canada capitalized on three more turnovers in the quarter and already led 16-12 after eight minutes.
In the other early game Saturday, Japan defeated Australia 58-42.
The Canada-Japan round robin game goes at 6 p.m. local (9 p.m. ET) Saturday. On Sunday, the gold medal game is preceded by the bronze medal match at 10:30 a.m. local (1:30 p.m. ET).
"Today will be a great dress rehearsal for the final," said Madell. "We look forward to seeing how all of our lines stack up against Japan's."
Canada has never won the gold medal at this tournament, now in its ninth year. This is the first time it's reached the final since 2014. It was fourth at the last two editions in 2016 and 2018.
"It's going to be a great opportunity to see how we match up against the #2 team in the world, said Co-Captain, Hirschfield. "We've had a strong tournament up to this point and the squad is looking to build on that into the game against Japan."
All of Canada's round-robin games as well as the bronze and gold medal matches are being livestreamed on the Canadian Paralympic Committee's Facebook page and Paralympic.ca as well as CBC Sports digital platforms: the free CBC Gem streaming service, cbcsports.ca, and the CBC Sports app for iOS and Android devices. 
To learn more about Canada Cup, visit CanadaCupWCRugby.com. Please visit Paralympic.ca/Paralympic-super-series for more information on the Super Series and follow @CDNParalympics for live updates during the tournament. 
Media Contacts:
Nicole Watts
Manager, Public Relations
Canadian Paralympic Committee
nwatts@paralympic.ca / 613-462-2700
Joanna Landsberg
CBC Public Relations
joanna.landsberg@cbc.ca / 647-628-4788
For media information about Canada Cup:
Nathan Bragg
BC Wheelchair Sports Association
communications@bcwheelchairsports.com / 604-715-7298
For media information about Team Canada at Canada Cup:
Nathan Lederer
Communications and Marketing Coordinator
Wheelchair Rugby Canada
nathan@wheelchairrugby.ca / 905-531-7428