Judith Zelman
Athlete – Class of 2017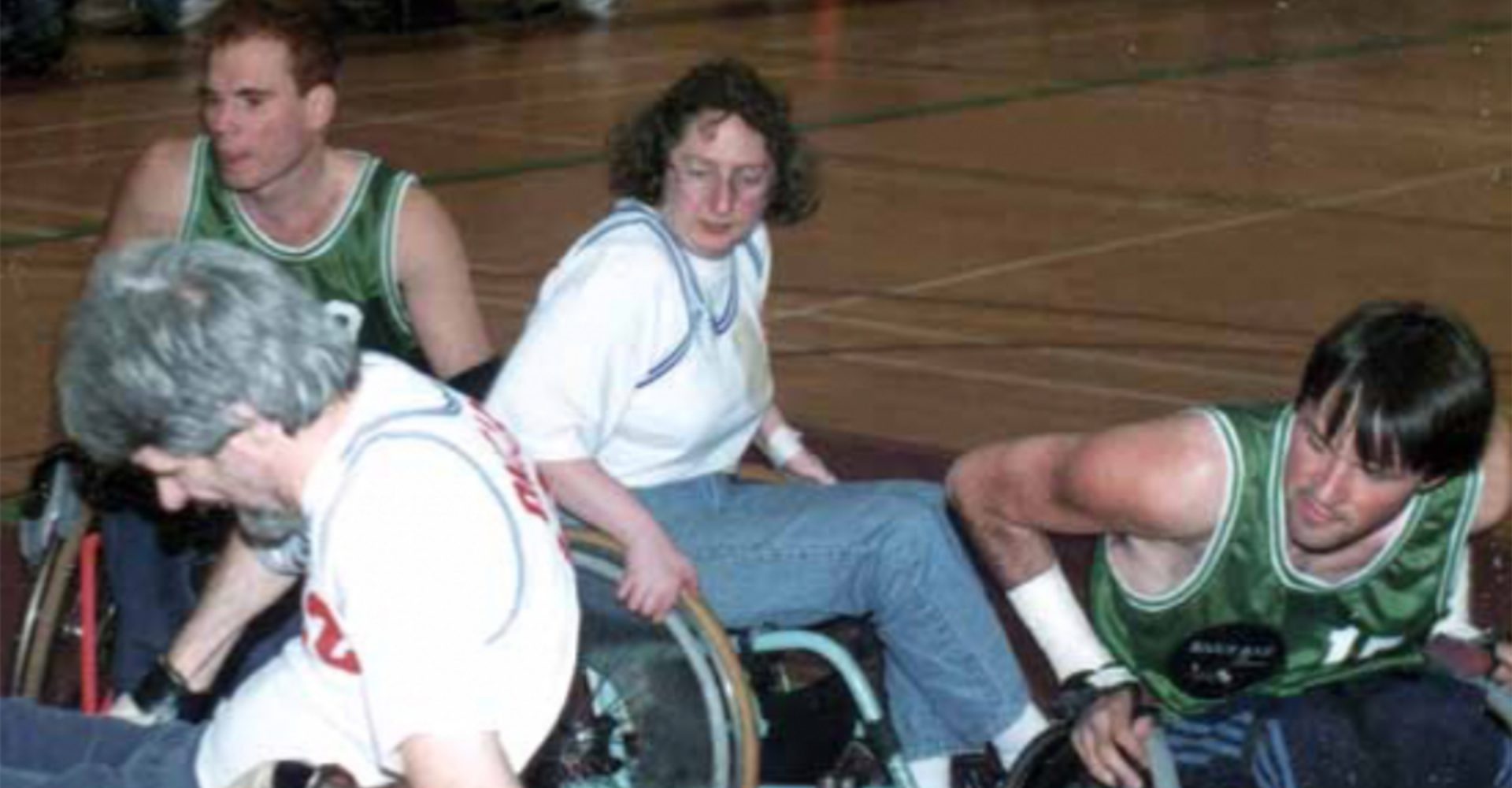 Judith was born in Ottawa, Ontario, on May 16, 1967. She had a typical Canadian childhood in Ottawa, where her father Maier worked for the public service and her mother Peggy was a teacher. In 1981, her life took a turn in a different direction. While she was on summer vacation on Vancouver Island, she became ill with a fever and abdominal pain. She was first diagnosed with appendicitis, but then she began to develop paralysis, beginning in her feet and hands and progressing up her legs and arms. She returned to Ottawa and the Children's Hospital of Eastern Ontario where she was diagnosed with Guillain-Barre Syndrome, a rare autoimmune disorder where the immune system attacks healthy nerve cells in the peripheral nervous system. Within weeks she was completely paralysed.
Many persons with Guillain-Barre make a complete recovery, although it can take up to a year for full mobility to return. Judith was part of the one-third of those who have some permanent impairment as a result of the illness. For Judith, this meant permanent loss of function of some muscles in her lower legs and hands and permanently impaired balance. While she could walk unsupported for short distances or longer with crutches, to have full mobility and an independent life, she relied on a wheelchair.
Months of immobility, followed by a lengthy rehabilitation, were tough on fourteen-year-old Judith. To get out of the rehab unit – and away from the watchful eye of her mother – she started travelling to sport events. First an escape and an opportunity to taste a bit of normal life, sport soon became a passion. Judith turned out to be an excellent field athlete, specializing in the throwing events of discus, javelin, and her personal favourite, shot put. After taking up throwing in 1982, she qualified for nationals in 1983 and by 1984 she was on the national team. She represented Canada at the Paralympic Games in Stoke Mandeville in 1984, Seoul in 1988, and Barcelona in 1992. At the 1990 World Championships in Assen she won a silver medal and set a World Record in shot put in her F54 classification. Along the way she picked up the F54 Canadian records in shot put, javelin, and discus, which still stand today.
Not content with just one sport, Judith also took up Wheelchair Rugby in addition to athletics. She started with the Ottawa Stingers club in 1982. Judith was one of the few women playing Wheelchair Rugby, but her high classification combined with her skill, hard work, and determination to make her a fierce competitor and every bit the equal of the men she competed beside and against. From 1984 to 1996, she attended Canadian Nationals every year as a member of Team Ontario and Team Alberta, receiving many tournament MVP and all-tournament team awards.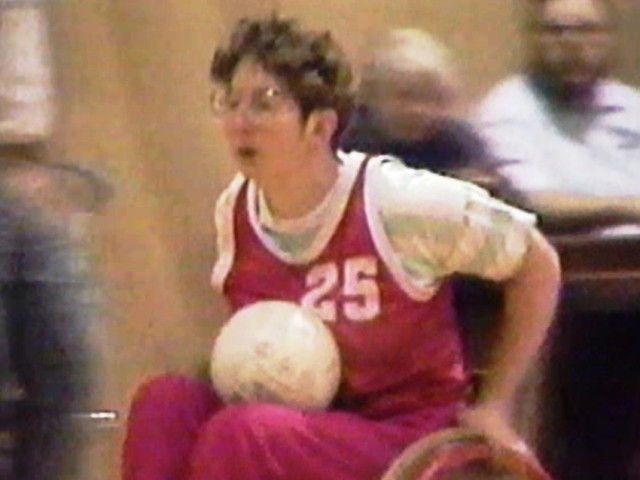 Judith was first named to the national team in Wheelchair Rugby in 1990, the first woman to earn a spot on the team. She had to give up the position that year at the insistence of her throwing coach, who wanted her to focus on athletics. After the 1992 Paralympics, she retired from throwing and concentrated on rugby. She was named to the national team a second time in 1995 and that year she was part of the silver-medal winning Team Canada at the first Wheelchair Rugby World Championship in Nottwil, Switzerland. In Nottwil, Judith was one of the first two women to compete at a World Championship.
In 1998, now married with a young child and a demanding career with the Canadian Security Intelligence Service, Judith retired from Wheelchair Rugby and competitive sport as an athlete. But this was far from the end of her involvement. Having gained so much from sport – life experience, independence, a sense of accomplishment and a recognition that her disability did not need to define her or limit her – she wanted to give back.
She began coaching the Ontario Provincial Wheelchair Rugby Team in 1996, and in 1998 she led them to a bronze medal at Nationals – the first medal for Ontario since she had won silver with them as an athlete in 1984. In 1997 she joined the Wheelchair Rugby Committee of CWSA and from 200o she was its Chair, helping to lead the development of a true high-performance system in Canadian Wheelchair Rugby. During her tenure Canada achieved its best ever results internationally including a World Championship in Gothenberg, Sweden, in 2002. She also served on the Board of Directors of CWSA from 1998.
Beginning in 2000, Judith represented Canada at meetings of the International Wheelchair Rugby Federation. In 2002 she was elected to the Board of Directors of IWRF. In that role she was part of the team that worked to develop IWRF into an independent International Federation. She was a key participant in the landmark 2006 strategic planning session that laid the groundwork for IWRF's full independence beginning in 2010.
Judith's contributions to sport were recognized many times. In 1988 she was one of the torchbearers for the Calgary 1998 Olympic Games Torch Relay. She received the 125th Anniversary of the Confederation of Canada Medal in 1992 for her athletic performances, followed by the Queen Elizabeth II Golden Jubilee Medal in 2002, for her contributions as a volunteer and leader in sport. Throughout her time in sport as an athlete and leader, Judith was also a great ambassador for sport for persons with a disability. She spoke often of the positive impact it had on her life and encouraged many others to become involved and to stay involved.
She introduced her family to para sport as well; from 1998 it was a common to see her at Wheelchair Rugby events with one or both of her kids Isaac and Susan on her lap or standing alongside as they watched the games – often with her husband Eron on court as a referee. Judith also worked beside Eron, now the CEO of the International Wheelchair Rugby Federation, on the Canadian Wheelchair Rugby Committee and the Board of IWRF, and he credits her for introducing him to Wheelchair Rugby and inspiring him to participate.
Sadly, Judith was not able to see all the fruits of her labours. In early 2006, she was diagnosed with breast cancer. In spite of her illness and the toll its treatment took on her, she continued her volunteer work. In August 2006, she completed a round of chemotherapy and then boarded a flight to New Zealand for the Wheelchair Rugby World Championship and the IWRF General Assembly and planning meetings. Sport was her passion, and she was going to keep giving back as long as she could.
Judith died on February 3, 2007, leaving a legacy of contributions as an athlete, volunteer, and leader that is still felt today. Later that year, CWSA inaugurated the Judith Zelman Memorial Award, given annually to the top rookie athlete at the Wheelchair Rugby National Championship, in recognition of her work and in particular the value she placed on bringing new people into the sport. Her memory stands as an example of what can be accomplished through hard work and a determination to give back to those who gave to you.
Written by Eron Main