Article, Competition
Hirschfield, Madell Lead Canada To Fifth Place At 2022 Wheelchair Rugby World Championship
October 16, 2022Team beats France to improve on result from last worlds in 2018
VEIJLE, Denmark – A 32-point performance for scoring machine Zak Madell highlighted a 60-48 win for Canada over France in the fifth-place game Sunday at the 2022 Wheelchair Rugby World Championship.
With fifth spot, Canada betters its result from the last worlds in 2018 (sixth) and equals its showing at the 2020 Paralympic Games last summer. The Canadians also beat France for fifth spot in Tokyo.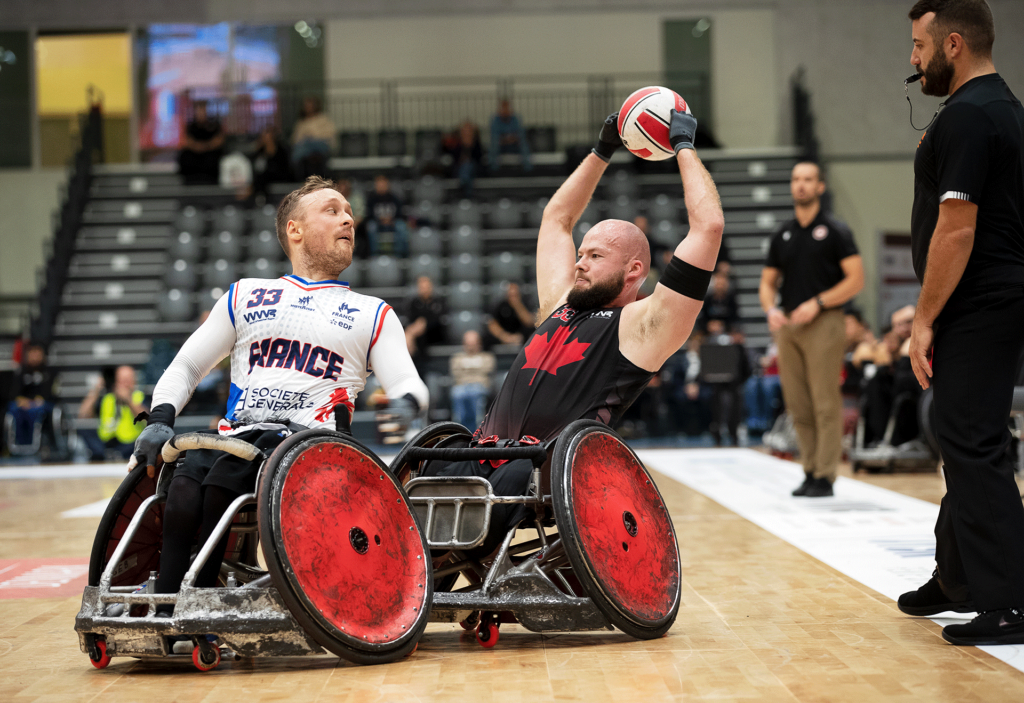 Photo: Kevin Bogetti-Smith
Going into the fourth quarter, the Canadians held a three-point advantage but a 6-0 run in the last frame put the match out of reach for the French who ended the tournament on a sour note.
France went 5-0 in the preliminary round beating superpowers the U.S. and Great Britain in the process but were upset by host Denmark in the quarterfinals.
The Canadians were 3-2 in the preliminary round and lost to the U.S. in the quarters before beating New Zealand on Saturday to advance to the fifth-place game.
Trevor Hirschfield of Parksville, B.C. and Mike Whitehead of Windsor, Ont. added eight points each against France.
Canada's head coach Patrick Côté lauded Hirschfield's performance. The four-time Paralympian is regarded as one of the best defensive players in the world and produced his best offensive game on Sunday.
''Trevor is a seasoned veteran, and he knew his role going in,'' said Côté. ''We know against France they have the low inbounds and we want to turn them into passers right away. So Trevor is that second guy coming in making sure the ball doesn't get out of there which leads us to create turnovers.
''He did that role to perfection today."
Hirschfield says he capitalized on the attention his higher scoring teammates received.
''Obviously it's a team sport and for guys like Zak and Mike it takes more than one guy to stop them,'' he said. ''Lucky for me I can sneak through the back door and get all the goals from them."
In the medal round, Australia beat the U.S. 58-55 for the gold medal.  Japan defeated Denmark for the bronze 61-57. Other results saw the British beat New Zealand 52-49 for seventh place. Colombia placed ninth, Germany 10th, Brazil 11th, and Switzerland 12th.
To learn more about the 2022 Wheelchair Rugby World Championship, visit 2022WRWC.com.
Media Contacts:
Nicole Watts
Manager, Public Relations
Canadian Paralympic Committee
nwatts@paralympic.ca / 613-462-2700
CBC Sports cbcsports@cbc.ca
Joanna Landsberg
CBC Public Relations
joanna.landsberg@cbc.ca / 647-628-4788
For media information about Team Canada at the 2022 Wheelchair Rugby World Championships:  
Nathan Lederer
Communications and Marketing Coordinator
Wheelchair Rugby Canada
nathan@wheelchairrugby.ca / 905-531-7428