Garett Hickling
Athlete – Class of 2017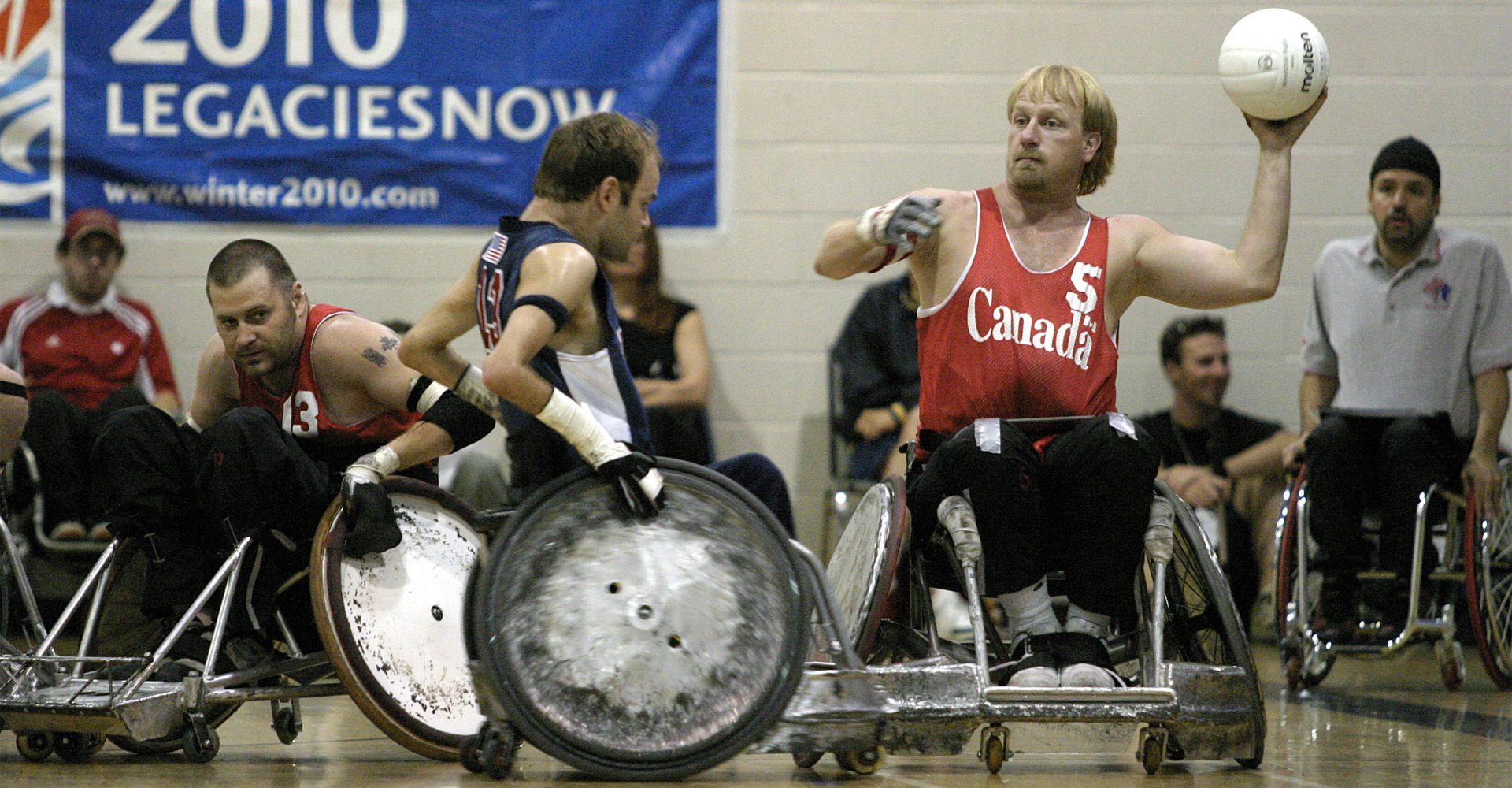 A natural leader and motivator, Garett Hickling has been driving force behind the success of the Canadian National Wheelchair Rugby Team for more than 20 years. Hickling, known simply as "G", has been a fan favorite for his flowing blonde mane, fierce competitive spirit on court and humble nature off court.
Garett grew up in Mica Creek, British Columbia, where he played just about every sport imaginable, including ice hockey, football and baseball.
In February 1987, at the age of 16, his life as he knew it, changed. He and two friends were hiking an unfamiliar Dilworth Mountain trail late at night when they fell off a 300ft cliff. Garett broke his neck and one of his friends died in the accident.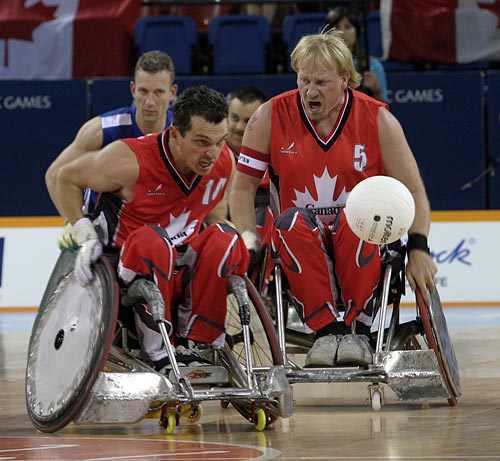 Determined not to let his newly acquired disability restrict his sporting activities, Garett initially began playing wheelchair basketball and road hockey. But it was a meeting with Duncan Campbell, one of the Canadian founders of wheelchair rugby, which changed his life.
Garett began playing wheelchair rugby in 1993 and within two years, established himself as one of the best wheelchair rugby players in the world. He would go on to compete in every World Championship, Paralympic Games and Parapan American Games from 1995 to 2015, winning four Paralympic medals (three silver and a bronze), five World Championship medals (one gold, two silver and two bronze) and the gold medal at wheelchair rugby's first appearance at the Parapan American Games in 2015.
"The first time I saw Garett play was at the 1998 World Wheelchair Rugby Championships in Toronto.  I knew nothing about the sport as it was the first time I'd watched a game.  But, it was clearly evident to me that he was far and away the best athlete on the floor," said CWSA CEO Catherine Cadieux.
Throughout his legendary career, Garett delivered some memorable performances.  In the semi-final at the London 2012 Paralympics, with the clock ticking down its final seconds, the score was tied at 49 all between Canada and their long-time rivals, the United States. Overtime appeared inevitable but Garett, through sheer grit and determination, created a key turn-over and scored the winning goal that would propel Canada into the gold medal final.
At the 2002 World Championships in Gothenburg, Sweden, Garett and his teammates delivered the USA their first international defeat in pool play and then, in spite of a significant injury sustained in that game, went on to deliver the winning goal in the gold medal final.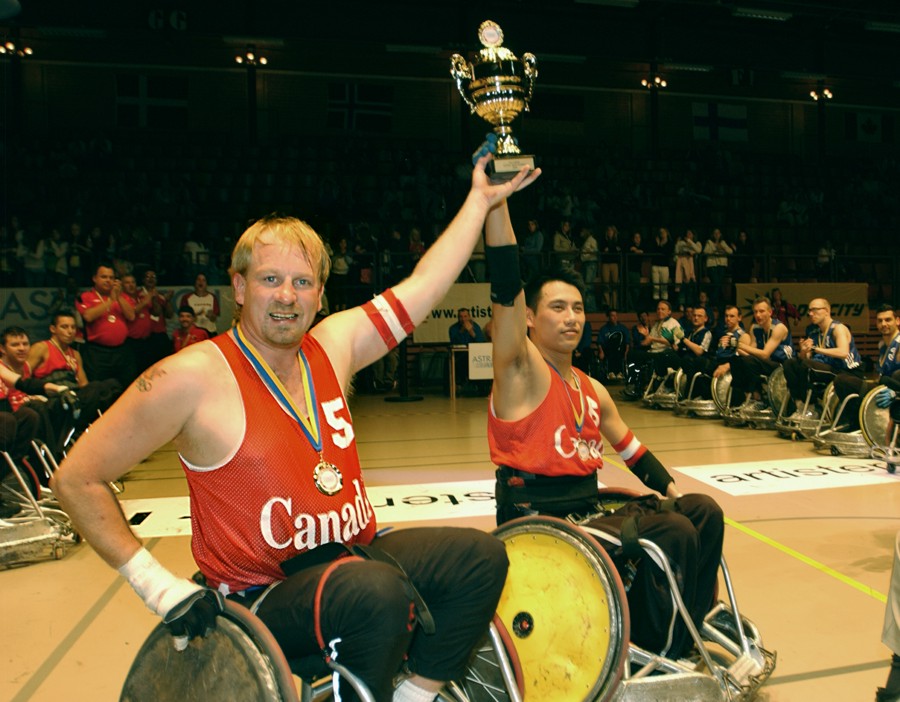 "Garett's on court motto of "No fear, give 110%" was never more evident than in that game" said Catherine Cadieux.  "I will remember the moment of that win and the joy on Garett's face as long as I live."
"Garett exemplifies Team Canada culture in the way he plays hard, works hard and challenges and nurtures the next generation of athletes," said David Willsie, a longtime teammate.
Throughout his career, Garett has earned numerous awards and recognition, including MVP honors at the first three World Championships (1995, 1998 and 2002), induction into the BC Sports Hall of Fame and the incredible honor of being named Team Canada's Flag Bearer at the Opening Ceremony of the London 2012 Paralympic Games.
"Garett is a wheelchair rugby legend, a true warrior out there.  Being so dominant in a sport for so many years demonstrates how tough he is.  Simply put, he is one of the greatest players of all time.  I'm glad his legacy will continue as he passes his years of knowledge coaching new generations of athletes in Ontario," said Head Coach, Patrick Côté.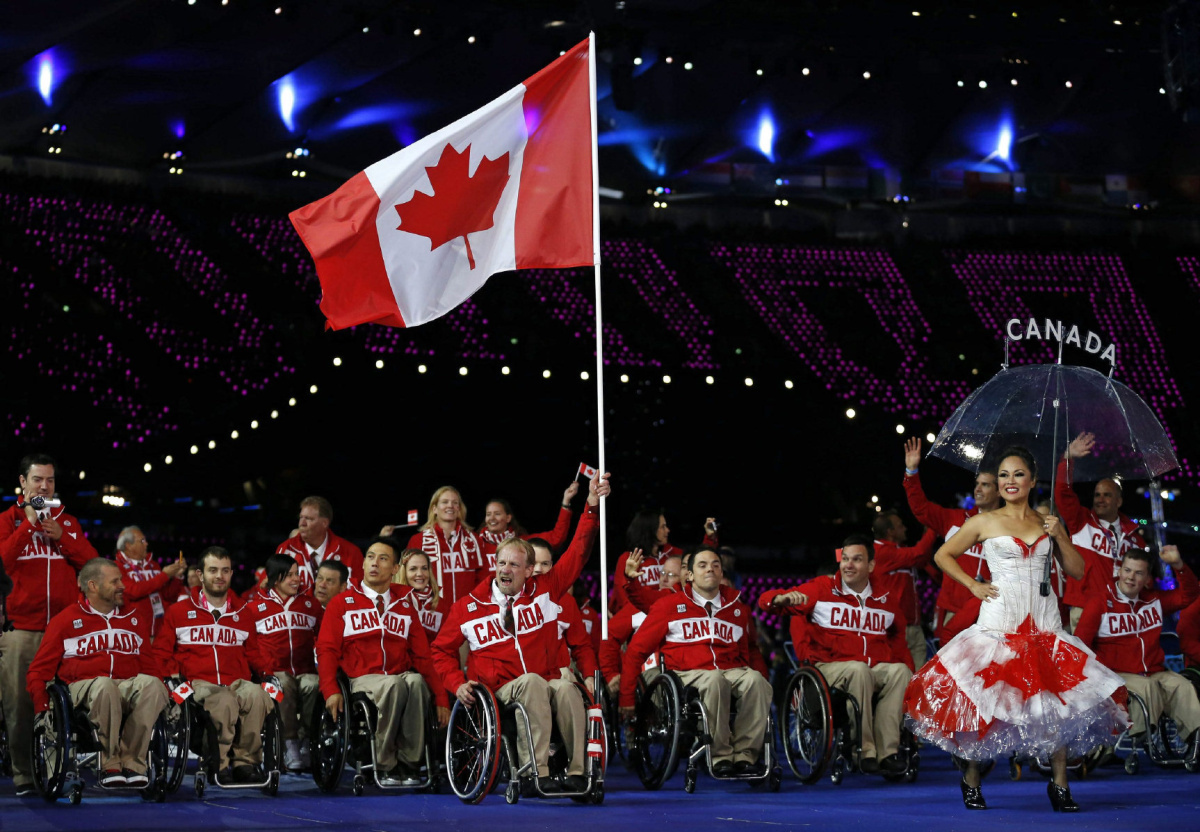 Although Garett is now retired from competing internationally he remains active in the sport, playing at the provincial and recreational levels, and through his roles as a coach and recruiter. His wealth of knowledge and experience will continue to play an influential role in shaping the future of wheelchair rugby in Canada.
"Garett is the quintessential floor general.  I will miss watching him play internationally but will enjoy watching the young players he now coaches develop into exceptional athletes under his tutelage." said Catherine Cadieux.
Written by Ben Parker-Jones